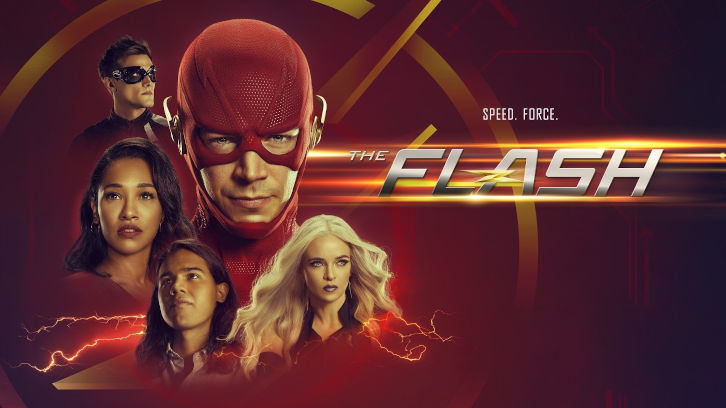 Let me first apologize for such a delayed response to a remarkable episode. It was so good that I kept re-watching certain scenes and then the week got away from me so please forgive a sister. Let me try to explain my feelings towards one of the best episodes of the series.

Iris and Barry
Iris has had it rough this first few episodes. Nora can talk all she wants about the "schrap" her mom gives her in the future, but she sure is the one dishing it out now. At every turn, Nora is back talking, ignoring, disrespecting, or all out yelling at Iris and in front of members of Team Flash- even in front of Barry. It's enough to want to send her ass back to the future if you ask me, but any who... Iris endures this with as much grace as anyone until she just can't anymore. She takes Joe's advice and his example. She soldiers on- she works. Iris is working, and we love, love, love it. She is out in the field. She is making connections and following leads, but her heart is heavy. So heavy that even a flirty smiley Barry with Big Belly Burger fries can't lift the fog no matter how much he tries.
Being the good husband and friend that Barry is, he tries to appeal to Iris' work drive and get in a little date time with her too- probably hoping that a night out will get her mind back into the present and off of the awful rendition of a mother she has forced herself to believe she is becoming. To track down the bone cracking and pop locking thief Rag Doll, they go to a gala together to investigate.Looking dapper and gorgeous together, West-Allen makes everyone else disappear like they always do. Barry tries so hard to pull Iris from the future, but he can't seem to reach her.
The Flash
writers seem to love parallels- I love them too. This fear of the future story line was all consuming for Barry when he was anticipating Iris' death in season three. He was so afraid of losing her that he couldn't fully live in the present. She's doing the same thing now. Iris can't enjoy her work, she can't enjoy a date with the love of her life because she can't stop seeing herself as the villain of Nora's story- the person who steals Nora's purpose and dreams.
Then we get it! We get the couch moment. It may not have been at the loft, but nevertheless it was a couch. Barry confronts Iris about what she is really afraid of. It isn't just that she's Nora's big bad- she is now in Francine's position. Iris fears that because she didn't give Francine a chance to repair their relationship, Nora won't give her one either. It was really great for the writers to come back to this because not having a mother had to have a huge effect on Iris' life. Barry's tough but loving advice was just like the advice she gave him when Cisco was mad at him (I'm still mad at how long that lasted) and when Caitlin was mad at him for creating Flashpoint. You have to step up and take charge. If you want something to be different, make it different. That's why we love West-Allen! At any given point, the shoe could be on the other foot. Iris needs a pep talk, Barry needs the pep talk, Iris needs saving, Barry needs saving- oh let's get to that!
So Iris decided that Barry was NOT about to die that day. She became a human bullet- diving straight down the side of a building to unlock Barry's cuffs- no hesitation. Very comic bookish, very heroic, very romantic. What wouldn't they do for one another?
Nora
Nora's antics had become pretty exhausting at this point. She could always just go back to her timeline so nobody would have to endure her attitude anymore.I'm hopeful Team Flash can handle the present she has created. She almost killed an elderly couple at the beginning of the episode because she didn't want to listen to her mom. And that stupid shrug she does is like a 12-year old getting caught stealing a cookie, not a grown woman almost vaporizing a set of grandparents. If she never does that shrug again, that would be A-okay with me.
I do have to say though that her scene with Cecile was worth having to watch her on screen. Barry has put his foot down with Nora and that's why she left the loft, but Cecile shut it all the way down. Cecile was having none of the disrespect for Iris in her childhood home. Damn waiting for Joe to say it.I would have loved seeing Wally shut her down too. Man, when a person sticks up for their sibling, you know it's good!
I thought Cecile would have to use her powers to figure out what was going on with Nora, but I guess the future is really "schway" because obviously people are able to talk to and about their parents in all sorts of Golden Age ways. Nora felt rather free to tell her would be grandmother how much she can't stand her mother. Whew! I could never.
Well, Cecile managed to do what no one else could-get Nora to stop seeing future Iris and think for a moment about the life that her mom has lived. In Nora's defense (just a little) Iris in the future has chosen to keep her past off limits. Maybe she's afraid that letting Nora see her rebellious and need- to- know spirit will spark that need in Nora. Maybe because since childhood, Iris' life has been intertwined with Barry's and many of her memories have imprints of him on them and those memories are too painful. Who knows why? It just is for now. But Nora also got a chance to witness Iris in the present. She got to see her bravery, deep love and devotion to he father- to family. Because Nora can rest assured that if she was falling, Iris would surely dive off of a building to save her too.
Rag Doll
Besides Captain Cold and The Trickster, most of the Rogues haven't intrigued me much. I truly enjoyed Rag Doll though. He was creepy and weird, but had an interesting reason for wanting to cause harm. As he sat watching Barry and Iris talk outside of the mansion, you could just see him taking in their relationship, and he quickly realized how much they meant to one another because he sure enough snatched Barry right out of the loft- in front of a Face Timing Iris! I hope this isn't the last we see of him.
Other Things I was Thinking as I Watched:
*Why does Cisco have the stigmata? C'mon!
*Caitlin wants to find her dad. She doesn't want to. Girl, for real?
*Did Caitlin's dad make her KF or was he trying to stop her from becoming KF?
*The Cisco/Wells dynamic is still funny.
*Iris is a mother hubbard of a hero. No Ralph arm as a bungee cord- nothing. Just pure faith that she'd make it and Barry would take care of the rest.
* I miss Joe.
*Did Barry and Iris talking to Rag Doll's mother make them his next target?
*Reverse Flash possessed some sort of tech that let him take the form of another person. Maybe he is the one who has Nora in the past, but she just doesn't know it. Maybe he's posing as the aloof Iris from the future? That would explain why those precious memories are off limits. This is the same person who waited 15 years for his perfect revenge on Barry. I love a good mystery! What are your theories?
Did you love "All Doll'd Up" as much as I did? Sound off in the comments below or talk to me on Twitter @NaomiAnna_.
The Flash
is on Tuesday nights on the CW. As always, thanks for reading!