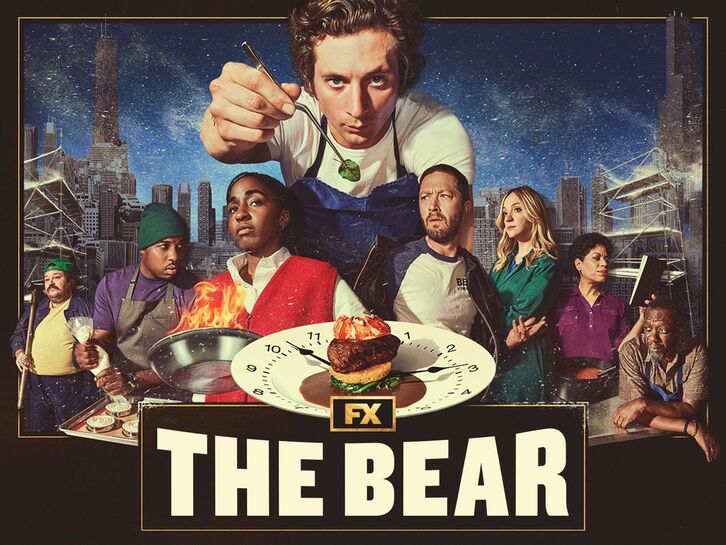 We all know the feeling of impending doom that can come when trying to follow up on a first time success. Trying to recapture that elusive lighting in a bottle can be difficult if not impossible, but Season 2 of The Bear is proof that a show can strike gold twice!
In Season 2, we find the staff of The Beef preparing to relaunch as The Bear. We get chaos and some truly funny moments, but we also get a much deeper dive into what motivates some of our favorite television kitchen staff. While every episode is amazing, some of them stand out a bit more than others. In this review, I'll talk about my favorite episodes, characters, and wade into the shipping controversy that has seemed to grip social media to no end. Let's get into it!
Season 2 consists of ten episodes with several of them focusing on one of the kitchen staff and his or her fears and motivations. While Carmy and Syd are working on the new menu and the restaurant is undergoing renovations, there is some time for the staff to hone their craft. Sydney recognizes that it would be an amazing time to send Tina and Ebra to culinary school, Syd and Carmy agree that Marcus would benefit from studying under a pastry chef in Denmark, and Carmy sends Richie to a high end restaurant to learn what it truly means to serve others. Even Fak is given the opportunity to be much more than the resident handy man when he is given the role of working the front of the new restaurant.
Sandwiched (truly, no pun intended!) in these episodes we get to see Carmy and Syd interact with their new dynamic as true partners- which reminds us of the deep insecurities and the traumas they are trying to outrun by making The Bear a Michelin Star worthy establishment.
Favorite Episodes
1. Episode 4- "Honey Dew"
This episode was so beautiful! We get Marcus going off to Copenhagen alone to live on a boat and work with a pastry chef named Luca (played wonderfully by Will Poulter). There, he sight sees, takes pictures, takes care of a cat (maybe) and gets to study under a master baker. Luca treats Marcus with such kindness and patience, sharing all that he has learned to become the best at what he does.
Marcus is carrying the weight of a terminally ill parent and of trying to better his craft. We were shown in season one just how much Marcus cares about baking. He worked on perfecting a donut which comes full circle in this season as he presents it as a new menu item for The Bear.
Though Marcus is normally upbeat, we get to see just how much baking has become a refuge for him and that it brings him a peace he doesn't necessarily have outside of work. The chance to get away and only think about himself was something that he needed- not only to become a better cook but to be a better person. When he returns, he is confident and sharp. Every dish he shares with Syd and Carmy is praised.
2. Episode 6- "Fishes"
Whew, Lord. Where to even begin with this episode. Packed with stars, it showcases the mayhem of the Berzatto family. Anchored by the Emmy deserving performance of Jamie Lee Curtis as the mad matriarch, we are given full access to the world Carmy was running from when he left Chicago. A dysfunctional brother in Michael, an emotionally weakened sister in Natalie, an "Uncle" intent on putting Michael in his place publicly, and a cousin who wants to whisk him away from it all-not to mention all the other found family that comes around during the holidays. "Fishes" helps to explain how Carmy survives in the disordered kitchen environment of the former Beef establishment. Chaos is all he knows. There is no quiet in the Berzatto house, so there is no quiet for Carmy.
As the night wears on, Carmy watches as his mother descends into drunkenness and depression all in the time it takes her to prepare the family spread. She yells, she cries, she smokes, she manipulates, and then ultimately drives her car into the middle of the living room because she doesn't think anyone appreciates her hard work.
All anyone can do is watch helplessly as this unfolds because this is just what Donna does.
3. Episode 7- "Forks"
While I am deeply skeptical that people can truly change, this episode of television gives me great hope that under the right conditions and with the right people by your side, a person can change for the better.
Richie was an absolute tool in the first season. Petty, jealous, and downright nasty, he would not accept that the restaurant needed to move in a different direction to stay open. Once he realized that the show would indeed go on without him, he slowly began to make minor adjustments. He tried hard to not say "gay or retarded", which probably was really huge for him. When Carmy decided that he would spend the week at another restaurant, Richie was not happy. He had to wake up extra early to simply clean forks. He could not understand the importance of his position until his supervisor gave him a wake up call. He told Richie that he needed to not only respect the restaurant and his superiors, but he also needed to respect himself.
All this time, I believed an acerbic Richie was that way just because. But what I didn't consider was that he lost a brother when Michael died too. What he reveals in this episode is that he didn't have much of a relationship with his dad, he moved a lot, had no relationship with his mom- in fact Donna was like his mom growing up. To top it off, he was also going through a divorce. So while his home life was being upended, the life he knew at the former Beef was being upended as well. He was trying desperately to hold onto something familiar and in doing so, he alienated folks. But the one person he didn't alienate was Carmy. Carmy reassures him that no one will leave him behind, and we find out that he loves Richie so much that he even told Chef Terry all about what makes him such a great person.
Over that week, we slowly see Richie wake up a bit earlier, tidy up his place a bit more, and even belt out a song from the heart. Richie leaves the forks experience with a renewed sense of purpose and pride. Here is hoping that it sticks.
4. Episode 9- "Omelette"
This episode is on my list because of the way it showcases intimacy and passion. The intimacy of the partnership between Carmy and Syd, the passion for cooking that seemed to be secondary to the preparation of the opening and the overall family vibe of everyone at The Bear.
Carmy had been hanging out with his new girlfriend Claire so much that he was leaving Sydney to figure things out on her own. That close to opening and knowing how fragile she is about failing, he owns up to his shortcomings in a beautiful scene. Using the table as a physical representation of partnership/trust, they both take turns holding one end of the table while the other lays down to fix the other side. They share their fears about what might happen if opening night is a failure and apologize for behaving in ways that don't fit into a trusting relationship. I absolutely love when Carmy begins to hold the table and urges Syd to keep sharing her feelings. He tells her to "Please say more". Simple words, but so powerful because in that moment, we know how much he cares about what she thinks. Then after their talk, he gifts her with a newly embroidered chef's coat- which was something she needed and something Carmy knew that Syd wanted and deserved.
Now, I am usually the first to champion a romantic relationship on tv. I love romance! And I have to say that for all of the protestations from the creators that they won't be going there, a Syd and Carmy romance doesn't seem totally off the table. I think that they are written and masterfully acted in such a way that a viewer could see several relationship scenarios. They do have a sweet closeness and a passion for cooking and perfection that could be the basis for a romance. We often hear that friendship is a foundation for romantic love, so it isn't far-fetched to think it could happen here. What I think is so amazing about Carmy and Syd though, is that no matter what they are to one another, they are compelling as hell and bring magic to the screen when they are together. I would argue that Jeremy Allen White and Ayo Edebiri bring a scorching chemistry with all of their scene partners, but they have that special "thing" together. In other words, let's stop telling folks they are wrong for wanting romance or wrong for wanting to keep it friendly. Let people live!
Other Things I Was Thinking This Season
*The Bear should win SEVERAL Emmys this season!
*Carmy sharing the ASL sign for sorry was so heartwarming. The fact that Syd uses it when she becomes harsh with Tina shows us how important the relationships in the kitchen are to everyone.
* Ebon Moss-Bachrach is so great as Richie. When he calls Carmy Donna while he is locked in the freezer, I laughed but knew that it was a total gut punch to Carmy. Can they come back from that? Or Does Riche throw his hat in with Sydney because she trusted him and held it down when Carmy messed up. Can't wait to see how this plays out.
*Tina is such an amazing character. The way she lights up when Sydney asks her to be the new sous chef is priceless. The pride she takes in her new position and in learning is another instance of people growing and changing for the better.
*Fak and Richie are such a funny duo. The telling mom thing had me howling.
*Olivia Coleman- screaming! She's so delightful in this role, and gives Richie the attention and care that he needs to make the full character turn. Bravo!
* Poor Marcus. He is at a career high, but the news about his mother is probably going to shake him to his core. I hope the kitchen family is there to soften the blow.
*I was very happy with the growth of Carmy and Natalie's relationship. In season 1, Carmy admits he can't be there for her because he is struggling to deal with his own mental health. They are now doing so much better and he needs her to make The Bear a success.
*Sydney's relationship with her father is a wonderful anchor for her. She is very hard on herself, and he sees that. He is there to reassure her that she will be okay if this thing doesn't work out. Seeing her with her dad is a huge contrast to what Carmy has with his parent.
Sydney truly steps all the way up to the plate, and we are able to witness that she has what it takes to be in charge. In the table scene with Carmy, she questions whether she can do this work without him. Well, we have our answer. How she feels about that going forward will be oh so interesting.
*Carmy allows himself to get lost in the sauce (The puns just keep on coming, right?) as he embarks on a romance with old high school friend, Claire. I think he needed to have this release because he was holding on to so many of his emotions about everything- about Michael, about his mom, about the restaurant etc... All of that needed to go somewhere, and he tried to put that all aside to give it a go with Claire. What he seemed to be resigned to is that he can't have it all. He told Sydney at one point in the season that if she wanted a Michelin Star that she could not put energy into anything else. He seemed to forget that advice. What's even more telling is that he also told her after he got his star, his happiness lasted for 10 seconds. He immediately started to worry about how to keep his newfound success.
So, what does Carmy do by the end of this season? He "drops the other shoe" as he manages to hurt Claire and Richie, and gives Sydney the opening to show him up if she truly wants to. Is he really becoming Donna Berzatto? Does he need the chaos to feel normal? To feel anything? Or is this just a bump in his road to The Bear's success?
Season 2 of The Bear is an amazing run of television. It manages to hit all the right notes with its intimate character studies while keeping the overarching tension of the new reataurant's opening night across ten episodes. To paraphrase Doja Cat, this s**t is a 10 out of 10!
If you have not seen the new season, you can catch all episodes streaming on Hulu. Hell, if you already saw it, watch it again.
What were our favorite episodes this season? Let me know what you think in the comments or on Twitter @_NaomiAnna.
As always, thanks for reading!