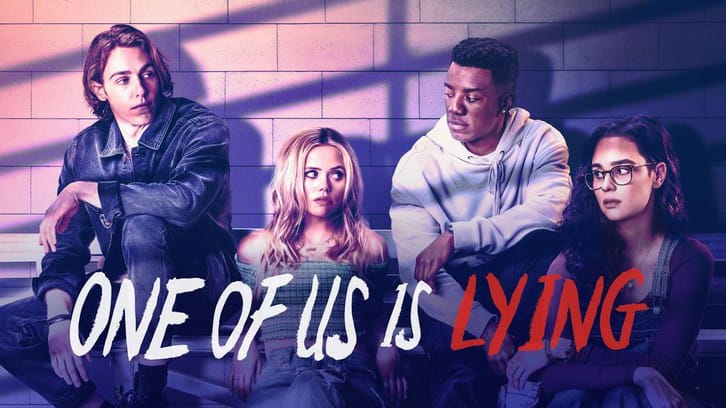 *MAJOR SPOILERS AHEAD. DO NOT READ UNTIL YOU HAVE WATCHED THE FULL SEASON OR DO NOT MIND SPOILERS*

Season Two of One Of Us Is Lying will have longtime fans and new viewers hooked from the second they press play. The season dropped today, and all eight episodes were available at once, which is a different format from last season's block releases over three weeks. Based on how the season played out, the drop of all eight episodes at once worked very well for the show. With a strong mystery and likeable characters, Season Two is hard to stop once you start. Make sure you have enough time to watch them all in one sitting, because chances are, you won't leave your spot until you watch that final cliffhanger.
Since this season diverged from the book series, I really wasn't sure what to expect. I went into Season Two knowing nothing except for what happened in Season One and that there would be a few new characters added. The addition of Fiona Jennings (Nate's tutor), Cole (Jake's brother), Janae's father, and Giselle (Jake's apparent summer fling in Greece) added to the plot line and kept me guessing throughout the whole season. Cole and Giselle were extremely suspicious, and I felt that I had to "study" every move they made. Without the addition of new characters, the story would have lacked. The main and supporting cast are strong, but there are only so many storylines that could be done with them. The new characters added tension for the Murder Club, while also helping build their characters. If there ends up being a Season Three, I would love to see more residents (or non-residents) make appearances!
Bronwyn, Nate, Addy, Cooper, and Janae A.K.A the "Murder Club" are all such complex, yet likable, characters. They lacked personality in Season One, but Season Two changed that. Throughout the season, we saw a lot of their interpersonal connections and friendships.
Simon Says Ho Ho Ho
, episode five, really highlighted this. It was a Christmas-centered episode that mainly focused on the characters. The Murder Club Christmas party was a well-done moment, where the characters just had a normal, teenage, life before they decided to turn themselves in for the murder of Jake. Even though this episode didn't move the plot much, it was so crucial to have. It was filled with fun moments, and it felt like a tribute to fans of the show. Viewers got to see their favorite characters try new things and have light-hearted moments.
Even throughout Season Two, there seemed to be a sense of friendship and fun moments within the group. I personally enjoyed this because Season One focused so much on the characters not getting along and the murder, that we never saw them as friends. It felt too forced and unrealistic and would've made Season Two drag if it continued that way. I also enjoyed the fact that Janae and Maeve were written in as bigger characters. It gave the friend group more depth, and created more tension between Maeve and Bronwyn, who are sisters.
The supporting cast has smaller roles this season, but it was remedied with episode six,
Simon Says You Better Pray
. This episode centers on Vanessa and calling in her fling Evan and friend Keely to help figure out who killed Jake. Although this episode did start to drag towards the end with the lack of the main characters, it was hysterical. It was a fun episode filled with laughs but would have been better if it didn't only focus on the supporting cast. Instead of this episode, I would have preferred Vanessa, Evan, and Keely to be dispersed more evenly throughout the other seven episodes.
Season One was filled with some romance, but Season Two really hit the mark. From Nate and Bronwyn's epic love confession in the fake snow to Janae and Maeve spinning their rocky relationship into a strong one, Season Two did a great job at giving swoon-worthy romances. Nate and Bronwyn had hands down the best scenes of the show, and it was impossible not to root for them. As much as I liked the addition of Fiona, I do think it was extremely pointless when it came to Natewyn's relationship. They had Nate basically cheat on Bronwyn to be with Fiona, but then never really discussed it again. He talked about it slightly with Addy, which was a great moment, and then again with Bronwyn at the very, very end of the show, but it didn't do anything for their plot at all. All it did was make Nate look like a bad guy. Especially when it was obvious that he only wanted Bronwyn.
I do feel as if Cooper and Kris got very minimal screen time and were only really highlighted in episodes five and seven. I wish that this pairing would have gotten screen time that was more on par with Nate and Bronwyn and Janae and Maeve. Cooper and Kris felt extremely rushed, which is a shame because both Cooper and Kris are such outstanding characters.
I can't review Season Two without touching on the Simon Says dares and identity. At first the dare, which was to leave money for Simon Says, started off weak. It was a typical dare, and of course the group thought that they could trick Simon Says but ended up getting themselves in more trouble. Episode three,
Simon Says Let's Get Personal
was where the dares really picked up. As they got personalized towards each Murder Club member, the stakes were higher, and the dares became more interesting. And if you
really
don't want spoilers, you should stop reading here.
I have mixed feelings on Fiona Jennings as Simon Says. In a way, I think that it was fantastic. I wasn't expecting it at all, and it made Nate's dares, such as stealing money from Victor's (her father's restaurant) and having Nate kiss her to upset Bronwyn. But on the other hand, it's a little frustrating that Simon Says was a character we were only introduced to once in the Pilot episode and then never again. It made it impossible for any theories made after Season One to be correct. But all the characters this season are likable, so I prefer that it was a character I didn't feel strongly about.
Overall, I really liked this season. I believe that it really focused well on the aftermath of Jake's death and how Addy was holding up, especially since she was the one who shot him and was in a relationship with him, which was so important for her character development. If I could take one thing out of Season Two, it would be Giselle's death. It was never properly acknowledged in my opinion, and it just added more confusion. Her character did not add much to the plot, except for proving that Jake was a liar - which really didn't need to be proved.
Season Two of
One Of Us Is Lying
was filled with strong talent, entertaining storylines, and a cliffhanger ending that makes me want a Season Three more than ever. Here's to hoping we see the Murder Club back on our screens again next year!
Did you watch Season Two of One Of Us Is Lying? If so, what did you think? Let me know in the comments and make sure to mention what your favorite scene was!