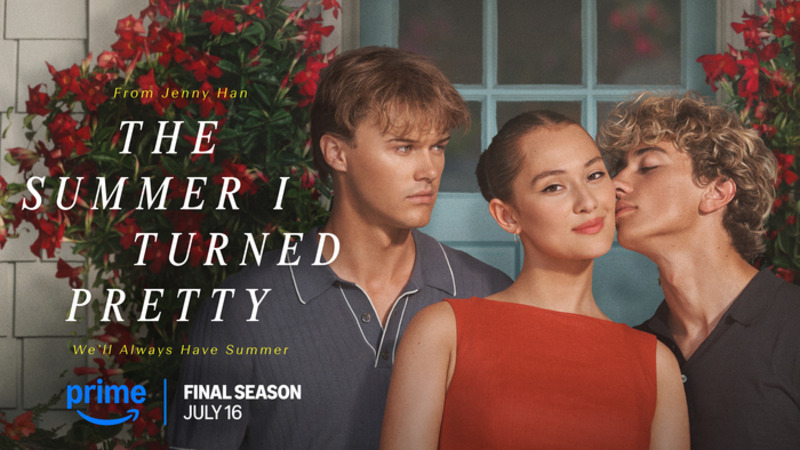 The Summer I Turned Pretty came back this week with what may be one of the best episodes of summer TV. Not only was it extremely character driven as it took a somewhat short break from the main plot, but it was such a feel good episode. Before I dive into the review, I just want to warn you that this review contains MAJOR spoilers for The Summer I Turned Pretty Season 2 Episode 4.

This week we picked right up from where Episode 3 left off last week. We find Conrad on the beach having a panic attack, with Steven at his side. He tells Steven that he got into Stanford and it was something he once discussed with his mother. Because of this, he feels like he has to move far away from Jeremiah and leave Brown University, where he is currently attending. Steven assures him that he doesn't have to decide right now, and after all -- Stanford isn't an Ivy like Brown is.
Personally, I thought that this was such a heartwarming moment in the episode. It showed a connection between Conrad and Steven that we hadn't really seen before. Conrad needs the most support that he can get, and seeing another character care for him and help him out was such a great moment that was explored. It also quickly became a fan-favorite friendship, making this scene memorable for many viewers.
When Belly wakes up the next morning, she swears that she sees Susannah at the kitchen counter - but it's really the Fisher boys' Aunt Julia. Aunt Julia and her child Skye are at the house because they're hosting an Open House for the beach home. Predictably, all of the teens are upset with the decision to show the house. Susannah's beach house in Cousins is a place where she is still alive and her memory lives on.
I personally am happy that they decided to follow the books and stick with the storyline that revolves around selling the house. The addition of the character's Aunt Julia (Kyra Sedgwick) and Skye (Elsie Fisher) were a great idea and they really add to the story. Skye makes a great member of the friend group and that is something that was also explored this episode.

The air conditioning in the house ends up breaking and the Open House is off. But when Julia needs to fix the AC, she kicks the teens out of the house. With nowhere to go, they take a trip to the boardwalk and Belly ends up inviting Skye, who is hesitant at first. Their mother encourages them to go, and they do. What I really liked about this part of the storyline was the vulnerability shown from Jeremiah. When Belly apologizes for inviting Skye. This is her plan to get Skye to see why they all love Cousins so much in order to get Julia to not sell the house. After this conversation, Jeremiah mentions that he enjoys hanging out with Skye. Ever since his mother died, it's only him, his father, and Conrad. But with the addition of Skye, Jeremiah feels like his family is bigger again. To me, this was such a bittersweet moment. The passing of Susannah is still fresh, and hearing how her sons are coping with it always is an emotional revelation.
After arriving at the boardwalk, the episode starts to pick up its pace. This is where it starts to turn from an emotional episode to a character driven episode that deviates from the original plot. The teen's make plans to play Shoot Your Shot, a game on the boardwalk that Belly, Steven, Conrad, and Jeremiah always played each year when at the beach, until they got too competitive. Although, before walking the boardwalk, they decide to start at the arcade, thanks to the heat.
The camera shots of the teen's walking into the arcade and then towards the laser tag game, is extremely well done and has such good energy to it. It's moments like this in the show that remind the viewer why it is one of the summer's hottest shows now two years in a row.
Another relationship that is explored in his episode is the one between Steven and Taylor. The two have been flirty since the first episode, but this episode really highlights the potential of them becoming a couple. During the day at the arcade, the two decide to play Capture the Flag. Steven ends up winning, but from here on out -- it's obvious that the two have chemistry.
One thing that this episode really did was highlight the love triangle between Belly, Conrad, and Jeremiah. Throughout the whole episode, we were getting flashbacks to the time when Belly was thirteen and her and Conrad went to the Boardwalk and he won her a polar bear stuffed animal named Junior Mint. But, Conrad's crush was working the ring toss game, making Belly jealous and causing her to act out.
Back in the present day, Belly is forced to ride The Tower of Terror and Jeremiah goes with her to comfort her. We are brought back to another flashback of when Belly was younger and had a summer cold. Jeremiah stayed home with her and kept her company - signifying that Jeremiah truly cares about her and he has even since she was younger.
Not only were we brought back into this intense love triangle, but the episode ends on a low note. Aunt Julia has packed up the whole beach house, giving the teens less hope than ever. How are they going to save this house?

Overall, I'm really enjoying this season so far. The characters are fun, the music is great, and the episodes are well written. I also enjoy the weekly releases, as it's keeping the hype for the show up and it gives me something to look forward to each week.

I can't write this review without asking you all one question. Are you team Jeremiah or Conrad? Let me know in the comments below! Personally, I'm still on team Conrad and I don't think anything can change that! Also make sure to let me know what you thought of this week's episode and if you plan on watching the rest of the season!