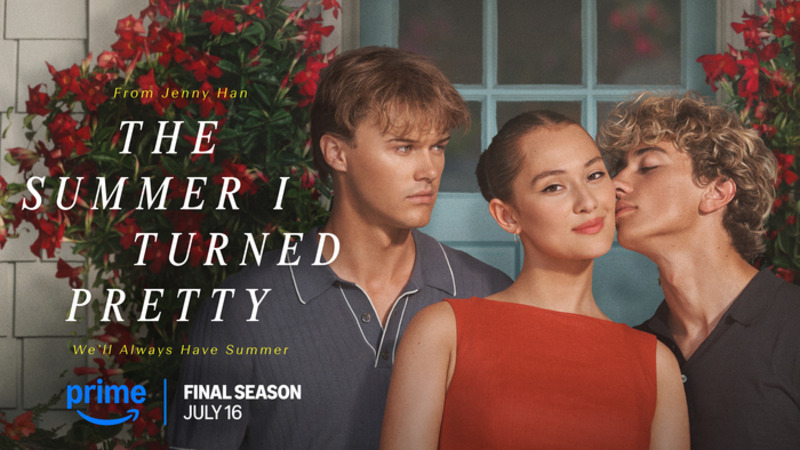 Amazon Prime's
The Summer I Turned Pretty
returned on Thursday, July 13th with its first three episodes of season two. Fans waited over a year for the continuation of this series, which is based on an adaptation of a book series of the same name. With a season one finale that left fans on a high note, season two picks up a year later. We find our main character Belly struggling with loss and grappling with the idea that summer isn't what she has always remembered it as. If you haven't watched the first three episodes yet, continue reading at your own risk if you don't want any spoilers!
Being told through flashbacks and a current-day timeline, season two of The Summer I Turned Pretty is off to a strong start. Not only were the first three episodes filled with fan favorite moments between Belly and Conrad, but each of the characters are all navigating their lives after the loss of Susannah. This adds in a complex emotional storyline for all of our favorite Cousins Beach goers.
We return to Cousins Beach in episode 1, "Love Lost." I was blown away by the decision to tell the story through flashbacks, while also moving forward during the current-day (the summer the year after season one). One of the first things we learn is that after Belly and Conrad kiss at the beach, she doesn't hold back from telling him that Jeremiah also has feelings for her. This right away sets-up the love triangle that this franchise is well known for. What could be a confusing tactic, is used correctly for this storyline and actually makes the viewing experience extremely clear.
The show also doesn't hold back from letting you know that Susannah has passed away. Susannah was the heart and soul of the summer's that took place at Cousins Beach. After her death, Belly, her mother, and her brother, along with the two Fisher boys aren't set to return to the house. Belly and Steven are set to spend their first summer at home, something they haven't done since almost the day they were born.
Meanwhile, the storyline that is handling the flashbacks is focused on the development of Belly and Conrad's relationship. The September after their last summer at Cousins, the two begin to have nightly phone calls while Conrad is away at college. They talk all night during Conrad's laundry trips and through Belly's homework. With everything going seemingly great, it's unclear as to why Steven keeps telling Belly in the current-day timeline that she has ruined it with both Jeremiah and Conrad.
When Belly decides to call Jeremiah at the end of the episode, he anxiously answers. He wants to know if Belly is with Conrad because Conrad is missing. He isn't responding to anyone's text or calls and Jeremiah is extremely worried about him, especially since he made a comment to his roommate that nothing is going right. Jeremiah wants to drive to Brown where Conrad is currently attending school and Belly decides that she is going to go with him.
"Love Scene," was personally my favorite episode of the three that came out this past Thursday. Between the perfect music, amazing pacing, and the switching between timelines being on point, this episode really stood out. Now, if you're a fan of Belly and Conrad as a couple, this is one episode that you don't want to miss.
We start off with Belly sneaking out of her house to meet up with Conrad at Christmas time. This is possibly my favorite scene of the whole series. With One Direction's Steal My Girl playing in the background and Belly running out to Conrad's car with Christmas lights decorating the town behind her, it truly was the perfect moment. What triggers this flashback is Belly's trip to Brown. In the current time, she's taking a train to meet up with Jeremiah in order to find Conrad.
When Belly meets up with Jeremiah, it's obvious that he is extremely nervous about Conrad. As they find his dorm room, they learn that Conrad has been missing since Thursday afternoon and he was having a fight with someone on the phone. Belly also learns from Conrad's roommate that he fell into a depression when the two of them broke up - which we have yet to learn more about.
During Belly's drive to Cousins Beach with Jeremiah, you can sense the awkwardness between the two of them. It's hard for them to talk about anything - but especially about the death of Susannah. Jeremiah brings up the fact that he has only ever been to Cousins when it's not summer once before, bringing us into our next flashback. Conrad and Belly at the beach during Christmas time.
Although this show is meant to focus on the love triangle between Belly, Conrad, and Jeremiah, I must say that there is very little Jeremiah at all so far. His big moment to Belly was when he admitted to her that he needed her during these last few months and she wasn't there. Although this was a well done performance by Gavin Casalegno, the chemistry between Belly and Jeremiah still isn't there - although, we still have five more episodes to see if that changes.
Belly returning to Cousin's Beach brings us to another fantastic flashback. We see Belly and Conrad playing on the beach, when it begins to snow and
Invisible String
by Taylor Swift is playing in the background. This was a beautiful scene that really highlighted the feelings the two have for each other.
What's then revealed in the current timeline is that the house at Cousins Beach is for sale and the boys and Belly will be losing the house that they have grown up in every summer and have a deep love for.
With that being said, we are then brought into episode 3 "Love Sick." We find out that a new character who we have yet to meet, Julia,Susannah's half-sister, has decided to put the house up for sale. But because of medical bills they had to pay and the overall price of the house, Conrad and Jeremiah are unable to buy the house in order to keep it.
We get thrown into a flashback that takes place during the winter and we see Belly and Conrad starting to plan for Prom and their plans for after Prom with Taylor and Milo. Conrad doesn't seem to be himself when he goes up to Belly for a hug, to which he admits that his mom's medicine doesn't seem to be working, so they're changing it. This obviously is not a good sign, and the viewers get the sense that things are about to start declining. Belly tries to reassure him that the new meds mean Susannah is doing better, but Conrad doesn't buy it.
One relationship that these three episodes started to tease, and even more so in the third episode, is the one between Taylor and Steven. This was a relationship that was also teased in the trailer - but it's great to see the two of them now actually starting to "happen." When Steven finds out that Belly is in Cousins, Taylor is the first person he calls. Taylor then demands that she goes along with him. As the next few episodes are released, I'm excited to see how this relationship grows and where the two of them end up.
Episode three explores Prom throughout the flashbacks, which were highly anticipated moments for fans of the show. We get to see Belly and Conrad going to Prom together, which also allows us to understand what happened between the two of them. With Susannah not able to be there, Belly's mom video chats to her, which allows her to see the two go off to the dance. Obviously distracted by his mother's condition, he forgot Belly's corsage. Through this story, we even get the full story of how the two broke up. This all stems from the fact that he forgot the corsage and he no longer wants to stay for the full prom. Belly gives him back the infinity necklace, and the two call it quits.
The addition of new characters, Skye (Elsie Fisher) and Julia (Kyra Sedgwick), were also prominent in this episode. Belly and Jeremiah head to visit the two in order to see if they will be able to keep the house. Although this was the first we saw of them, it was not a very good meet-up and things seemed to be very tense. I'll be really interested to learn more about their story as the season goes on -- there has to be a reason Julia wants to sell the house!
Another important moment that we got to see during this episode was flashbacks to Susannah's funeral. What we didn't know up until this moment was that there was a huge fight between Belly and Conrad at the funeral. This is all because she sees Conrad with another girl named Aubrey.
Back in present time, Steven and Taylor arrive at the beach house, and the three tell them that they aren't able to get the house back -- their father won't even let them use their trust funds, leaving them in an even worse place than before.
This episode ended on a cliffhanger, with Conrad having a panic attack after seeing something on his phone screen. Although we don't know what exactly Conrad saw, we know it must've been bad enough to upset him. I will be wondering what happened all the way up until Thursday when we get the next episode!
Overall, I am absolutely loving the season. I think that the characters are all really strong and that each actor brings something unique to their role. It'll be interesting to see how the love triangle evolves this season, especially since the show seems to be very centered on Belly and Conrad this time around.
What did you think of the first three episodes of season 2? Are you planning on watching the upcoming episodes? Let me know in the comments!