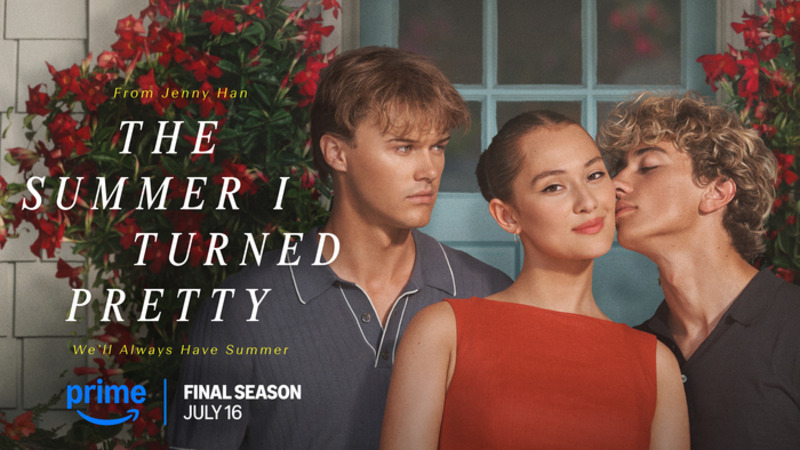 The Summer I Turned Pretty returned this year with episodes and characters that were both heavily debated online - and in person - especially when it came down to the show's main love triangle. The TV series along with the book trilogy of the same name, focus on the love triangle between Belly Conklin and Jeremiah and Conrad Fisher - two brothers whom Belly grew up with. Every summer they would go to Cousins Beach and stay in a home owned by the Fisher's mother, Susannah. Before Season 2 takes place, Susannah passes away from cancer, leaving the house for sale and Belly all alone, unable to navigate her past relationship with Conrad and budding romance with Jeremiah.
The second-half of the season focuses mainly on the love triangle and the fact that the three teens, along with help from siblings, cousins, and friends were trying their hardest to make sure the beach house did not get sold. What I really enjoyed about this season was that each episode had really fun and unique moments. Whether they were throwing a retro party as a final hurrah to the house or spending time at the Country Club, this season proved to be a lot of fun for the viewers.
Although, I do have to say, the love triangle was a bit too played up for my liking this year. Not only did it cause a huge rigft between Belly and the boys, but it also started ruining friendships between the other characters (such as Steven and Jeremiah, because Steven mainly picks Conrad's side in the love triangle) and it also felt a bit pointless. For a show that is clearly following the books, the forced chemistry between Jeremiah and Belly is only being used as a plot device, in my opinion. Gavin and Lola both do amazing with their roles, but there is just something between their characters that doesn't click. Having to believe that Belly got over Conrad and fell for his brother in only a week just wasn't possible.
Getting to the fun and unique moments, Season 2 was filled with trips to the boardwalk, arcade, country club, and at a blow-out party hosted by the teenagers as a last hurrah for the beach house. This season did such a good job at having fun moments that still moved the story along. Whether it was Steven and Taylor dancing to Miley Cyrus'
Party in the USA
or Belly and Jeremiah going for a ride on
The Tower of Terror
at the boardwalk, each moment was intentional in moving the story forward, while still providing the audience with moments that kept them watching and talking.
I thought that Season 2 was much more about character development and personal lives, something that this show even did well in Season 1. I feel as if each character is well-rounded and translates well off the screen, even when they make a bad decision. You can always understand why they feel the way they do, even if you don't agree with the actions that they took. Finale Belly, I'm looking at you!
An interesting approach that this season took was getting an episode from the POV of Jeremiah. Now, as someone who is 100% Team Conrad, I wasn't sure how much I would enjoy this episode. The episode Love Fool centered around the teenagers spending the night at the Country Club since everything was removed from the beach house in Aunt Julia's attempt to sell it. It also was the start of Belly and Jeremiah's relationship, which played a huge part in the last half of Season 2. The audience also got to hear what made Belly so important to Jeremiah and why he was always feuding with Conrad. This helped viewers understand what was going on inside of Jeremiah's mind and also gave reasoning for why he acted the way he did. Gavin Casalegno did a great job portraying Jeremiah this season, but this episode was extraordinary for him. He fully captured his character and made the story come to life on screen.


All of the acting on the show is spectacular, but I can't write this review without having a full paragraph to highlight Chris Briney's performance as Conrad. Not only did he bring the proper emotion to such a complex character, but he did it properly and it was extremely believable. Briney brought Conrad to life in a way that lovers of the book series and TV show can't help but have a soft spot for Conrad. His on-screen chemistry with Lola Tung (Belly) adds to his character's storyline. His onscreen presence really makes the show what it is.
Overall, I liked the second half of Season 2 just fine. It was interesting and captivated my attention, while still having the elements of a fun summer TV show. Season 3 was already announced and is set to start production after the Writer's Strike. I'm really looking forward to it and I can't wait to see if the ending follows the book. So far, a majority of plot points have stayed the same for the first two books, so will Belly and Conrad end up together in Season 3? I can't wait to find out, but I must say, all signs are pointing to yes!
Did you enjoy this Season of The Summer I Turned Pretty? Let me know in the comments below!