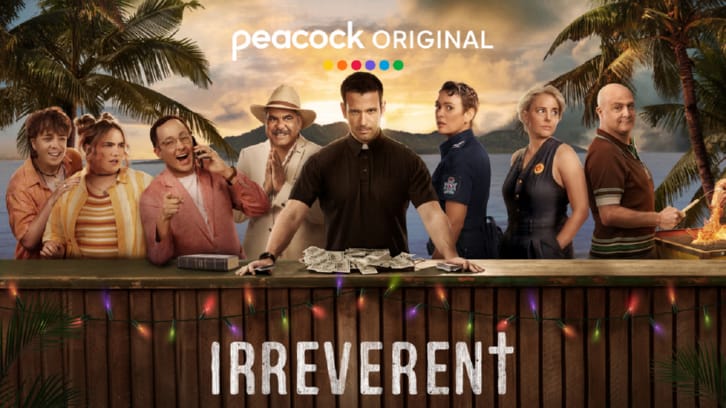 Peacock's Irreverent landed on the streaming service in November. The show surrounds a criminal mediator named Paulo (Colin Donnell) who needs to escape his hometown of Chicago immediately. When he decides to head for Australia, all of the money he has with him is taken by Reverend Mackenzie Boyd (PJ Byrne) who is on his way to a small reef community called Clump. Mackenzie then flees, giving Paulo no other choice than to head to Clump under the name of Mackenzie "Mack" Boyd and act as a Reverend for the people of the small community.

SpoilerTV had the chance to sit down with Debbie Lee, Execeutive Producer of the series, and learn more about Irreverant.

What has the reaction to Irreverent been like?

Because we're in Australia we don't see a lot of the responses from the US but we have been reading the reviews and we've had some really fantastic responses. Certainly on Twitter as well, and it's been doing well on Peacock. It's been on Netflix in Australia and New Zealand, you know. It launched a few days after Peacock and it's been in the top ten for about ten days. So that's really exciting. We haven't had a chance to really catch up with Peacock or Netflix on how they're going about it, but we've been getting really lovely responses. You know, from from individuals, but also reviews. We've had some really lovely reviews in Australia as well. It's exciting.
How did the production of Irreverent differ from others shows that you have worked on?

I think the thing that is always hard with any show, but very particularly with this one is nailing the tone of the show. Because this is, you know, it's about community. It's like a classic fish out of water story, but one with really quite heightened stakes. So the trick was really to balance the comedic elements with the heightened dramatic stakes. But also with that real human morality tale at its heart. So that was a particular challenge in development, but we had a great story, we had a great set up, we worked out a fantastic location or we haven't quite found the location yet, but we had an idea. Because it could have gone any number of ways about where Mack would end up, but it just felt like a really tropical paradise was something that was quite unique.

Really nailing the tone I think that's always a hard thing, even when you're pitching a show. When pitching the story people can't quite communicate what the tone is going to be, but we did have reference points. We we are all fans of shows like Northern Exposure and shows like Ozark but not as dark. You know we wanted that really beautiful heart to the show as well, so yeah, lots of challenges, but you know it's really lovely to hear that people really are getting that. You know when they're talking about the show to us they go "Ohh, you know it reminds us of things like Northern Exposure, but you know maybe with a little bit of Ozark even." And they were actual reference points for us, so that's really exciting to hear that people get that.

What drew you to the story?

It's a really fantastic setup. I love the fact that it came from an absolutely real place for Paddy Macrae, our showrunner and series creator. Whenever someone pitches their show to me, I always want to know where it comes from for them. Paddy has such a great story to tell around his childhood and growing up with his family, who I now have met and they're all fantastic people. But you know, he was always telling stories about growing up in country Victoria with his father as the parish priest and his whole family. Very much involved in communities, so it absolutely comes from a genuine heart place for Paddy. That ultimately is what draws me into wanting to know more because it does come from real heart. And when we talked about it, it was like "Oh wow. Ok this is a good story. Mack's a criminal and when he lands in Clump, you know all he wants to do is get information and get to Mackenzie and get the money. But in the end makes those real human connections and kind of community. That's just a beautiful story and it is a real morality tale as well, which is an aspect that I love about the show.

What about the show resonated with you the most?

Mack and Daisy for me are the heart of the show. Just watching that beautiful relationship develop over the course of the series. I mean, you know there's a number of relationships that developed, obviously. But the relationship between Mack and Daisy is so fun. She's between like "Who is this guy? He's not who he is." I just think take Tegan Stimpson, who plays Daisy, is such a fantastic new talent. I just love her performance and I love watching Teagan and Colin tie those characters and really bring them to life. There's also Mack, and Mackenzie -- a hilarious relationship. That was sort of unexpected. When we were developing the show, we didn't know who was going to play Mackenzie and then we saw PJ's audition and it was just like "Oh my God, you are incredible and just got such a unique edge to that character." I can go on and on about those relationships, but yeah, ultimately it's Mack and Daisy that really punch me in the gut. And that's my favorite thing. Like we always talk the ultimate thing for me in the show and I think that Daisy will make him laugh and then punch him in the gut. You know, make him laugh and make him cry and that's my favorite thing. When you first watch and you can have a laugh and then tear up. All of that emotion I think is that real human emotion that I love in the show.

Are there any characters that you relate to?

There's aspects of every character you know. There's no one character that I go "Oh! I relate to that character." There's aspects of many of the characters and it's about human vulnerability. Like when people are out there that's vulnerable because you are allowed in as an audience member and as a person, when you're watching something, I think. And it's when Mack is vulnerable. It's when Daisy is vulnerable. It's when you know when Piper is on. You know Paiper in some ways quite a closed main character. Like she's always a little bit on the outside and she's watching and watchful. It's when you have those moments and she does let her guard down. They're the moments that you connect with characters I think. It's a bit hard to find moments of connection. Also, Cameron. He's such an oddball, but so vulnerable and so gorgeous that and I love the relationship between Daisy and Cameron as well. It's such a beautiful friendship. They're always there for each other.

It's not specific characters like where I go, "Oh that's me isn't it?" But certainly you know, I find constant connections with all of them.

Do you have any memorable moments from production?

There are so many memorable moments. We've had lots of moments of celebration and then moments of commiseration but it's so fantastic to make the show. The thing that I have regrets about is I didn't make it up to Queensland for production until the very last day of the shoot because of COVID. So I was just on phones for that first couple of weeks. Mission Beach, where the show was shot, which is beautiful, is true to form. True to the town of Clump. It kind of missed out on a lot of modern technology, so it was really hard to communicate in that first couple of weeks. We were really disconnected. You know, just cell coverage was absolutely shot. Internet was terrible. They were getting Internet boosters in, you know, I was talking to Paddy and then it would drop out. So that was memorable, but we got through it. It was like life imitating art. But it was a big challenge for all of us down in Sydney, who were working with them during pre-production. Then with the casting as well or watching you know Zooms or watching auditions and then Zoom calls with the casting. But hey, we got it together. Eventually we got there at that time. That was just one of the aspects of the challenges of shooting somewhere that is that remote. So yeah, lots of memorable moments, but it was fantastic to get up there for that final day of shooting and getting to celebrate the end of that shoot was such a big, big experience for all of the cast and crew. There were so many challenges that they became a very tight knit community, much like the town of Clump. The town of Mission Beach, where it was shot, really embraced that whole production as well, like there was a lot of love in the room. It was wonderful.

Would you be open to revisiting Clump for a seond season?

I think we definitely left it open for the possibility of a second season, so we just have to wait to see how we go. But you know, hopefully in a few weeks maybe we'll have more of a sense, but there's so many questions that have been left open at the end of the show. You know what happened that next day? Is he going? Did he make a deal? You know? What's Piper going to do? What did she do? You know? Why would she not turn him in? There's clearly a connection between them there. There's so many ways that can go. So yes, we'd be very excited to engage in more if we're lucky enough to have that opportunity.

Have you streamed Irreverent on Peacock yet? Let me know in the comments!