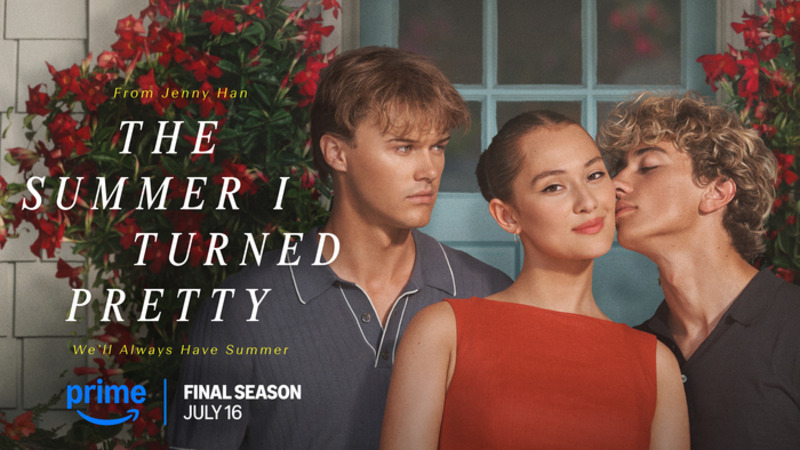 Just a year ago, Amazon Prime's original series took the world by storm.
The Summer I Turned Pretty
, which is an adaptation of a book series by the same name, was everywhere. Between its use of top hit songs and balancing between emotional and light hearted, this was the show that everyone was talking about. It was no surprise when the show was renewed last year for a second season that started filming almost immediately.
And now, summer returns. As the days start to get hotter, we start to approach the premiere of
The Summer I Turned Pretty
season 2. Fans have been on the edge of their seats waiting for more information on the season which is theorized to be based on the second book,
It's Not Summer Without You
. And finally, a trailer was released, using a brand new version of Taylor Swift's iconic hit,
August.
Not only did they add in Taylor, but they kept it on theme for summer, which I thought was pretty cool.



Our season trailer opens up with Belly (Lola Tung) lying outside of the house on Cousin's Beach in a dream-like state. Conrad (Chris Briney) - who she ended up romantically involved with at the end of season 1 - leans over her, and grabs her infinity necklace - which real fans know is an important memento to the couple. His brother, Jeremiah (Gavin Casalegno) comes up to the two, making a sarcastic comment. This leads to Belly and Conrad about to share a kiss. From there, we get a flash forward into the summer we're about to experience at Cousin's Beach.
From another volleyball game (this time indoors), where Belly and Taylor (Rain Spencer) are on the same team, to Steven (Sean Kaufman) graduating high school as Belly and her mom sit in the crowd. This is about to be a jam-packed summer where all of our beloved characters are going through triumphs and changes.



One thing that sets season 2 apart from season 1, is that it seems we might get a glimpse at the holiday season, something that totally doesn't take place during the summer. We see Belly and Conrad sitting at a table decorated with what seems to be Thanksgiving decorations, along with them wearing sweaters and long sleeves. As someone who loves holiday episodes of television shows, I really hope that we either get to see the holidays through a flashback that takes up a majority of an episode or even a whole episode dedicated to flashback.
Of course, it wouldn't be a season of The Summer I Turned Pretty without some romance! Although the trailer seems to be heavy with Belly and Conrad moments, fans of the book know that this is supposed to be Jeremiah's season. *Spoiler Alert* At the end of book 2, Belly decides to date Jeremiah, Conrad's brother in a turn of events. In this trailer we are teased with two different moments with Belly and the boys. First, we see Belly in the car with Jeremiah sharing a romantic glance. Then the trailer cuts to Bell and Conrad on the beach and Belly is touching her infinity necklace - the same one from the beginning of the trailer.

But it seems that Belly isn't the only Conklin sibling who is about to have a summer filled with romance and difficult choices. After his relationship with Shayla in season one, it seems that Steven is about to move on to Belly's best friend Taylor. We're shown a scene of the two of them dancing in what seems to be a theater. As of right now, this seems to be a relationship that I don't feel too strongly about. I really liked Shayla and Steven together, so I will have to see if these two can live up to them for me! Although, if there's one thing this show does right, it's character pairings and growth, so I can only guess that Steven and Taylor will end up being a couple that I like.
It's also evident that Belly and Conrad will have their iconic prom scene - which ends with Belly driving away in tears. Although this will be a sad scene for Belly and Conrad fans, Belly and Jeremiah fans will maybe get to see their favorite couple together. Although the books ended with Belly picking Jeremiah in the second book, there's still a chance that it won't follow the books exactly. The only way to find out is to watch!
If the books are followed, then we will have to watch the passing of Susannah, Conrad and Jeremiah's mother. This will be a highly emotional storyline and will play a big part in the second season if it follows how the second book went.
This season of The Summer I Turned Pretty is my most anticipated watch for this summer and I can't wait to see how it plays out! I'm eager to see which of my favorite book scenes made the cut and what new additions can be found in this season. From new characters to moments that weren't in the book, The Summer I Turned Pretty is sure to add aspects that draw viewers in even more.

Are you looking forward to the second season of
The Summer I Turned Pretty?
Make sure to let me know in the comments and to tune in to the first three episodes on July 14th!