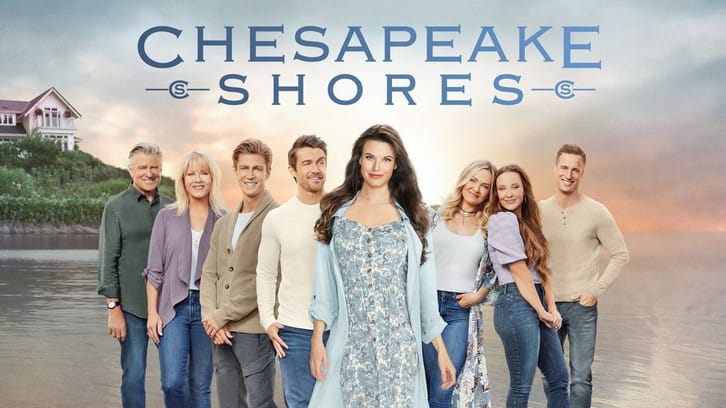 Last season a lot of storylines were left in the open to be continued into this final season; Abby's love triangle, Connor's health issues, David's father disappearing, Mick and Meghan's relationship, Bree finding new love and settling back in Chesapeake Shores and Sarah and Kevin's struggle to grow their family. So there is more than enough that needs to be concluded in this final season.
Connor's Cardiac event One thing they learned last season was the use of cliffhangers. They ended the season with a big one, in which Connor got a heart attack after kissing with Margaret. This season we pick up just a little bit after where we left off, at the hospital. Everyone is there waiting except Jess, (she was dealing with David's family issues) who arrives later. Everyone looks just dreadful waiting for any news about Connor. When the doctor finally comes, she tells the family he is out of immediate danger. They stabilized him, but since he suffered a severe myocardial infarction, has deep-veil thrombosis in his leg and blood cloths in his lungs he might need further treatment. Time will tell how he will recover.
Family is allowed to visit Connor in the hospital, but since Margaret is no immediate family she is not allowed to see him. Bree takes matters into her own hands and takes Margaret with her to see Connor. When they bump into a nurse Bree tells her that she and Margaret are his sisters and that Bree is adopted. They walk past and Margaret gets to talk to Connor. Connor tells her that they might be better off ending things, since he doen't want to burden her with his condition, to which she answers "I would kiss you again if I thought you could handle it"
Connor is slowly starting to feel better throughout the episode but still looks miserable. When Margaret visits him at the house he tells her that his recovery is going to take a couple of months, maybe even longer. This makes him realise he has to close down his office, since he won't be able to return to work until he is fully recovered. Margaret offers to hold down the fort since she is paralegal and is scheduled to take the bar exam this month. They decide to see how it goes for the next few weeks.
Abby's love triangle Last season Abby caught the attention of two men, Carry and Caitlyn's teacher Jay and Evan, the odd billionaire who came to town last season to build a hotel. After seeing multiple interactions between Abby and the men we were left in the dark to whom she send a voicemail at the end of last season about giving it a shot.
At the hospital Bree, who was with abby when she send the voicemail, and Jess are discussing who Abby called earlier that night. We find out that Bree is team Jay and Jess is team Evan. When Jay shows up at the hospital they assume it is Jay who she called to give it a shot, but not long after Evan shows up at the hospital as well. Neither of the men mentioning the voicemail, which leads us back to square one, regarding the mystery voicemail.
Later that night Abby confesses to Bree and Jess that she finds it interesting that he didn't say anything about the message she left him. Bree and Jess are now dying to know who she called, but Abby is enjoying it too much and keeps it to herself a little longer.
Meanwhile we find out that Evan doesn't see the use of voicemail and has 35 unread messages. Mandrake offers to scan them for him and give him the notes on what he needs to know. Pretty soon Mandrake stops what he is doing and tells Evan that there is a message he thinks Evan should listen to himself. And we as viewers finally find out it was Evan she left the message to.
The next morning Evan is contemplating his next move after hearing the voicemail. Abby finally tells Bree who she texted, who says that Jess was team Evan. But since Abby hasn't heard back from Evan she is wondering if she made a mistake and Evan is avoiding the subject.
When they finally talk about it is awkward. Abby blurts out about the voicemail and that the interpretation could be different. When Evan tells her that he didn't listen to the voicemail until after they left the hospital it doesn't get less awkward but they decide to go on a date, on which Evan proposes two dates. Because the first one is always awkward.
Later on Mandrake calls Abby if she is up for a date. When she looks out of the window there is yacht in front of the house and Evan comes up to invite her. Abby still dressed in sweats. Needs to change real quick before stepping onto the yacht for their official first date. Starting with a fancy dinner and ending the night dancing. No kissing yet, because Evan decides to take things slow.
For later episodes Lastly there was some build up regarding the storylines for future episodes. Bree and Luke are growning closer, while Mick at first is hesitant he warms up to the idea. Mick even offers Luke the position of Manager at the Bridge. David is struggling with his fathers actions, who has gone missing after to committing fraud. He also gets a visit from the FBI. Mandrake commenting on Kevin's time in the army after seeing the way his shoelaces are tied, and revealing he was in the army as well. And finally the way Mick's use of painkillers is shown, might suggest there is more coming to that story.
What are you hoping to see this final season?