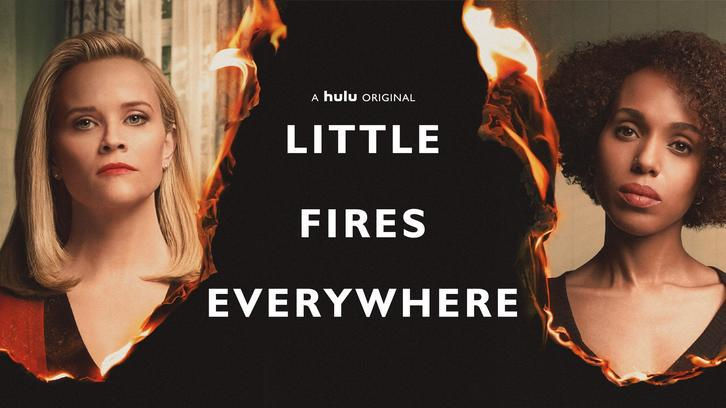 "Shaker was built on the underlying philosophy by the founders that everything can and should be planned to avoid uncertainty and disaster."

The show opens with Elena Richardson (Reese Witherspoon) as she watches he formerly beautiful house being engulfed in flames. Later, we find out it started with little fires everywhere and it was set on purpose with her inside. So we'll mostly explore who'd have a reason to do that, and the answer is (of course): many.

I have to say the production value and the acting are wonderful, but I'm not sold on the writing. And I haven't read the book so I'm not sure if it's because of the source material or the adaptation, but there's just a subtlety missing here that I think would be key to discuss all the things they're touching on, and the lack of that, makes the whole thing feel a little cheap, but that might just be me.

The story begins in Shaker Heights, in Cleveland, Ohio, on 1997, the fire happens by December, but first, we're shown what happened in August of that same year. Elena and Bill Richardson (Joshua Jackson) seem to have the typical family life, except for Izzy, "the problem child". Husband and wife never seem to be on the same page, but that might just be because she's too obsessive.

Elena is a typical type A "soccer mom". She works part-time as a journalist and fuels her own self-perception by some past glory and her accomplishments as a "progressive" mom. As it's to be expected, she seems to have everything under control and be wary of anything that threatens her everyday life.

Here's where Mia Warren (Kerry Washington) comes in, she's staying in her car with her daughter, Pearl, and a call to the cops by Elena forces her to try and rent out a place nearby, and believe it or not it's Elena the one who shows them around the house since she's the one who rents it out.

Mia does not seem fond of the community rules and I have to say I'm right there with her, the idea that someone could be measuring your grass and giving you a ticket if it gets too long is a bit much for me. We learn they were trying to get into E. Shaker's school district for Pearl and she'll be going with Elena's children as well.

Also, we see Mia has nightmares with Jesse Williams, yes nightmares. That just doesn't seem right. Later on, his face is replaced by Elena's, I wonder what that's about, maybe something in her subconscious is telling her, both "villains" might have something in common. He's most likely Pearl's dad but I wonder if he was violent or if he raped Mia, based on her reactions to seeing him in her dreams.

Mia says they move around a lot so the rent has to be month to month, and though at first, Elena says no, then she sees they're the ones she called the cops on them and she feels too guilty to let them go. Eventually, we learn the reason they move around so much is that Mia chooses a place as her subject for a series and when she's done they move on, the relationship between mother and daughter seems very sweet but it doesn't sound like the moving around is easy on Pearl.

Over the course of the first three episodes, mother and daughter fight more than once over what they have and what they don't, and Izzy and Elena continue to fight about acceptance. It seems both kids wish they could switch moms. This is a perfect example of how hard it is not to screw up a child, you either do too much or too little, in any case, something will usually go awry, sometimes with worse consequences than others.

Speaking of which, what seems to be the vein of Elena's existence is Izzy, she's the rebel, vegetarian and most likely gay. Elena tries to make her fit in but it always backfires, as shown by the fact that just after her mom says her hair is her best feature, Izzy burns a chunk of it off. Later we learn she might be struggling with people bullying her for her sexuality since she tried to kiss a girl she used to be friends with.

Pearl and Moody hit it off right away, Moody would be classified as the "Looser", Trip is the popular kid, and Lexie is the mini Elena. Izzy "the rebel" can't seem to get her mom off her back, she's looking to find her own identity and she keeps hitting her head on the mom-wall. She even refuses to play with the orchestra ad writes "Not your puppet" on her own forehead even though she's apparently pretty good at it.

Pearl and Moody seem to get closer but she also seems interested in his brother, Trip, and I have to say Pearl is the one I understand the least, perhaps there' a drive there to get out of the life she and her mother have and she thinks someone like Trip could be her ticket out. One night, Bruce, the neighborhood guard, catches Moody and Pearl trespassing and this creates a fight with Mia who's afraid of what could happen if she doesn't take things seriously. But this time Pearl finally stands up to her and says she's tired of moving around, of not having a home.

The next day, with the bile clear on her face, Mia accepts Elena's offer to work in her home since they might stick around for a while, but it's not clear if it's to make her daughter happy or because she just found in Elena and her family the subject for her next series. Maybe it's both.

Mother and daughter seem uncomfortable with the work Elena's asked her to do, but Mia does not let her set all the rules. Mia does her best to appease Elena's questions about her past but it's not working, Elena even gets a friend to do a background check on her. It doesn't turn up anything but Mia finds out and talks to Elena.

She appeals to her ego and her own self-perceived generosity, she says usually people don't want to rent to a black single mother, but she should've known Elena was different and just been honest about the fact she had to break her last lease. After that, they drink wine and make-up, they seem to get along for a moment, but there are things Mia doesn't want to talk about and things Elena doesn't want to admit about herself.

Pearl wants to take advanced classes but the counselor doesn't think she'll be good enough, and it's clear why he thinks that. Elena sorts that out personally, since she has friends everywhere, of course. But then Lexie steals Pearl's essay about being denied an AP class and changes it to sexism instead of racism for her application to Yale. When her boyfriend finds out he gets mad and she tries to salvage the idea of her relationship by having sex, it seems she has the same connection to her sexuality as her mother, a means to an end.

The story gets more complex when Mia's co-worker, Bebe (Lu Huang), tells her about her little girl she had to give up because she couldn't even take care of herself, much less a baby. I have to say the comparison of the way a pretty white girl who's seventy cents short to the way Bebe was treated was pretty good, if not exactly subtle.

Bebe admits she missed her baby and wished she could have her back, but she can't go to the police because of her immigration status. Enter Elena's friend, Linda McCullough (Rosemarie DeWitt), who apparently just adopted a baby girl that fits Bebe's story. When she confirms it's the same baby, Mia tells Bebe, her idea is to go through the proper channels, but Bebe rushes into the McCullough's house screaming for her baby. And that's where this story really begins, everything we've been shown, up till this point, is all mostly set up for the characters who will be involved in this custody battle.

I get Bebe's instinct but her baby had not been stolen and was not being tortured. Her actions only seem to hurt her case and, though it's understandable, I think things could've been better if she'd approached it in a different way. And this is the moral dilemma the story relies on, Bebe got dealt a rough hand, but that's not really the McCullough's fault so I get why it's tricky. I wonder what everyone else thinks.


"There are rules and they exist for a reason. If you follow the rules, you'll succeed."
"Succeed in rule-following?"

What do you think about the show? Are you liking it so far? I look forward to your comments.