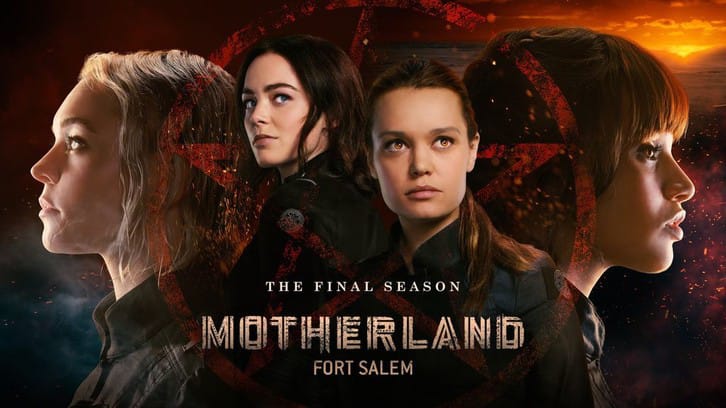 Motherland: Fort Salem is a show with such a big legacy that it will live on long beyond tonight's final episode. A few of us here at SpoilerTV wanted to take a few moments to remember this show and honor its legacy.
When I saw the first episode of
Motherland: Fort Salem
I wasn't even halfway through before I knew this was a special series. The characters just popped off the screen and the energy of the cast was infectious. The special bond they all share was evident from the very start. But it wasn't just the cast and characters that stood out. The aesthetics, CGI, sets, writing, vocal overlays, etc have always been spot-on. Even when logically something they were trying to do shouldn't have worked, they always made it work in a way that elevated the moment exponentially. They pulled off so many things that other shows have tried and failed to accomplish. This wasn't a show where the cast kept it afloat, this is a show where every department knew what needed to be done and they did it to the highest degree. That combined united front is what has made this a show that has forged such an immense legacy for itself.
Beyond the behind-the-scenes aspect, they told compelling stories. We got to watch Raelle (Taylor Hickson), Abigail (Ashley Nicole Williams), and Tally (Jessica Sutton) grow from naive young women who clashed at every chance into a bonded family. They experienced love and loss always there to support one another. We watched Scylla (Amalia Holm) experience one of the best redemption arcs going from a misguided Spree agent to a witch willing to do anything for her wife and their family. She became an integral part of the very unit she once sought to destroy. We witnessed the tough love of Anacostia (Demetria McKinney) as she guided all of the young witches through trials and tribulations. We also witnessed the evolution of Petra (Catherine Lough Haggquist) as she grew not only as a leader but as she evolved into the mother Abigail needed. Then there was Alder (Lyne Renée) and Nicte (Arlen Aguayo Stewart/Kandyse McClure) who despite being enemies ultimately put aside differences to do right by all witches. This show had a whole vast array of extraordinary recurring characters who each left a lasting impression. From the heroes to the villains there was never a single character that didn't leave a lasting impact. We watched the characters love, lose, sacrifice, fail, prevail, and unite. Because of all of these things, this is truly a special series that none of us will soon be able to forget.
-Aimee Hicks

The arrival of Motherland: Fort Salem on the television landscape came at just the right time to be a breath of fresh air. The Freeform series telling the compelling story about a group of young witches was a welcome change from the teen angst, superhero, police/fire/doctor/lawyer shows that dominated other networks. The addition of the amazing Amanda Tapping as executive producer and director was a stroke of genius. Her deft hand and experience with telling a great, multi-layered, action-filled story while making the heart and focus of the show the bond between three young women to form a family was soon evident.

We had the pleasure of watching some very talented young women grow and mature before our eyes, not only as actresses but also as their characters. The strength and power of their bond is the beating heart of the show and will long be remembered as a lesson for always fighting for those you love whether they be blood or found family.
-DJRiter
There's so much to be said about this show and I'm sure many will agree on its strengths. The concepts have been incredible to watch unfold as well as the performances without which this show would definitely not hit the same way. Of course, it's not the first show to focus on family, teamwork, friendship, love, vulnerability, and strength, but it's certainly one of my favorites and I love the way they handled all of that within this fantastical world filled with wonder; and also some horrors, which were brilliantly portrayed as well, especially regarding the emotional repercussions on the story. I would've loved to see more of these characters and this world but I am happy with what we got and the impact it's had on so many, and I know that they will stay with us.
-Luana Arturi
Watching the adventures of Raelle, Abigail, Tally and the witches of Fort Salem has been a delight for the past three seasons. The trio found family within the ranks, becoming as close as sisters. The bravery, the willingness to do anything for their friends and the relationships (such as Raelle and her girlfriend Scylla) really shine in this underrated show. General Sarah Alder has also been a highlight for me, and I hope it leads to more roles for Lyne Renée. This has not been just another witch series, but one with a creative backstory and inventive lore. The way the women team up to fight enemies such as the Spree and the Camarilla has been beautiful to watch, and I will miss seeing this cast on my screen.
-Natalie

Please leave a comment below telling us how you will remember the series, what you'll miss the most, and what memorable moments you'll never be able to forget. Then return to SpoilerTV tonight for the very final review of this extraordinary series and bid the show goodbye.