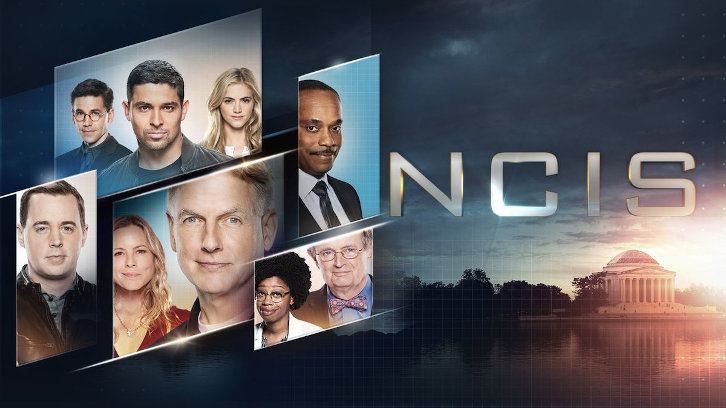 16.22 - "Executioner"
Written by Christopher J. Walid & David J. North
Directed by Terrence O'Hara
Reviewed by KathM
Is that it?

"Executioner" was a good episode, and we moved the story of Gibbs's breakdown forward, but I'm more than a little underwhelmed by the way the "Judge, Jury" storyline ended. I doubt it's the end of the storyline (because we still haven't learned how they got access to so much $$$, who mentored Deakin, etc.). It was a good story, I just felt it was badly put together.
Last week I thought that the organization involved in selecting the targets to eliminate might want to recruit Gibbs and couldn't have been more surprised when they decided that he had to die for the crime of killing Pedro Hernandez (the man who killed Shannon and Kelly). How did they find out in the first place? I thought only Abby knew because she did the forensics on Hernandez's autopsy, and I'm sure she kept it under wraps. Also, I would think that that reason Pedro had to die (killing a witness) might be something the judges would advocate, depending on how vital Shannon's testimony was to the case. So, I'm still a little confused about why Gibbs would become a target. But Deakin and a small group of judges who are metering out their own kind of justice have decided that he has to go.
The problem is that they no longer have an assassin, since the bailiff who worked for Deakin is now in prison. Somehow, they ended up with Mallory, Leon's pretend CIA girlfriend, which I think might come back and bite them because Mallory smells like crazy. Just a little bit off. Slightly desperate? When Leon and Gibbs arrived at Gibbs's house, we find Mallory standing over Agent Clark's dead body. We get to see the beginning of the scene, when Mallory and Clark are shouting at one another, but do not see the part just before Leon and Gibbs arrive when Mallory said she shot Clark in self-defense. I don't think she did, I think she just plain killed him. She half-heartedly tries to kill Gibbs but misses, which Leon says she'd never miss unless that was her intention all along. She turns herself in and tells Leon (who shouldn't be questioning her) that when he made her as a CIA agent and not just his girlfriend Clark downgraded her security clearance, which ended up costing Mallory her job. I don't see how, but that's how television works. Mallory had no choice but to go to Deakin, and he asked her to be their assassin. But she just couldn't kill Gibbs, so she turned herself in to see if there was something, she could do to help him arrest Deakin. Oh, and none of the Deakin stuff and getting fired and everything would never have happened if she hadn't fallen in love with Leon. Cliché! But Mallory does manage to help in the end, using the trick necklace Leon gave her to record a conversation she has with Deakin about killing Gibbs.
Speaking of justice, what about SecDev? He comes to Leon and Gibbs earlier in the episode and tells them that he needs help: someone took a very old account with tens of millions of dollars in it and put his name on it. The account was created to help fund the battle of terrorism overseas during the period just after 9/11, and the government just forgot about it. Now they're using it, and it looks like SecDev is using it himself. If there are any other accounts just floating around all alone, I'd be happy to make sure they spell my name right. He wants Gibbs and Leon to help him find out what was going on because he's researched them and found them to be "exemplary men" and of high moral character. This is pretty much exactly what Clark said when he recruited Leon and Gibbs to help him, which makes me think that SecDev and Clark are involved in the same type of organization. Then again if Gibbs were found to have high moral character (which, duh!), why is he on Deakin and Co.'s list to be killed? Hummm…
At the end of the episode SecDev gives Leon a Challenge Coin for solving the case. Something about that strikes me as odd, so I'd tell Leon to keep it in his desk instead of walking around with it.
The situation with Deakin causes Gibbs to tell his underlings the truth: "I killed the man who killed my family, and Deakin knows." I'd always wondered if Gibbs was ever going to tell anyone about how he killed Pedro, but I was surprised by the way he just calmly said it to his team in the gloriously dark elevator. I think of all of them only McGee understood what the background story was, and the way they reacted (largely by not reacting) tells you a lot about how much they respect him. Or are confused about how they feel. Or both. They decide that if there were enough to charge Gibbs for the murder the government would have, so there is no point in thinking about it. Right. Regardless, I think this will really impact the team dynamic going forward.
The parallels of Deakin and Gibbs was interesting, using to highlight their similarities along with their different thoughts on justice. Hey, they're just two old government employees who love to work with their hands and make things with wood. Gibbs gives his criminals over to the justice system (Pedro not included), while Deakin meters out that justice but is disappointed that it can so often go wrong and cause the guilty to go free.
Watching Gibbs walk Deakin into the courthouse was powerful, and hints at more of a story to come.
I wonder if this week's episode will tell us more. If nothing else, we get to see Dr. Grace! I hope she's able to help Gibbs get back to himself.
If this is the end of the "Star Chamberesque storyline, I'll be sorely disappointed. I think there's a lot more going on and I hope we get to see it. It was wrapped up to easily and too neatly for my liking. Clark researched Gibbs and Leon and found them "exemplary", then SecDev looked them over and agreed. It seems to me that the only way Deakin and his Gang of Four could have found out about Pedro was if he had access to the same information that Clark and SecDev did. Maybe? I'm not sure, but I'd like to see the story get some meat on it and possibly continue either through the end of season hinting at something more for Season 17. We shall see.