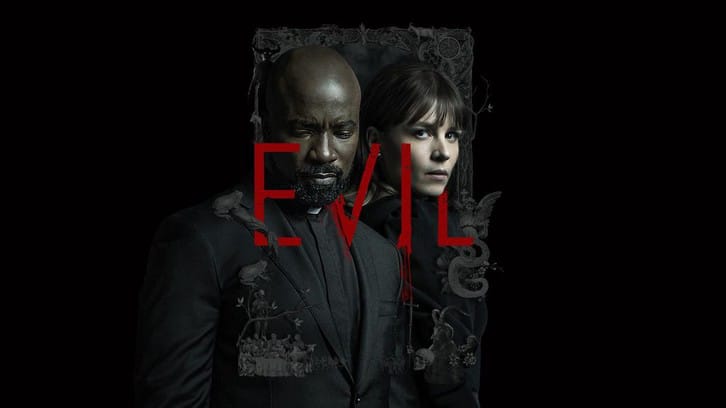 3.07 - The Demon of Cults
Written by Louisa Hill
Directed by Fong Yee Yap
Reviewed by KathM

This week's primary story? No idea. No idea at all. None. There's a professional deprogrammer who asked the trio to help with Owen, a possessed man who'd been kidnapped from a cult/farm and has been undergoing deprogramming for over a month, waiting to get better. Can they help? It would seem not. David gets to practice some Latin, and it's a good lead-in for David, Kristen, and Ben to investigate the farm for signs of devilry. But that's it. Owen seems to improve when his girlfriend comes from the farm to see him, but we don't go any further with the story. I need more and hope we get to see it in one of the remaining episodes this season or maybe next season (squeal!). There has to be more to the story of a man who has supposedly performed 500 successful exorcisms.
The farm is, you know, your typical farm that seems to be populated with people who farm and/or do yoga. Ben is in a mocking place until he sees Renee, an acquaintance from the science club. She is more than happy to talk to Ben about why she's there and what she believes. He should come to her room for a chat.
Oh, Ben. The poor man just can't meet a "normal" woman. The kind who doesn't have her dead twin living inside her or isn't a weird cult leader 12 hours a day.
Ben is a guy interested in knowing and learning about things, and one thing I've liked this season is watching him get into some fun sciencey things while seeing how these same people can also be interested and more accepting of the spiritual. I like this change in him. I wonder where this might lead him.
As freaked out as he was by being covered with goat's blood when he felt he would be sacrificed, Ben also seemed a little fascinated by it. Does anyone else think that more happened to poor Ben than being doused with goat's blood? I kind of hope so.
Dr. Boggs has been through a lot, although less than most of the characters. He now wants to write a book about his spiritual experiences as an agnostic who has seen evil and wants Sister Andrea to help him. Instead of sitting him down for what he hopes will be a meaningful conversation about faith, the sister hands him some pamphlets and sends him on his way. She had floors to mop.
Unfortunately, Leland, who had learned about the book in the time it took for Boggs to exit the rectory, offers his card and services to help the dear doctor see a darker side of spirituality. Dr. Boggs should ignore Leland, but of course, poor Kurt can't help himself. So far, all he's written is the title: "From Bali to Queens: My Spiritual Journey." Panicking like most novice writers, he thinks he needs help to get anywhere, and Dr. Townsend has just the prescription. He presents Dr. Boggs with some potential red flags, particularly a knife he should use to cut himself and put a dozen drops of blood on his laptop. Kurt? Surely you could just join a writing group. But even as he sees one of his hands morph into that of a demon, he can't help himself as he begins typing in earnest.
But, like all muses, his darkness eventually leaves Kurt desperate to write more. Surprise, surprise! Leland appears with an offer: cut off Sister Andrea's hair.
Leconte is back! This time, he wants David to place a small toy in the female Bousard barracks to keep an eye on Lexis. Soon he'll be invited over to dinner; when he's in the house, he should ask to use the bathroom (an adventure in itself), then place the toy in the girls' room. There is a strong chance that Lexis, who was conceived at RSM, will become evil, and the Entity needs to keep an eye on her. When Leconte tells David that he cannot tell Kristen what he's doing or why, David refuses. Instead, when he's invited to dinner by Kristen and hears about some plumbers who had been in the house alone he goes upstairs, finds the toy that the Entity managed to leave inside the girl's room, and removes it.
Later in the episode Kristen wants to find out why David is often leaving the group for mysterious appointments with no explanation. When David slips inside his room to talk to Leconte, Kristen begins knocking on the door. David tries to send her away, but she won't let it go. Leconte slips past David and invites her in.
I have been wondering what was going on with Lexis, and had kind of thought she'd end up as some kind of Bad Seed. I wish I was right. Instead, Victor opens a copy of the sigil map and shows David and Kristen that Lexis is being groomed to become a demon and one of the key sigils. One whose power is so strong that the Vatican is more interested in Lexis than the twenty sigils that she will eventually rule. I am freaked out. Kristen is freaked out (can't blame her) because this explains so much. Why Leland has been trying to get close to Lexis, why she seems to end up working with monsters like Orson LeRoux. According to Victor, evil has been following Kristen all of her life, all of Lexis's. I hope that Kristen, David, and Ben can find and kill the current boss of that sigil and dispose of the body before Lexis eats them. At least, that's how it worked with the guy messing with the trucks on the highway.
I am somewhat surprised and genuinely horrified that this could happen; it brings up a whole pile of moral and psychological issues for the trio and, hopefully, Sheryl herself (I'd like her to realize that something terrible could happen to one of her grandchildren and see if that brings her and Kristen together).