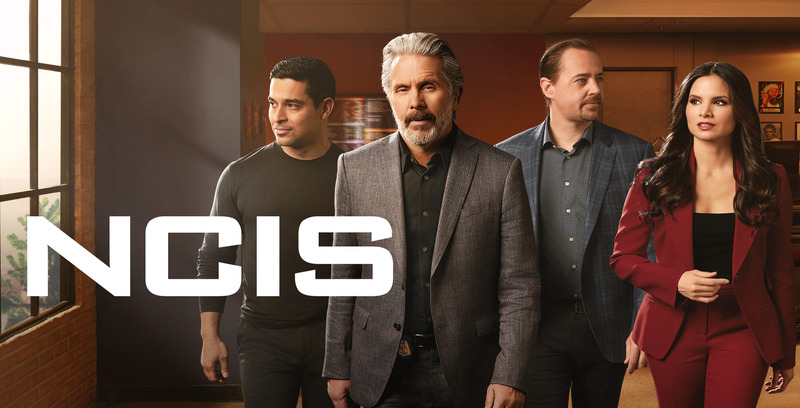 20.1 - "A Family Matter"
Written by Donald P. Bellisario, Don McGill, and Scott Willams
Directed by Tawnia McKiernan
Reviewed by KathM

Welcome back for Season 20! Let's raise our imaginary glasses for what we hope will be a season with strong storylines and high ratings.
I won't say that the first episode of the season got off to a great start, but it was okay. I wanted to love this episode, but I only liked it. Maybe I've seen the "framed and on the run" trope entirely too much, but it makes me a little tired.
Last season, Parker was the "framed" one on the run after being framed for murder. Since the character has grown on me, I am not okay with this.
I liked the way everyone rallied around Parker in last season's finale and this episode, all giving him (and various guest stars) as much time as possible to clear his name with their help. They're looking at The Raven, who tried to frame him and tried to kill Knight and Jimmy. Leon isn't completely on board, particularly because the ex-Mrs. Parker is messing with the FBI and giving Sweeney information chasing his tail. And Leon does not want that mess bouncing back on him and the bullpen crew. Fair enough.
I wanted to like Vivian more than I did, but all I could see was your typical "woman who goes on the run" with "character on the run." That type of character often "may/may not have evil intentions towards the "character on the run" but in this case but doesn't." Yawn. But if a part of the episode was to establish chemistry between the exes, I am not feeling it. Just like I never saw it with Gibbs and Diane, I didn't get a thing with Parker and Vivian. And while I did worry about her when she got shot in Maxwell's ambush., I wasn't going to send flowers or anything if she didn't make it.
Two things about Vivian I appreciated: she brought Fornell back into our lives to work the case AND she works for the Defense Department as a paranormal investigator. Could there be a better job? I miss Fornell, so it's always good to see him. It's interesting to watch how he and Parker slowly build a friendship, especially given how overly involved Fornell was with Gibbs from the minute his character appeared onscreen.
But really, how can being a paranormal investigator for the DOD be more fraught with opportunities? It's the most interesting thing about Vivian. The writers haven't even built a storyline around her job yet, but they should.
As to the search for The Raven, we ask ourselves, could his identity have been more obvious? As soon as I saw that Herman Maxwell guy, I thought, yup, that's him. If a Russian mobster had been running the game against Parker, we'd have seen him already, and he wasn't anywhere in sight. I also had a funny feeling about his meeting with Parker, the way he was so complimentary to Parker struck me as creepy. I would have thought that Maxwell was an imaginary construct without the arrival of Ernie from NICS: Hawai'i, who had worked with the NSA and remembered Maxwell. It's a good way for them to carry the story into the next hour and finish up on NCIS: Hawai'i, with Torres and Knight tagging along with Tennant and Ernie as they continue to hunt Maxwell, who has fled for the islands.
Ernie continues to pine for Knight. If they weren't trying to keep their relationship a secret, Jimmy would have had something to share. And there is some chemistry between Tennant and Torres, but can it go anywhere? Torres does seem extremely comfortable amongst the coconuts and palm trees.
PS - Tennant and Knight, do you think they look alike?
20.2 - "Daddy Issues"
Written by Scott Willams
Directed by Tawnia McKiernan
Reviewed by KathM

Sigh.
This episode was abysmal. It comes off as overly saccharine; I cannot tell a lie, but I think there was a commercial about lowering your blood sugar at one point. Too much was going on and almost all of it was either silly (cheese) or ridiculous. That's Carter and his use of the Juice Bar shared internet to log in and transfer $250,000 of the school cash into cryptocurrency where anyone could see his password. Coders can be forgetful, but I can't see one so careless.
Speaking of Carter, you're killing me, man. I just…I think he's meant to come across as kind, well-meaning, and insecure, but he strikes me as the Village Idiot. Each time he appears on screen and denies something (like telling anyone about the cryptocurrency) only to tell the truth two minutes later, looking like a dog who will be hit with a newspaper, I had to get up and go grab a snack until it was over. This was another part of the story I didn't like: the number of suspect and scenarios about who may or may not be a susppect/the perp.I think Carters is supposed to be the extremely socially awkward type that McGee still is from time to time, but the charactor and actor just didn't appeal. I found McGee learning about how the other fathers saw him in their dudebro den interesting, and I hope we see him taking a bit more time to interact with some of the parents in a later episode.
It seems he'll also spend more time with Carter, whic h is fine as long as we don't have to see him again.
The episode also had a magical ending, which I am not overly frond of. Not only does McGee find the school's money, retrieving it from cryptocurrency, but he also realizes that the Juice Bar manager who stole the laptop had stolen more money, which he gives to the school. Now the school will reach its fundraising of $500,000. Coding for everyone!! McGee has also agreed to co-chair the next fundraising event with Carter, which has the potential to be an episode in itself.