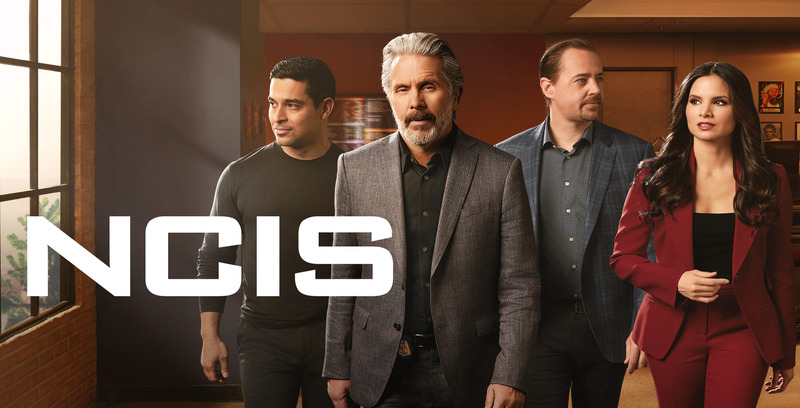 20.13 - "Evil Eye"
Written by Kimberly-Rose Wolter & Brendan Fehily
Directed by: Michael Zinberg
Reviewed by KathM

I don't think NCIS has done an "actor/actress shadows the team to prepare for a role," but it had to show up eventually. And this one, Chloe, worked out pretty well. The episode is brightened by the murder weapon (a guillotine) and a serial killer with a penchant for victims with heterochromia (someone with eyes of two different colors). He is also crazy creepy. He thinks people with the different eye colors should die because they are evil, and the reason why he beleivs this makes for an unexpected twist. Chloe, who didn't want to job shadow anymore when she hears about the guillotine, returns triumphant to help get a confession! Worth a second watch.
20.12 - "Big Rig"
Written by Rocky Carroll!
Directed by Marco Schnabel
Reviewed by KathM

Anybody else think that Sawyer will be the (eventual) new Torres? It looks like things might be heading that way. Jimmy's already catching the odd lunch with him, so are weekend herbology classes with Parker far behind? When Sawyer approaches Torres about the concerns he has with a deep cover assignment he's taken, Torrres is pulled into the op, which he initially refused to do for the FBI. It was good to know that Torres put himself and his sobriety above the op Sawyer eventually took; he would never have done that in the past. Nice to see the character grow. And there was no reason for the FBI to blame the trouble Sawyers in on Torres's unwillingness to go under deep cover. FBI, own your issues.
The episode shows Sawyer as a sympathetic character who has a tragic family backstory and yearns for a work family. It could have gone wrong, with Sawyer trying to kill Torres to replace him on the team, but by the end of the episode, he's joining the gang for pizza and an impromptu quiz session.
I'm disappointed that we never got to see even a smidge of Smart Alecs, though. One question I would have been unable to answer is, "Which vitamin is used in the production of GHB?"
20.11 - "Bridges"
Written by Brendan Fehily and David J. North
Directed by Lionel Coleman
Reviewed by KathM

This episode is brought to you by Rule 39: There is no such thing as a coincidence.
Loved it. Thanks, 2023, for giving us a story focused on character development and backstory. That never gets old.
Sometimes, identity theft leads you through a myriad of financial complications, paperwork, and possible long-term credit score issues. For Alden Paker, it leads to a lost love and a spy (not the same person, fortunately).
I'm happy with the way the writers wrote Ensign Watts. There seem to be more spies than usual this season, and I'm pretty pleased with how they're doing their thing. And sleeper spies??? Makes me miss The Americans .
The addition of Parker's long-lost love and her con-mannish son, Ryan, whose rap sheet might be able to shower the writers with half a season of storylines, has a lot of potential.
Joy can throw a punch; I like her. I'm not sure that Parker never coming back for her is a good reason to marry someone currently in jail and whose partner led Ryan into a life of crime, though. No matter what happened on St. Paddy's Day.
At the end of the episode, Parker arranges for Ryan to serve his parole (for identity theft. He got off so easy.) using his mad con man skills for the FBI. Like on White Collar . Which I now also miss.
PS - Who else can see Joy, Kasie, and Knight as kickass spy team?
OMG, Jimmy, a fist bump? That is not what you give a woman who expresses concern about the state of your relationship! And here I thought you had a clue. But there is a reason for being a bit cagey; the movie Knight wants to see with Jimmy and Victoria is in the same series the Palmers enjoyed seeing as a family. Seeing it means another thing Jimmy and Victoria have to do without Breena; not only that, but it's another way that Jimmy lets Knight into his life and Victoria's. And this scares him, and she comforts him, and all is well in their world. Sigh of happiness.
20.10 - "Too Many Cooks"
Written by Christopher J. Waild
Directed by Michael Zinberg
Reviewed by KathM

The title of this episode is way too apt. While I'm more than happy to watch one crossover per season between an NCIS-themed show or two, this is too much. We're looking at what, the second NCIS/NCIS Hawai'i crossover this season. And there was one last year, too. Does Hawai'i need the mothership to help support it? What do you think?
That being said, the episodes blended well as our NCIS team kicked off the trio of episodes by trying to solve what began as the suicide of a much-loved FLETC professor Kilbride in DC, but ended up with a search for him in the Mojave. He's one of my favorite NCIS:LA characters; I'll miss him.
20.9 - "Higher Education"
Written by Katherine Beattie
Directed by Claudia Yarmy
Reviewed by KathM
Team McGee and Fielding are back, and I could not be more thrilled. And Tim's writing again! Now that Agent L.G. Tibbs has retired, his creator, author "Thom E. Gemcity," needs a new sleuth. Some of his co-workers put themselves forward, but soon enough, the gang is enveloped in a mystery concerning NROTC Midshipman Will Watson, who was killed when walking across the street. Will's behavior seemed odd (he stripped down to his shorts shortly before running out into the street and had a temperature of 107 degrees). Will was a student at Waverly University, where Delilah teaches an introductory course in cryptology. Did she know Will? Yes. Was she helping him with a research project? Yep. It's a cipher so strong it may be able to bypass anything. Originally part of a code Delilah wrote in grad school that wasn't functional, she'd given it to Will to show him how failures aren't a career ender. However, it looks like he was able to take the code and make it functional after all. Add in some spies, a fighting Tim and Delilah, aged undercover frat boys, and handlers who are closer than you think, and you get a watchable episode. And Timmy comes up with a new sleuth to send out into the literary universe.
20.8 - "Turkey Trot"
Written byDiona Reasonover!
Directed by Lionel Coleman
Reviewed by KathM

This was an amazing episode, giving us a touching and surprising backstory about Knight. It could have been the standard "siblings tear each other apart emotionally at the holidays," but it ended up being so much more.
Knight, her sister, and Kasie are held captive by Charlie Samuels, who blames Knight for not stopping his brother from killing himself. In revisiting what happened to his brother, you learn a lot about Knight herself and how, emotionally, she never leaves anyone behind.
I was teary when I watched it then, and I'm teary when I think about it now. Kudos to Kasie, bearing wine and being the best backup ever. But she would have been a better one if she'd brought more bottles. She's a great, albeit tipsy, reaction to what's happening, and often some of the comic relief.
Diona Reasonover wrote this episode, and she needs to write more. I was amazed at how well she knew Knight and the touching story she set up for this episode. Strong characters and all the wine you can drink: definitely check it out.
20.7 - "Love Lost"
Written by Brendan Fehily and David J. North
Directed byRocky Carroll!
Reviewed by KathM
Sometimes it's just so obviously the son-in-law/nephew/niece/estranged whoever that there isn't a point in watching the episode at all. If you haven't already, skip this one entirely. SECNAV's husband accuses her of attempted murder, which might be worth investigating if everyone who knows the man (including Leon) didn't think he's kind of a flake who is against the divorce SECNAV wants. But is he really making it all up? As I've said above, I didn't find this episode useful, but you should check it out and judge for yourself.
20.6 - "The Good Fighter"
Written by Kimberly-Rose Wolter
Directed by Jose Clemente Hernandez
Reviewed by KathM

Super Spy Kasie! I love how she was used in this episode. She seems underused this season. The storyline came out of nowhere, which made it all the more enjoyable. We've had spies/undercover agents before (Torres had been in deep cover before he joined NCIS, Bishop also going under deep cover when she left the series), but nothing internal. We didn't even see her being recruited! But I guess that's the point of being undercover. Even Leon didn't know the bullpen gang was being investigated by the Defense Criminal Investigation Service (please, not another spin-off!), which is a pretty big deal if you're the director.
One of those being investigated is our victim of the week, Otis Khatri, an NCIS agent who supervised humanitarian work by NCIS after natural disasters. Universally liked, his body was found in the house where he was cat-sitting. Kasie's research indicates that Otis said the cat is missing, and Knight notes that the cat may have evidence on its paws because of the blood she finds on the floor near kitty's (actual name: Prince Charming) bed. She does find his Prince-ness, and the DNA on his tiny paws reveals that Otis's killer is Agent Grayson, Kasie's handler!
Her motive for the murders is a strange kind of revenge, which you really need to watch to enjoy. Which you will.
Note:Nice blasts from the past tossed here and there (Otis calling McGee "McGeek" to his sister, Jimmy reading Abby's Lab for Dummies to try and figure out how to use some lab equipment while Kasie is out of the office; Kasie's trainer telling her to "trust her gut.") along with a great reason for our favorite lab tech to open herself up. I look forward to seeing where her new-found bit of confidence leads her.