NCIS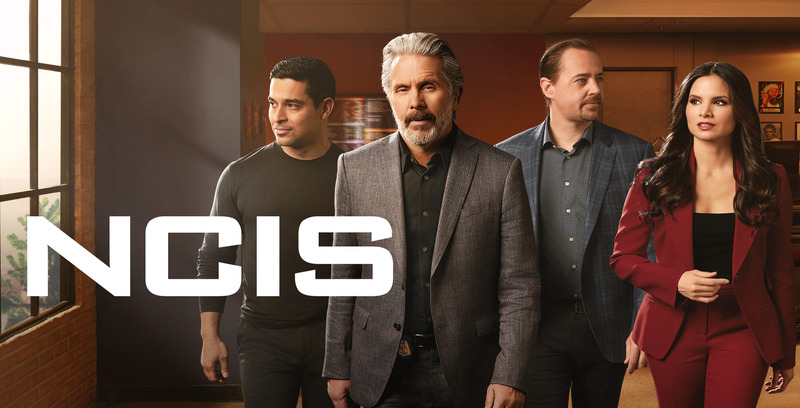 20.15 - "Unusual Suspects" - 450th Episode!
Written by: Katherine Beattie
Directed by: James Whitmore, Jr.
Reviewed by KathM

Papa Parker makes an appearance on NCIS's 450th episode, which didn't give us a lot to celebrate. Not that the episode was bad; it was just ordinary. I expected something more, I guess. But it was a decent, albeit somewhat confusing, episode.
Unlike Gibbs and his dad (Ralph Waite, RIP), Parker and his dad Roman seem to get along all right. Unfortunately, aging lothario Roman Parker was just turfed out of his current retirement home for both flirting with and being pursued by the women in the facility. Now, Parker Senior needs a new home and is staying with his son in the meantime.
He may turn the heat up so high that Parker Junior has to bring his orchids to the orange bullpen (won't the color offend their delicate sensibilities?) and grumbles about not having cable. But when a new facility is found, he seems a little unwilling to let Roman go.
The main story itself is unique; an app called Grand Bubby matches lonely Marilyn with Petty Officer Sam, a young rideshare driver. Bubby participants run errands and hang out with their seniors for $20/hour, and a few are working at Sunshine Pines, the home Parker had investigated for his dad and found depressing. When Torres and Knight visit, however, it looks bright and modern. They talk to a group of people playing cards at a nearby table, who tell them that the facility has a benefactor who has dropped a lot of money to spruce the place up.
This is where the episode gets weird. It turns out that Sam is the mysterious benefactor, aka Mr. Greystone, who took a gift of $50,000 he received from another Bubby and parlayed it into a substantial amount of money playing video games. Seriously, this is a thing. With the obscene amount of money he won, along with money left to him by other Sunshine Pines residents anonymously, Sam improved the whole place. Roman Parker liked it so much that he decided to move right in.
But if Sam was so generous and all of his donations were anonymous, why was killed? Well, it turns out that loving Bubby Marilyn was a glamorous art thief widow who was selling off her deceased husband's plunder at underground auction events. She thought Sam had caught on to her scheme (she'd asked him to bring some of her husband's art from Europe during his deployment) and killed him.
An interesting episode, but I'm not sure if it was up to 450th episode quality.
20.14 - "Old Wounds"
Written by: Brian Dietzen! and Scott Williams
Directed by: Diana Valentine
Reviewed by KathM

A dark secret from Parker's past haunts him and makes him difficult in an almost Gibbs-like way in this week's episode, which was written by our own Jimmy Palmer, Brian Wietzen. It's a redemption episode with Parker ovrcoming the guilt over accidentally shooting his former FBI partner. The baddie Parker and Jeremy Brighton were pursuing Clayton Wills, a drug dealer who the FBI believe shot and crippled Brighton. When Parker and the gang arrive at the murder scene of an Ensign who was transporting drugs from a raid, Parker notices a "W" on the pills and loses it. The letter was the symbol Wills used on his drugs, and Parker sees this as an opportunity to finally bring him down. He morphs into a man obsessed, yelling at the other agents and Leon and Willis' lawyer in the bargain. This is the problem I have with the episode. Parker yells and screams like a toddler, practically stamping his feet, and nobody tells him to get it together or go home. Actually, he should go home; Leon should have pulled hm off the case send sent him home as soon as Parker started ranting. I mean come on, he sent Gibbs home all the time. Be the boss, Leon.
Brighton now apparently has all kinds of jobs, including author and online parenting podcaster about parenting while in a wheelchair. Delilah adores him. He arrives to see how Parker is doing and asks if he's ever read the letter that Brighton wrote to him a month after the shooting. "Not yet," Parker says. And you know it will be read at least a couple of times before the eposode is over. In the end the teams gets enough information to arrest Wills, who Parker decides not to kill, and the letter from Brighton reads "I forgive you."
What interests me most about the episode is a comment made by Brighton about his friend and former partner. Apparently, the Parker he knew before the shooting was much more aggressive and hot-headed, without a bird spotted or a pastry in sight. This sounds more like the Parker we first met when Gibbs was on his way out; the one we've been seeing does seem a tad docile. Parker says that he took up a slew of hobbies to help take his mind off of the fact that he was the one who accidentally shot and paralysed his partner. But now that Parker is forgiven by Brighton, I wonder what kind of Parker we'll get now? Will he move back toward Snappy!Parker, or will he keep being Zen? I'm intersted to see if the writers change his character and what direction he'll take.
I did like the episode; it was nice to know upfront who the villain was, although I was waiting for some kind of twist. I was thinking about Brighton: I like a story built on something, and the naked fury Parker displayed came of nowhere. But sometimes it is what it is, which I sometimes have trouble believing. TV shows are often all about twists.