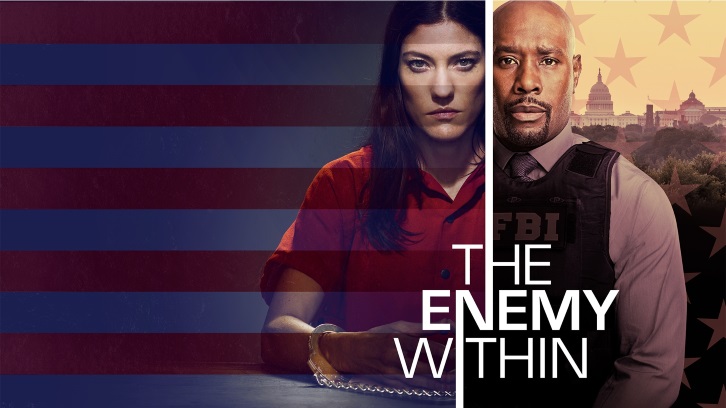 "Character-driven investigative thriller set in the world of counterintelligence focuses on former CIA agent Erica Shepherd (Jennifer Carpenter), now known as one of the most notorious traitors in recent American history. Shepherd is brought out of a federal Supermax prison by FBI Agent Will Keaton (Morris Chestnut) to help stop some of the most dangerous acts of espionage."


"All great empires die from within"
Right off the bat, the show begins with a very intense scene where you see Erica Shepard (Jennifer Carpenter - Dexter) being captured after her actions led to the deaths of four people, including someone very close to her and to Will Keaton (Morris Chestnut - Rosewood). We see flashes as she becomes the most hated woman in the US, and that image builds mystery as the show jumps three years ahead and we hear her speak for the first time when we're almost ten minutes into the episode.

The show is very good at building tension, but the thing is, this Pilot is constructed to shock even though the promo gives the "surprise" away, and I mean it like that because you can see the twist coming from a mile away and it's overly simplistic and unrealistic, there's a Hannibal Lecter vibe Erica gives out that doesn't seem to track if she's a victim in any way, and I can't deny I'd love for her to stick to that route but it seems that's not what we're going to get.

The Enemy Within reminds me bit of The Blacklist, a show that to me survives on James Spader's charisma alone, and since we don't have that here, I can't see that as a good sign. I really hope there's more to the story because otherwise it just doesn't add up, and if there isn't anything else to find out, I will be greatly disappointed because this does seem to be done by competent people and it would be horrible to see that go to waste. Also not to be wasted is the cast, not only Carpenter and Chestnut are great but they're joined by Raza Jaffrey (Lost In Space, Code Black), James Carpinello (Gotham), and Noah Bean (12 Monkeys, Shut Eye, Nikita).

To be honest, I can't get over Shepard's motivations, that would make of break the show for me, if there's no bigger mystery it just becomes a run-of-the-mill procedural with nothing special other than a great cast and some decent production, so I will be giving this a few episodes but if I don't see even a hint that something else is going on, I'm gonna have to dismiss this as another mediocre show I just don't have the time for.

"How about you?"

The Enemy Within premieres Monday, Feb. 25 (10:00-11:00 p.m. EST) on NBC.