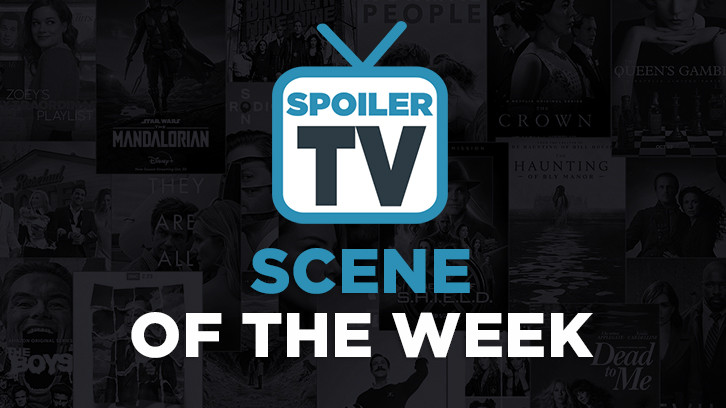 A weekly feature in which we're trying to find the most compelling, best acted, written, directed and just generally great, memorable scenes that we've seen in past seven days on TV.

A MILLION LITTLE THINGS, "The Rosary", February 21, 2019, Actors: James Roday, Romany Malco, Melora Hardin and more, The Scenes: Patricia and Gary talk in the hospital's chapel & Gary "meets" Maggie's mum & Rome talks to PJ at the hospital
Justyna: I couldn't quite decide which part to highlight from this week's episode. I've been enjoying the interactions between Katherine and Eddie lately and I love pretty much every moment with Gary and Maggie, including him asking her to move in with him at the end of the hour. However, I decided to go with a scene involving another memorable duo from the episode, more specifically the conversation between Gary and Maggie's mom (Patricia) in the hospital's chapel. These two clearly don't meet under the best circumstances. There's the stealing of a parking spot and a lot of yelling and insults at the beginning yet everything changes the second they both realize Maggie's surgery may not be going as well as they hoped. They both love her and are afraid to lose her, and it turns out to be absolutely enough to find a common ground and open up to each other. Their honest exchange in the chapel leads to Gary telling Patricia something about his past and it becomes clear how much we actually don't know about his character. Gary's been at the center of the show since the start but he's been so busy taking care of everyone around him that he never stopped for long enough to mention his past or family. An interesting discovery in a moment like this. Patricia, on the other hand, allows herself to express her fears out loud, she's terrified of losing another child and looks for strength in her faith and the rosary. Once more Gary finds himself helping another person, despite his own feelings. A powerful scene for sure. I continue to enjoy each episode of the show. Kudos to cast & crew for all their fantastic work. I'm ready for the season finale and so glad there's another season already announced.
DarkUFO: Gary "meets" Maggie's mum.
Jamie: I felt like this was such an important moment for Rome, when he hears just how much of an impact his words and story can have on someone's life. Rome wasn't really front and center this week but this is a moment that will make a huge difference in his life, I think.
Luana: Patricia and Gary talk at the chapel. I absolutely love Melora Hardin and I hope we get to see more of her as Maggie's mom, having Gary and Patricia worry about Maggie while she was in surgery was the perfect way of getting these two to bond, and Hardin got her moment to shine when she talked about her relationship with faith and how she doesn't think she could stand to lose another child, I'm sure we'll get to see more of this as it's hard to be fully out of the woods when cancer is involved.

BROOKLYN NINE-NINE, "The Honeypot", February 21, 2019, Actors: Andy Samberg, Stephanie Beatriz, Andre Braugher and more, The Scene: The caffeine buzz cold open
Mads: I love the cold opens on this show so much, this one is a new favorite.

COUNTERPART, "Better Angels", February 17, 2019, Actors: Olivia Williams and more, The Scene: Emily Alpha dies
Kollin: In this scene, Emily comforts a young, scared girl - a terrorist from the other world who was shunned by her peers and left alone to blow up the safe house with her in it. The girl reveals to Emily how she just wanted to be a painter and regrets all the lies she made to turn her into what she became. In a very profound moment, Emily gives an emotional monologue about her own lies and the second chance she got at being a better person, a better angel, as the title of the episode puts it, and her belief that we all have that within ourselves and it is within reach. Emily encouraged the young girl to come with her to find that better self too and after the girl hugs her for her words of comfort, she triggers the bomb killing them both. Ultimately, it was Emily's faith in our better selves that was her undoing, choosing to put herself in harm's way to talk to the girl rather than incapacitating her from afar. The scene was just absolutely heartbreaking and emotional and performed so brilliantly by Olivia Williams. All the more tragic for fans that a show this intelligent and this profound and this affecting can be seen by so little viewers and cancelled in just its infancy.
Milo: This was such an emotional scene that really showed just how good Olivia Williams is as an actress. In a show that was a J.K. Simmons star vehicle she shined in this episode, with a beautifully shot and well-directed sequence that was utterly heartbreaking.

GREY'S ANATOMY, "I Want a New Drug", February 21, 2019, Actors: Caterina Scorsone, Chris Carmack, The Scene: Amelia breaks down
Luana: Caterina Scorsone is always amazing but seeing her break down in front of a helpless Link was heartbreaking. Because Britney's situation wasn't only heavy on her heart because she loves her, which she does, but because it brings up so much of her own experience and her own struggles with addiction. I don't think the script focused enough on it and all the array of feelings that would've been swirling in her head, but Caterina did an amazing job in acting them out in complete silence and I sure know who'll be getting a POTM nomination for February.

LAW AND ORDER: SPECIAL VICTIMS UNIT, "Facing Demons", February 21, 2019, Actors: Dean Winters and more, The Scene: Cassidy takes the stand
Shirleena: Cassidy takes the stand and faces his abuser and admits that he was sexually assaulted when he was 12 years old.

LEGACIES, "We're Gonna Need a Spotlight", February 21, 2019, Actors: Kaylee Bryant and more
The Scene: Josie gets her moment in the spotlight
Mads: It was sweet to see Lizzie give Josie her moment, plus Kaylee can really sing.

MANIFEST, "Estimated Time of Departure", February 18, 2019, Actors: Josh Dallas, Melissa Roxburgh, Luna Blaise, Marc Menchaca and more, The Scenes: Ben and Olive's theory is revealed & Griffin's death
Justyna: I did not see this one coming. I love a mystery that feels obvious once revealed (especially with the episode's title) yet nothing at all what I expected before. This season may not have been consistently great but this was an excellent twist that has the potential to make the story evolve into something not to be missed. The theory that returnees have an "expiration date" was both fascinating and absolutely heartbreaking, especially since we discover it through this family that we've grown to care about. The look on Ben's face when he made the connection said it all. He shares the theory with his wife and daughter, trying his best to stay strong for them but not able to stop his voice from breaking. Grace's denial is painful to see and so is Olive crying and asking her parents to keep the truth away from her brother. That's when Cal appears and lets his family know he was aware of their fate for a while now and didn't know how to tell them. They're all holding on despite this new tragedy and at the very least it's heartwarming to see them all united and there for each other. This is such a poweful moment for Stone family, but also a true game changer for the show. I'm very glad that Ben and Olive make the discovery together, it's been great watching these two interact and bond lately. All the actors did a wonderful job in the scene. I'm hopeful that the story will continue and we get to see how the rest of the passengers will react to the news. Quite a way to end the show's first season. Here's to changing fate and kudos to cast & crew for all their work.
Aimee T: Michaela and Ben confront pardoned murderer James Griffin outside a TV station when there's a shocking turn of events. In an attempt to stop Griffin from broadcasting their secrets to the public (revealing the "Callings"), Michaela and Ben try to reason with him one last time before he goes on air. The Stone siblings attempt to appeal to Griffin's sense of decency, rationality, and self preservation, but strike out on all fronts. Just when it looks like he won't be stopped, Griffin suddenly starts gasping and choking right there in front of everyone. Then, alarmingly, he begins hacking up and vomiting water. It progresses to him projectile spewing water--massive, unnatural, impossible amounts of water, and the gathered public can only look on in horror. After the whole extended ordeal he eventually collapses on the ground, dead. This is a game-changing development for all of the "Returned" individuals, because until that point it seemed like they all came back relatively unscathed and "normal" health-wise. But for a man to survive being submerged underwater for several days, only to subsequently "drown" on land down the line, suggests that the manner of death the "Returned" individuals apparently evaded may still actually claim their lives at some point after all.

NEW AMSTERDAM, "The Foresaken", February 19, 2019, Actors: Freema Agyeman, Ryan Eggold, Tyler Labine and more, The Scenes: Helen nurses the baby back to health & Helen has to give up Zurah & Army Unit brings their dog tags to Mustafa
Luana: Helen nurses the baby back to health. Helen's story was absolutely heartbreaking in this episode, you can just tell how badly she wants to be a mom, and how hurt she was when she realized she had to give her away after she let herself hope that perhaps this was it, that she was meant to be this baby's mom, to take care of her and teach her how to make herself be heard and take on the world. I hope she is able to be a mother soon because if something was made absolutely clear in this episode is that any baby would be lucky to have her as a mom.
Mads: Helen has to give up Zurah. This scene was so heartbreaking. Helen helps comfort an abandoned infant with an opioid addiction due to being born to an addicted mother. Through skin-to-skin contact, Helen bonds with the baby girl and even intends to adopt her before the biological dad turns up. Agyeman has been consistently delivering excellent performances and this one is no different, even if it was painful to watch.
DJRiter: Army Unit brings their dog tags to their despondent interpreter. This was such a touching powerful moment and without dialogue showed Iggy's patient, the despondent Iraqi interpreter who had come to find the American dream, he was not alone. One by one the former members of the unit he'd served with came to his hospital room and placed their dog tags in his hand. They were telling him that he was one of them, he was family and he belonged here.

SCHITT'S CREEK, "A Whisper of Desire", February 19, 2019, Actors: Catherine O'Hara, Noah Reid, Daniel Levy, The Scene: Moira narrates her 'Cabaret' experience to Patrick
Saloni: Moira narrating her 'Cabaret' experience to Patrick as David looks on. Just some really funny writing and dialogue delivery by Catherine O'Hara, nothing new.

THE GOOD DOCTOR, "Risk and Reward", February 18, 2019, Actors: Freddie Highmore, Daniel Dae Kim, The Scene: The end scene
Claire: The end scene where Dr. Han, who has known Shaun for all of five minutes, tells him that he has to leave his surgical residency for pathology. He doesn't discuss this with Shaun or anyone else on the team; just makes a unilateral decision. I was infuriated and hope that Shaun sues him or the hospital over being discriminated against under the Americans With Disabilities Act. Sure, Shaun might fare better in a different discipline, but Dr. Han and his heavy-handedness left a bad taste in my mouth.

THE KIDS ARE ALRIGHT, "Happy Cecil", February 19, 2019, Actors: Michael Cudlitz, Paul Dooley, The Scene: Cecil finds himself sleeping on the Cleary's couch
Claire: Father Dunne (Cecil) has left the priesthood and finds himself sleeping on the Cleary's couch. Mike has admitted to himself that yes, Father Dunne is his friend and sweetly tucks him in and they pray together; the prayer of St. Francis. It was a touching moment without knocking you over the head with religion. Catholicism is simply a part of the Cleary's life. Also, watching Michael Cudlitz tucking in the wonderful Paul Dooley was a flashback to 1984's 16 Candles; the scene where Paul Dooley as the dad tucked in Molly Ringwald's Sam while offering sage advice. I asked the show's creator, EP and narrator, Tim Doyle, (whose family the show is based on) if this was intentional, but he felt that it must have been subconscious. The writing and acting on TKAA are spectacular and I find myself looking forward to Tuesday nights at 8:30/7:30 central on ABC like I haven't in a long time. It is hilarious! Also, hoping to see more of the fabulous Paul Dooley, now that he's the Cleary's next door neighbor.

THE MAGICIANS, "Escape From the Happy Place", February 20, 2019, Actors: Jason Ralph, Hale Appleman, The Scene: Eliot's biggest regret is revealed
Abi: Eliot's biggest regret is turning Quentin down. This week's episode was an incredibly emotional hour but the show unexpectedly revisited 'A Life In The Day' from Season 3 where Quentin and Eliot lived an entire lifetime together. With Eliot currently trapped and his body taken over by the monster, he needs to confront his biggest regret, and that turns out to be not pursuing a relationship with Quentin once they returned to their timelines. This is something that the show has referenced in the background since the aforementioned episode aired a season ago, but the audience had no idea that Quentin actually wanted the two of them to make a go of it in their real timeline, and that Eliot had said no. It's complicated, there are so many things working against them, but ultimately this is two people who love each other and will hopefully at the end of the day be able to find their way back to each other again. Hale Appleman and Jason Ralph both put in amazing performances and as always they play off one another incredibly well.
Jamie: This was such a powerful moment. I always found it odd how quickly they moved past what happened between Quentin and Eliot last season. Now I know that they were building up to this. This was everything I wanted and more.

THE RESIDENT, "Queens", February 18, 2019, Actors: Matt Czuchry, Shaunette Renée Wilson, Malcolm-Jamal Warner and more, The Scenes: Conrad, Nic and Bell save Henry's life & AJ comforts Mina
Justyna: The most intense and genuinely scary scene I've seen in a while, especially on a show like this one. Little boy's heart keeps stopping every few minutes because of malfunctioning device implanted to stop his seizures. After the initial confusion Conrad figures out the cause and he races to find the only thing in the hospital that can stop the defective device. We see him completely terrified that he's not going to make it on time but absolutely determined to find a way to save Henry. He stops his breathtaking run only to break into another doctor's office and get the necessary supplies. His race alone is a powerful view but it's the struggle in Henry's hospital room that's truly heartbreaking to watch. Everyone knows that Henry's heart is about to stop and his mother is doing her best to comfort him, even though she's beyond worried and scared herself. She holds him in her arms till the last second and is forced to watch him die all over again. That's not even considering the fact that she already lost one of her kids recently. And then there's Nic and Bell, for once without a doubt working together, to save Henry's life. They switch roles when needed and do not give up, not until Conrad shows up to finally stop the device. They all manage to keep Henry alive. They're clearly exhausted but they're also hit with the terrible realization about QuoVadis. What could have been suspicion before now becomes the undeniable truth. The company they've been working with is costing people their lives and it's time for someone to stand up and put an end to it. So much happened in this one scene and the entire cast & crew did wonderful job with it. Kudos!
Michele: Mina breaks down in an OR room to Dr. Austin in the wake of her estranged mother's visit to Chastain. Mina is typically the least emotional and most steady character on the show. So to see her crying and saying "She is not my mother. Not really"... her pain is heartbreaking. It was also a sweet scene for her and Dr. Austin to bond. He's also a character you don't often see a softer side, but it was a touching moment when he awkwardly reaches out to comfort her and then more confidently as he pulls her close to rub her shoulders. Perfect dialogue and beautiful scene editing.

THE UMBRELLA ACADEMY, "The White Violin", February 15, 2019, Actors: Robert Sheehan, Justin H. Min and more, The Scene: The final battle at the Icarus Theater
Aimee T: In the final battle at the Icarus Theater, Klaus is able to visibly manifest ghost Ben and channel his powers to take out the gunmen attacking them. We already knew Klaus is a medium of sorts (can see and speak with the dead), but that seemed to be the extent of his abilities. However, gradually we discover that Ben's haunting presence isn't just some novelty, but rather he and Klaus can actually physically interact with each other. And just when it seems like the Umbrella siblings are about to be gunned down by henchmen from The Commission, a miracle development occurs. Klaus is able to "level up" (so to speak) and acts as conduit for Ben / his powers (summoning those monstrous tentacles from his torso) to wreak havoc on the mortal/physical plane. Working in conjunction, Klaus and Ben manage to kill all the gunmen after them, thereby saving everyone's skin (for the time being). This is a major breakthrough since now (apparently) all of the siblings are able to see Ben (not just Klaus), and he is effectively functioning as part of the team again--from beyond the grave.
Zandarl: What an epic final battle and scene. Umbrella Academy really has shaken up the TV norm. Everybody is talking about it and that's when you know.

THE WALKING DEAD, "Omega", February 17, 2019, Actors: Cailey Fleming, Jeffrey Dean Morgan
The Scene: Judith shoots Negan and they chat (picked by DarkUFO)

THIS IS US, "Our Little Island Girl", February 19, 2019, Actors: Susan Kelechi Watson, Phylicia Rashad, Carl Lumbly and more, The Scenes: Beth and her mom have a heart-to-heart & Beth talks to the memory of her dad
Michele: Beth and her mom Carol have a heart-to-heart and make up over breakfast. Aside from the superb acting on both actresses parts, the quiet morning confessions and apologies made for a beautifully raw scene between mother and daughter.
Jamie: Beth talks to the memory of her dad. This was so beautifully put together with both current and young Beth talking to her father, saying what she should have said all those years ago.

YOU'RE THE WORST, "Zero Eggplants", February 20, 2019, Actors: Aya Cash and more, The Scene: Gretchen and Rachel hang out without their partners
Giulia: The conversation between the two is so real and raw. Seeing Gretchen open up to someone and then regret it felt very personal. She tells her new friend Rachel about her clinical depression and she also admits that she would love to be a mom, but doesn't think she should, because of her mental illness. I almost cried, because Aya Cash delivers another outstanding performance. She is honest about her feelings, but she is scared this might jeopardize her friendship with Rachel. Just give Aya all of the awards on the planet!