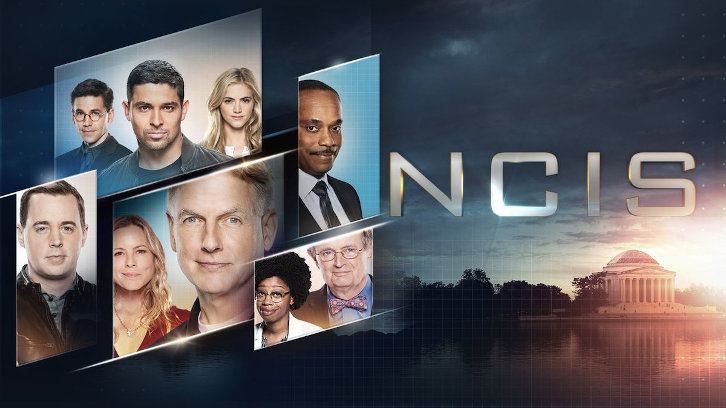 16.11 - "Toil and Trouble"
Written by Christopher J. Walid
Directed by Leslie Libman
Reviewed by KathM

Verrrrrrrrrrrrrrrrrrrrrry interesting.
Really liked this episode, especially the last five minutes. You think you're in another, "The Gibbs Kidz are in trouble, but in the end their fabulousness saves the day and makes everyone else look stupid" episode, but then everything happens.
Will we ever get tired of Kasie's multimedia presentations? Not so far! And her use of the work that the OPTICS seminar created was great.
Will McGee take the job? I think he will. Sean Murray has been on the show almost since the beginning, and it would make sense for McGee to move on after all this time. And having him someplace where he gets to use his brain for all things fun and geeky seems right. Torres will no doubt beg McGee to test all knife-related products.
Will Torres tell Ellie why he didn't want her to go out with Boyd? No yet, apparently. But I think they both know.
What is the Secretary of Defense's deal? Villain, ally, or something in between? No idea. It could go a lot of ways, and that's what keeps it fresh.
One of the things I like about NCIS is how, even after 16 years, it can still come up with a completely original storyline. Chlorine gas and a green warrior? Who knew? I have no doubt it could happen, and the idea that it could chills me. It's like the episode earlier this season when soldiers were being murdered overseas and it turned out that it was all about making sure a private security firm could continue to have work. That story should have been longer, but this one was just right. It's a beginning that could take our characters and the story in any direction.
And, as much as I hate seeing them go, I like that the cast ages out and/or moves on as they would in the real world. That's why I'd like to see McGee ride off into the techno sunset. It's natural after 16 years for people to change jobs or get promoted or move on and do something different entirely. If he does take the job it will be my favorite exit on NCIS by a character thus far, although I'm sure he'd be open to coming back now and again. But maybe saving the world will end up being more compelling than giving feedback about a wonky toy dog you got your kids for Christmas. We'll see.
The hardest character to replace would obviously be Gibbs, but given his position on the team he could easily just step back a bit and continue to delegate more, as we've seen him do recently. It would also allow Harmon to focus on some other things, like the new show he's producing for CBS.
And now for the question of the hour: what is the deal with the SOD? Not sure. At first, I thought he wasn't involved in his friend's chlorine gas scheme, but I may be wrong. He did seem genuinely horrified by the revelation with what was happening at Trine, but then again he didn't seem interested in jumping in to confirm whether or not Trine really does still have the gas and was, in fact, defrauding the government. Maybe he's just worried about his stock. And why is he interested in the intel that the CIA has on Leon. Pleasure reading or something more sinister?
Speaking of, how is the CIA's investigation going, anyway? I hadn't forgotten about it, but we still don't know why they're looking at Leon and what they want to know. And is he still dating the cute spy he met in this Physical Therapists office? Tell me what you think.
bored...bored...bored...bored...