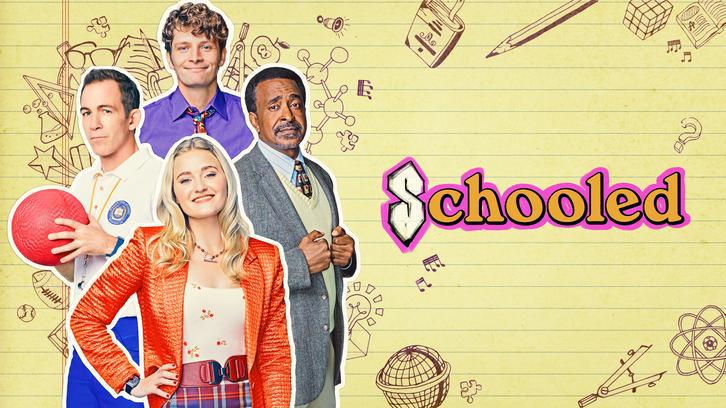 Welcome to 1990-something! The Goldbergs spinoff Schooled is here to take you to the future….by comparison to the mother show. Considering that most of us spend half or more of our childhoods in school, it's surprising there aren't more shows that focus on teachers. Don't worry! There are still students, but now it's time to look out at them from the perspective of William Penn Academy's finest: its staff.

One main character doesn't make an appearance in the premiere. That would be Brett Dier's C.B. Instead, "Be Like Mike" focuses on how AJ Michalka's Lainey Lewis has to adapt to her old stomping grounds now that she's teacher. They couldn't have picked a better leading lady. The episode is centered around the pros and cons that Lainey brings to her position, which she has mixed feelings about. Expect the series to dole out realistic bittersweet reflections on growing up.
Joining Lainey are the familiar, beloved faces of Coach Mellor and Principal Glascott. The new decade has brought them their own challenges. For Mellor, there's a fashion hurdle that threatens the very foundation of his existence. Glascott has to stare just about everything else down: parents, new teachers with attitude, sulking relatives, etc.
Schooled brings with it enough of what makes The Goldbergs great and enough fun new quirks of its own to draw old and new fans. It wears its heart on its groovy sleeve. And, most importantly, it is genuinely funny. You'll want to enroll in this show for sure.
Premieres tonight January 9th at 8:30/7:30c.