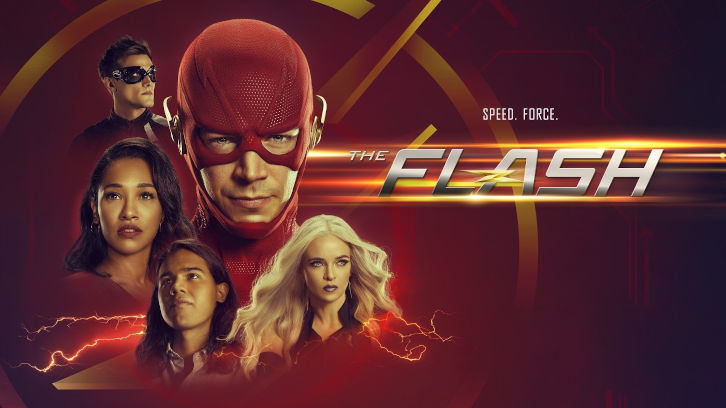 The Flash's "Think Fast" was a solid follow-up to "Harry and the Harrisons";with a pretty uneven season, having two good episodes in a row is something to write home about. Let's take a look at some of the dynamics that made "Think Fast" work.


DeVoe

The action scene at the beginning of the episode was unexpectedly awesome. David Ramsey's appearance and the classical soundtrack set the stage for a great sequence of mayhem. DeVoe's symphony of destruction was made perfect by the smug and unmoved look on his face as he annihilated countless A.R.G.U.S. agents and took the rest hostage. The special effects team and the direction of the scene were spot on- helping to highlight DeVoe's ironic stance. Wanting to rid the world of love or other emotional ties (in addition to technology) is precisely why he was able to be so violent- his only anchor to his humanity has been lost. Marlize was able to stop him from killing unnecessarily at some points, but with her gone, he is one thousand times more savage. DeVoe claims that technology corrupts man, but it is his disconnect from man (woman) that has corrupted him. It will be interesting to hear his back and forth with Marlize and/or Barry about this in the finale.

He tells Barry that love is ridiculous and that Barry will learn the same lesson about love that he has. Does this mean Barry will forget Iris or Iris will forget him? Not sure how effective this will be because Barry has forgotten his relationship with Iris before- at the beginning of this season and in season 3's "Cause and Effect". Iris has also forgotten her relationship to Barry earlier in the series- Flashpoint. Hopefully there is more to this than what I'm guessing because the emotional stakes might not be as high this time. Of course the injection of Mystery Girl or Joe and Cecile's baby might give DeVoe's threat more weight.


Taking the Team into Flashtime

So we all know taking Cisco and Caitlin into Flashtime would't be necessary if Wally or Jesse were around. Since they aren't, this is what we have to contend with. Even though it's hard to swallow that there are speedsters out there that could help Barry, there is some reason they are no longer part of the show so we have to use the team we have. Taking Cisco into Flashtime was pretty funny on its face. The baby breach and the declaration of "I can't feel my legs and now I'm falling" were classic Cisco. Caitlin in Flashtime didn't really give me anything, but I'll take the Cisco laughs and call it a day.

Taking them into Flashtime also returned Barry to a place of fear and guilt. He doesn't want to be responsible for leading his best friends to their deaths so he pulls back from teaching them once it gets a little tough. This gave rise to the Cisco speech. I loved this coming from Cisco. I'm not normally a fan of serious Cisco- it gives me hives when I think about how he acted when Dante died. But, it worked here because his frustration was warranted.

Other than Barry, characters on the show aren't usually confronted or held accountable for their behavior or bad decisions. Letting Cisco own the fact that it was his idea and his persistence that led the team to free Barry from the Speed Force was well done. He owned up to his guilt for letting Barry save the world alone last season, to creating the bus metas, to being hurt by Ralph's death, and to sweeten the pot he told Barry that he had lost his damn mind. You better go Cisco! It's about time somebody took responsibility on this show- not to mention Carlos Valdes has the chops to give emotionally with Grant Gustin in a scene so it was a win on all fronts.

Like television does (and I do get why some people were annoyed but c'mon it's not that big of a deal), Cisco and Caitlin quickly learned how to use Flashtime and got the job done-maybe Barry is just one hell of a teacher.


Harry and Iris

Tom Cavanaugh has had some good turns with the female characters this season. His chemistry with Cecile and now with Iris is something we didn't even know we wanted. From the beginning of the episode Harry and Iris were scene stealers. From his falling into the room on the rolling chair and quoting the anonymous Central City Citizen line, to Iris telling him to "hold onto that mic", these two had a good thing going for the camera.

This version of Harry was one I wasn't sure I liked. He seemed like he was becoming a version of Thawne for a moment (I'm not giving up on that just yet) and now he is like this sweeter version of himself-trying to hang on to what he believes makes him important as he learns that it's his heart and not only his head that people care about. Iris' compassion for him is sweet as well.

Harry's turn from head to heart helps Iris figure out where to look for Marlize, but not before she blasts him for thinking that they could get her to help them. It was nice to see Iris reference her fight with Marlize and their mistake of trusting Savitar as reasons not to listen to Harry. Like I said before, owning past missteps is something the team as a whole doesn't do too well, but here they do.

Humor in their interactions was utilized well too. Harry banging on the wrong door and talking about stepping into her shoes literally helped to make the episode work even though it was a pretty dark one.



Baby Frost

So I'm not gonna spend a lot of time on this because I gave Caitlin a lot of discussion time last week. I will say that this new explanation of her powers is lame, but it's the best way to give her a full villain arc. They can move on from her tired explanations of not remembering what Killer Frost does or her utter lack of accountability and let her be bad. Since she now knows that Killer Frost manifested in her life when she was a child, all of her selfish and murderous tendencies are hers to own. Let her embrace who she is and move on- if the writers don't want to do it for Danielle Panabaker- do it for my sanity please.

Let Caitlin enjoy her evil side. Let her relish in the fact that she lies and keeps secrets. Let her own the fact that she has never apologized to Iris and never will. Better yet, let her tell Iris to her face that she has no intention of saying sorry. I am living for that!! One on my friends on Twitter said she should be next season's big bad. I think that's an idea. She knows the inner workings of Team Flash, and they all have a soft spot for her so she could be formidable. Even if she isn't the big bad, she should be a thorn in the side of the team- not the team doctor.


Other Things I Was Thinking As I Watched:

*How much time has passed because Iris' hair has really grown.

*The looks of exasperation and confusion on the team's face are priceless and bring subtle humor that always works.

*The actress who plays Marlize DeVoe brings her "A" game to every scene!

*Caitlin's dad yelled out "Honey, don't" when she picked up the mirror to look at herself. Is her father's DNA the source of her powers? She owes Barry an apology too for the epic drag she gave him last year, but if she's going villain I can live with her not giving it.

*Mary Jane tells Peter "Go get 'em tiger" when it's time for Spiderman heroics. It would be cute to see Iris have a phrase all her own for Barry. Everyone uses "Run Barry Run". She has said, "Go win Barry. Then come home" and "I love you- go save the world" so she has something to pull from. Repetition is part of what endears us to characters so I need this Flash writers. Diggle's vomiting every time the Flash comes to get him is a good example of this.

*Iris the journalist is on point- it should be full steam ahead for her in the future.

*Cisco's Princess Bride reference- "Don't go stormin' the castle just yet"- LOL

*DeVoe squashing that agent like a bug was gory but great!

*Cecile acting like Joe was hilarious- the surfer voice I could have done without but trying to stab Joe with the katana and Joe backing down and referring to her as Joe had me dying.

Did you enjoy "Think Fast"? Why or why not? Sound off below and as always, thanks for reading.

The season finale of The Flash airs Tuesday, May 22nd on the CW.