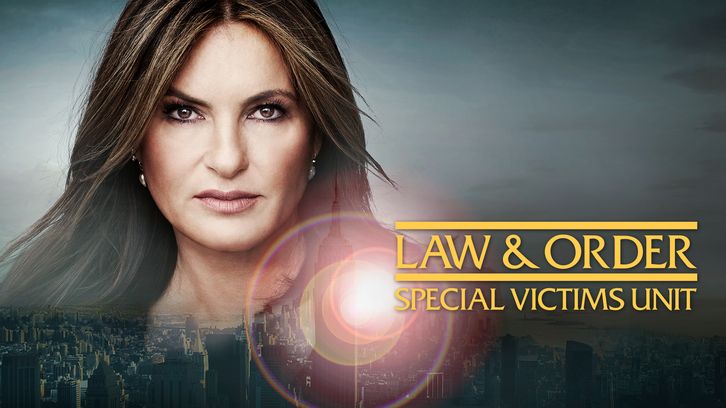 19.19 - "Sunk Cost Fallacy "
Directed by Michael Pressman
Written by Michael S. Chernuchin and Allison Intrieri
Reviewed by KathM

Alex Cabot is back, y'all! Did you see her? DID YOU SEE HER? I get this feeling that all is right with the SVU world tonight, and the fans agree: there was a notable jump in SVU's ratings tonight and I think it is because when Alex shows up, things get interesting.
Alex is part of a very sad story.
The main storyline, which seems like a background tale to inform Alex's return, is about an abused woman and her daughter trying to get away from her abusive husband. They somehow find (we don't know how, and I'd like to know) an underground railroad of sorts, which works to get the abused away from their abusers and helps them start over with new identities. This is an actual thing that has been going on for decades, largely because of a lack of faith in the family court system. Ordinary individuals help out, providing money and shelter and helping to create new identities. However, Jules and Ruby Hunter, the victims, decided that their preferred method of leaving their lives is to die. Or, appear to die. To me, this isn't something I'd advise, but I'm not whoever convinced them it would be a good idea. I've decided it wasn't Alex; she's better than that.
The husband seems like a good suspect, but the SVU crew have no sound evidence. Nick Hunter has a mistress who thought he was a widower because he told her his wife and daughter died in a car accident, a sister-in-law who's seen his "awful temper" and aggressive behavior toward her sister, and an abrasive, unhelpful personality. Stone decides to arrest him and toss him into Rikers for a night or two, just to see if that helps his attitude. Unfortunately, you can't really do that with such flimsy evidence, so Hunter decides to sue the City and Benson and the NYPD and anyone else he can think of for $50 million for numerous valid reasons.
Benson and Carisi are following a suspect (they found him on the mall security cameras driving Jules Hunter's car and dumping her purse and phone, then did a face recognition thing) who is driving a woman and two children into a mostly empty parking lot. He's a member of the railroad, and he's moving his charges on to their next stop. Which turns out to be Alex Cabot, who is waiting for them with another van.
Benson is stunned and goes over to a chat with her old friend. You know, catch up. What have you been doing lately? Benson reminds Alex that by knowing Jules and Ruby are alive and not telling anyone once Nick has been arrested, she's an accessory after the fact. But Alex doesn't care, because she thinks what she's doing is the right thing. Benson disagrees, but does not arrest her. Actions speak louder than words.
Benson meets with Jules a safe house that I hope does not belong to Alex because décor. There Jules explains in detail about Nick's abuse, even showing her the large, hideous scar she got when she forgot to make breakfast. He went ahead and made his own coffee, then poured it on her. Alex talks to Benson and Carisi, asking for more time to get Jules and Ruby new IDs and out of the safe house. Hey, reduce the charges on Nick, Alex suggests. That way she has time to get mother and daughter away and Benson won't be breaking the law.
Stone does reduce the charges, which comes up in her deposition for the lawsuit. Why ever did you do that, instead of just dismissing them? This leads to her admitting that she knows Jules and Ruby are alive, which pisses off Alex because why didn't Oliva just lie? She can't lie because she's Benson, and Alex goes on to rant about how "liberty and justice for all" is kinda crap and how she realized that she'd lived a lie working for the DA;s office. You know, I get her. You hear about social workers and DA's who leave their jobs because they feel they're ineffective and they can't give their clients the help they need. They say that The System is a problem, and it so very often is.
Benson explains to Jules that if she goes to court she and Benson will fight for sole custody of Ruby, then Jules and Ruby will be able to go anywhere they like. Alex can be her lawyer! Jules agrees and I don't think I have ever felt more anger against Benson in all her 19 years on television.
Well, Jules goes to court and has to admit that she's never reported the abuse, despite numerous hospital records outlining her injuries. She never said her husband abused her, which would have automatically involved the police. Things aren't looking good, and a sad Jules goes off with Carisi for the night to her hotel as Benson and Cabot dine. You know something is going to happen, right? Something bad. Like, Noah and Grandma Brooke bad. Which, by the way – if ever there was a time to talk about Noah, this is it. I'm tired of hearing Olivia constantly reminding everyone she has a son, but a dinner between friends is a reasonable time. Just a thought, writers.
Benson gets the call – there's been a car accident. Carisi is injured and Jules has been killed. Cabot goes ballistic and demands that Benson get Nick for this obvious hit (a report later states that the car that hit Carisi's was going faster than 55mph and didn't try to stop).
Stone and Benson meet up at a bar. There will be no toasts that night. Looks like there isn't enough evidence against Nick for the hit (ironclad alibi), so he'll most likely get away with it. Ruby is already back in Daddy's care, and Jules' sister is suing for custody. Which she probably won't get. Oh, and Stone thinks that Nick will most likely get his $50 million, but it's a civic matter and those tend to meander through the courts slowly. Benson says that she took herself out of the equation when you have to do something like make sure Jules goes back into the living world and fight the legal way, in court.
I really wanted Grandma Hunter to be the culprit, putting out a hit on Jules because she upset her little Nicky's perfect world. But you can't always get what you want, as this episode clearly shows.
The last time Benson and Cabot meet before Alex drives off to pick up another abused woman. Benson tells her a story about two roaches on the subway who fought so hard over a cracker or something. It eventually broke apart and nobody got anything. Does that mean that she wants them to work together? Alex asks. Benson says that she could never do what Alex does, and she tells Benson that she can't stop. They hug and the two women walk away from one another.
The End.
OH, Stone! He had a bit of story, too. His sister is having a bad reaction to her current medication dosage, and a decision needs to be made about whether to increase it or take her off the medication entirely. He hates to see her the way she is but worries about the potential side effects of either action. He's her guardian, and the doctors can't help him decide. They can only advise him about the possibly outcomes. Eventually he chooses to increase the dose, and stays with her a while. She still has no idea who he is.
Thinking About Alex
I love her. More than any other DA on SVU she has always followed her own sense of right and wrong. It hasn't always been the right choice (remember a long, long time ago, when she told Benson and Stabler that she had a warrant but didn't?), but she's gone and done is anyway. She's also had the most interesting journey of any SVU character, maybe more than any character in the Wolfverse. She's been "killed" and put in Witness Protection ("Loss"), then reappeared years later to put her "killer" in jail ("Ghost"). Since her return from the dead she left the protection of WitSec and returned to NYC to rejoin the DA's office and working in various and sundry capacities: in the Homicide Bureau (Law & Order's short-lived series Conviction), the Appeals Bureau, then on to International Criminal Court and back to SVU.
Those experiences have helped inform her character as she appears throughout the series; by the time she appears in "Sunk Cost Fallacy" you know she's seen it all and I can understand why she's fed up with a system that often seems to fail those it should protect. I don't necessarily agree with her methods, but I can understand her motives. I think Benson can, too. She can't necessarily go there, but you don't see her arresting Alex for anything and every cop I see in this episode has a kind of "Don't Ask, Don't Tell" approach to what is happening. Nobody seems to disagree with her, but they can't legally support her. There's a lot of words in their actions, they're just not spoken.
While she and Alex are dining Benson notes that her friend still seems to miss the courtroom, and I can see that. A hint that she'll return to the bar? I don't know when we'll see Alex Cabot again, but no doubt her journey will continue to be surprising.