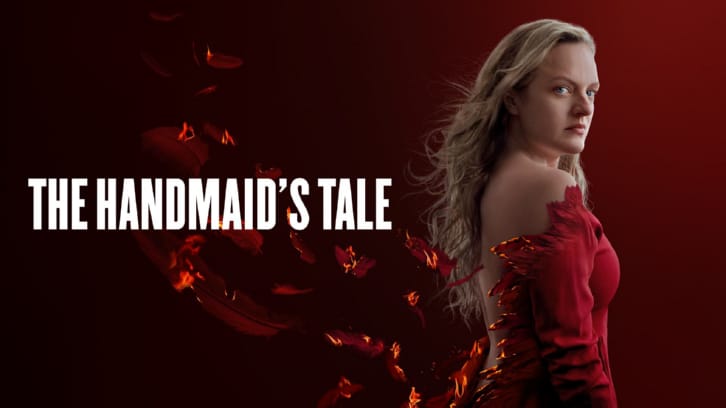 The Handmaid's Tale "Dear Offred" was written by Jacey Heldrich and was directed by Dana Gonzales. This episode sees June (Elisabeth Moss), Serena (Yvonne Strahovski), Janine (Madeleine Brewer), and Aunt Lydia (Ann Dowd) all moving into slightly different roles. It's also pretty clear that the show is not following the same path as Atwood's The Testaments. It's a testament to both works that for once, this is not a bad thing at all as both are strong enough and compelling enough to stand on their own merits.
As the episode opens, June is carefully swinging Nicole in a park. She is then accosted by a woman (Imogen Haworth) who turns out to be an acolyte of Gilead and Serena. June realizes what's happening when the woman knows Nicole's name – and then moves on to telling June she's a slut! June seems initially frightened, but quickly becomes angry and slams the woman up against the swing set… Go June!
In the next scene, June and Luke (O-T Fagbenle) are with a therapist (Olivia Sandoval). June admits to the physical response, and while she still seems unhinged, at least they are dealing with it. I love that the show lets us see this healthy response while not shying away from the very real trauma of all refugees.
Tuello (Sam Jaeger) tries to dissuade Serena from leaving American custody. Is one prison any different from another? Serena is clearly determined to regain some kind of status – but can she really hope to achieve any kind of power in Gilead? Maybe she thinks her son will protect her. Of course, is there any way to know whether the baby will live? It might, after all, be an un-baby... though presumably test would have shown any abnormalities. Tuello hands Serena off to her new "protector" – Ezra Shaw (Rossif Sutherland – yes, he IS the son of Canadian icon Donald Sutherland).
Tuello drops in to tell Luke and June about Serena – they are understandably pissed that she has apparently gotten away scott free – but we also see Luke's cracks starting to appear. He is mostly furious that Tuello has done nothing to save Hannah. Tuello assures them that Serena isn't "free" – she has no standing, no passport – she can't even drive a car! Oh, boo-hoo…
Luke still wants to take the cautious legal approach to going after Serena. He warns June that they could lose everything – and Moira (Samira Wiley) joins in. If they show that the refugees are a problem, they could all be sent packing somewhere else. I wonder if the show was contemplating moving production out of Toronto? The seeds would have been sown for that at the end of this season (already filmed), but of course, now with the exchange rate and relaxation of covid protocols, Toronto is a very attractive city for filming…
June only knows how to fight outside of the lines. There has been a really interesting running visual of June seemingly obsessed with dirt and her little garden. Is this her trying to fit back into the role of a good wife – think Serena in the greenhouse and garden. Or is this a metaphor for June needing to get her hands dirty? Certainly, when she goes and digs up the gun she hid in the very surprisingly unfrozen ground (fyi, I grew up in Toronto and still live in Southwestern Ontario – you can NOT dig in the ground in the winter like that – she'd need a hammer and chisel…), the gun comes out covered in dirt. D'uh!
June drives the building that is to be the new Gilead headquarters/embassy/Serena's home. She sees her in the window, looking down on her candle-carrying acolytes. The fascination of the acolytes is explained by the therapist as due to the reverence for childbirth which is so difficult every else. June tries to get the gun to work, but it is hopelessly jammed due to the dirt. However, she gets out of the car and stares up at Serena – it's a beautiful parallel to the end of "Ballet" – only this time Serena looks down and appears shaken and afraid. Ezra is there to assure her that she is safe.
June goes home and tells Luke what happened. He begs her to let him try to get to Serena by legal methods. He warns her that they could lose Nicole – and seems to see her as only a bargaining chip to get Hannah back – or am I missing something?
I thought it was interesting that Serena's new home is painted the same colour as June's kitchen. It's wife blue. Serena is upset that her invitations are not blue. She gets a call from Lawrence (Bradley Whitford), and she's not happy that they are keeping a tight rein on her – not letting her accept any of the invitations from the other consulates by declining them all on her behalf. She convinces him to let her host a tea – basically to show off her baby bump.
Serena baits June by sending her an announcement about the "cultural centre" addressed to "Offred." June freaks out and says that Serena has the whole world behind her and is going to bring Gilead there – she reminds Luke that this is how it started. She doesn't have faith in him getting anywhere through legal channels. She finally flings a plate and smashes it as she loses control. Nicole starts crying, and she goes to comfort her.
Moira follows her; she understands June's anger. But she also tells her that they have to play by the rules. She cautions June that Serena isn't worth losing her family over. Moira tells June that she's not afraid of June being with Nicole anymore. Moira knows that June's anger and lashing out is justified – and channeled where is should be.
Luke goes to see Serena. Ezra wants to handle it, but Serena insists on doing it herself. There's a super-creepy pat down of Luke by Ezra. Luke tells her that he's going to have her building shut down. She seems unfazed, and baits him by saying that Agnes is safe with decent, loving parents. Both Strahovski and Fagbenle are terrific in this scene. Luke has tears in his eyes – but doesn't let them fall. He barely manages to keep a hold on his own anger. He tells her he'll kill her himself before he leaves – and she looks shaken.
Serena is having a photoshoot – gotta show off that baby bump! She wants to stand by a window for natural light, but they warn her it's not safe. As the shoot goes on, the brewing riot below starts to heat up. When Moira is punched by an angry protestor (Adam Kenneth Wilson), June pulls out her gun. When she fires it into the air, Ezra pulls the plug on the photoshoot and spirits Serena away. Luke arrives and spirits June away – and of course the four end up meeting. June still has the gun… but she can't shoot as she too is entranced by Serena's baby bump. And this is probably the most redeeming action we've seen from June for some time. She could kill Fred for revenge, but she can't kill a baby – even if that means letting Serena live a little longer…
The incident brings Luke and June closer together. He is impressed that she's cleaned up the gun – he's not angry that she had it or shot it. She tells him she watched a YouTube video to learn how to do it. The two kiss in the car, but sensibly go into the house to actually have sex. I had completely forgotten that Luke had been shot when escaping, and it was brilliant to showcase the two having almost matching bullet scars. Their trauma unites them.
Meanwhile, Serena is delivered to her new refuge – the home of Alanis Wheeler (Genevieve Angelson). The house is eerily similar to the Waterford's in Gilead. Alanis dropping to her knees in front of Serena's belly is also super creepy – but almost reminiscent of Serena's reverence over June's baby bump when she was carrying Nicole. Has Serena now really taken the place of Handmaid??!!! Serena certainly looks uncomfortable – and when will Serena ever be happy to have to play second fiddle to another woman? There's no way she's going to be happy living in another woman's home. Any bets on how creepy Mr Wheeler is going to be?
Back in Gilead, we see that Janine is still recovering, but it seems she may have plateaued. She can't really use her legs and is still in pain. She has also lost her obsequiousness for Aunt Lydia – who she thoroughly tells off, and who surprisingly takes it! However, Aunt Lydia is not about to forgive Esther. Aunt Lydia promises Janine that she is going to do things differently in the future.
Aunt Lydia goes to Lawrence to ask for major changes to the Handmaids' system. She wants the Handmaids to live permanently under her care at the Red Centre. Husbands and wives can come to the Red Centre on the days when the ceremony needs to be performed. Lawrence is having none of it. He tells her that the Commanders are "pious men" who therefore need the "kink" of having a Handmaid at home for easy access – so he clearly knows that improprieties take place all the time – and doesn't care if women are being raped outside of the ceremony itself.
Aunt Lydia takes Janine back to the Red Centre, but before they get out of the van, Aunt Lydia tells Janine that she wants her help to change the system. She wants Janine to monitor the "girls" and let her know if any of them are losing it, so that Aunt Lydia can intervene in some way before another tragedy occurs. Janine is clearly surprised, but doesn't give a definitive answer. When she arrives back in the Red Centre, Aunt Lydia brings her into the dormitory. The other Handmaids sit at attention on their beds until Aunt Lydia leaves and then they surround Janine, murmuring quietly, and exchanging information.
So things heat up in this episode. Wonderful performances yet again by Moss, Fagbenle, Brewer, and Strahovski in particular. I can't wait to see where the seeds of this episode take us. I love that Luke is finally able to take a more active role. Will Janine lead Aunt Lydia into full on revolt? I will double down on saying that I still prefer Aunt Lydia's storyline in The Testaments. And what about Serena? I think that she's going to realize that she's pretty much as much a prisoner and puppet of the Wheelers as much as any Handmaid ever was in Gilead. What did you think of the episode? Let me know your thoughts in the comments below!