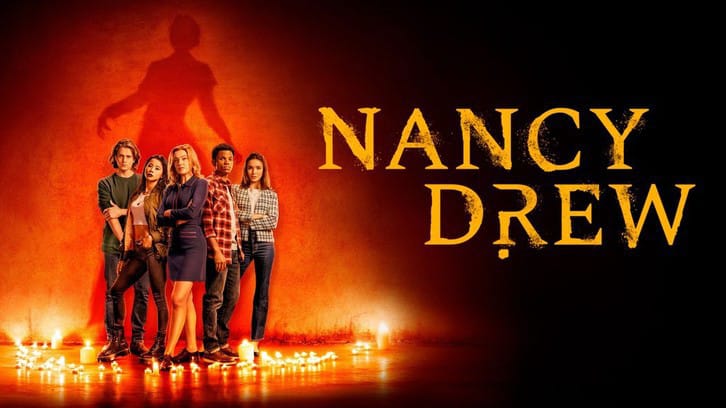 This episode put us in great position for the finale next week. Temperance is a few steps ahead of Nancy. I'm looking forward to finding out how this ends.

My first question is how far out of town is that orphanage? Apparently, far enough, given that Temperance was still in exile in 1971.

I found the writing of the opening sequence to be a little lazy. Temperance is smart. Why would she drop this incredibly important do-dad (the antler) instead of keeping it on her person while she worked?

Why didn't she search the orphanage after sending those kids to the Liminal Space? It was not well hidden.

Temperance took the time to put a spell on her "letters to Charity" before she hid them so that Bess couldn't get photos of them when she found Temperance's hiding place. I'm supposed to believe she couldn't find that antler?


It seems confirmed that Nancy has an eidetic memory.
I was kind of impressed that she was able to recall the symbols on those antlers well enough to complete the translation.
We've seen her exhibt greater than average recall, but this was much more than a string of numbers.
But poor Darlene!
And poor Lev!
May I just point out that, that was the creepiest way they could have come up with to answer my question (in the last review) about what happened to the pieces of Charity's soul when the previous victims were killed. Shiver.
This is the Bess I like. Her mind filtered through scenarios and figured out what had Nick so upset.
I couldn't help but wondering, if Nick had continued to signal to Bess that she was right, without explaining, would the hex have NOT been triggered.
That was just idle curiosity. I realize the whole point was to put the kids in danger, so it didn't really bother me.
Okay, so, Bess lectured everyone about taking her ideas and opinions seriously; unfortunately, she's not taking her own advice.
When Nick challenged her about wasting time trying to determine which specific hex had been cast on the kids, she knew he was rushing, told him so, then discounted her own advice and use the wrong spell. Of course this just made things worse for the kids.
I think we've seen Bess face this particular insecurity enough.
Next time she's in the situation, I hope she follows her instincts.
I was bummed, but not surprised, when Nick's reaction to the hex was to abdicate day to day responsibility for the Youth Center.
It was a rather nice, character driven way to remove a set that was so important to Nick next season.
(Was anyone else wondering why their parents allowed their kids to stay at the Youth Center until midnight? That ain't normal in the real world. LOL)
Nancy seems to have chosen Ace. Not a surprise since we were aware, at the beginning of the season, the she was interested in him.
I do hope that Agent Park returns to Horseshoe Bay if there is a season 4. Not for any romantic reason, but this has been the most successful Drew Crew/Law Enforcement partnership since the season began.
Although I do confess that I wasn't sad that Park agreed to back off, but not give up on the possibility of a romance with Nancy.
George had to tell her sisters that she and Nick had broken up. It went as badly as she feared.
I felt bad for all of them. Hopefully, Nick can calm them a bit.
It was Ryan who convinced her to stop putting off the difficult conversation.
Honestly, Ryan's growth has been one of the best things about this season.
I was happier with how Bess was portrayed in this episode.
The solution of moving the hexes onto Nancy, forcing Temperance to show a couple of her cards, was pretty way of forcing Temperance's hand.
Temperance now has an efficient way to find the Copperhead when he appears next. It's going to be interesting to see how they wrap this all up next week.
What did you think of this episode?
Are you looking forward to the finale as much as I am?