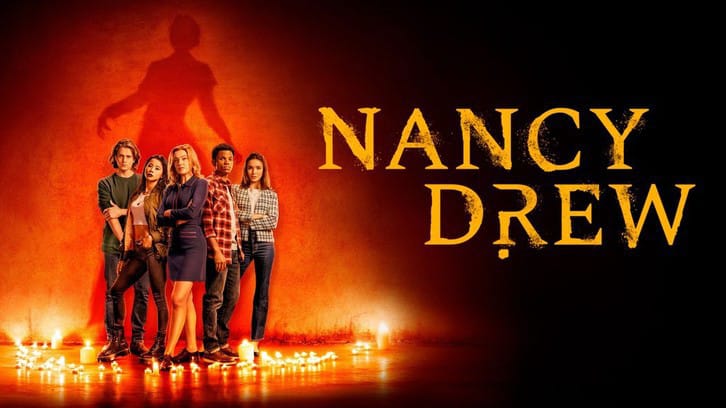 This episode did not follow the path I expected, but I'm glad that the weight on Nancy's shoulders wasn't heavier.

But let me focus on Ace's case first.

Ace is still trying to find out the identity of the dead woman who is communicating with him.

Did anyone else giggle maniacally when they realized Ace had downgraded from a sink filled with ice water to an ice bucket filled with ice water?

The family is on the way to pick up the Ghost's body because they believe it to belong to Mia Preston.


Bess pointed out that one way to focus the authorities on identifying the body and keeping her where she could continue to communicate with Ace would be to find Mia Preston.
Did anyone actually
look
for Mia Preston? It was too easy for Ace and Bess to find her.
The forest rangers would have also had that information.
With a little help from Ghost, they managed to get Mia to a hospital.
Now it won't only be Ace trying to find out who Ghost is.
I'm curious if the Ghost's identity will connect to The Sin Eater story.
***
Nancy isn't the greatest shot. She didn't hit Tristan in the heart with that poisoned arrow.
Tristan has a chance to survive or die a slow death, depending on your point of view.
The Drew Crew and Tristan's parents have about 10 hours to find a cure and save Tristan's life.
I think my favorite scene was Ryan going to Carson for help. It was a standard Ryan approach to a panicked situation. 'Run to a grown-up who will know what to do.'
At least now that grown-up is a good guy with a strong moral compass, Carson Drew.
This wasn't Carson's first up close and personal with the supernatural was it? Nancy's talked to him about ghosts, before hasn't she? Did Carson just rationalize previous mentions of supernatural events?
Nancy's father brings Tristan's parents to his bedside. Carson prevents a brawl by pointing out that they all need to work together in order to save Tristan.
This alliance works right up until the moment Tristan's life is saved.
They need to find the last sin eaten by The Sin Eater in order to countermand the poison.
They split into teams so they can explore multiple paths to a cure at one time.
At one point Carson and George are certain they found the last sin, but their estimated timeline for the last sin was off.
After discovering they have the wrong last sin, Nancy returns to the Tristan's mind map to talk to the first person whose soul was corrupted by The Sin Eater, Nashua Kipp.
Nashua took Nancy straight to the last sin. (Too bad Nancy didn't know that was an option in the first place.)
This saves Tristan.
Nashua's comment that he and Nancy have met many times alludes to the idea that Nancy's soul has been reincarnated as well. It feels like set for a possible 5th season story. If so, we won't see it.
Ryan and Tristan's mother, Shelby find a camera in the Black Door ritual room.
Someone in town knows who has had their sins eaten.
That is a serious power position.
Shelby finds a photo of George on the printer. She finds another photo which we later learn is a picture of Nancy.
It wasn't until I watched the episode a second time that it occurred to me that the person who stashed the camera organized the photos intentionally.
If I'd planted the camera, I would have set up an alert when a picture was taken, and I wouldn't leave any of them out in the open.
Plus, it's an excellent way to get a thorn in your side, AKA Nancy Drew, out of the way.
Shelby is now convinced that Nancy was the last person to perform the ritual.
Which, according to the information Ryan received from his contact, means that Tristan's parents will kill Nancy to save their son.
Knowing that everything the Glasses have done has been to save their child from The Sin Eater's curse softens my opinion a little, but just a little bit.
Not enough to warm me to them.
Rating: 8
Another great episode with an unexpected ending. Is Ace's quest to identify a body going to affect Nancy's quest to destroy The Sin Eater? The show is picking up speed as it heads for the season finale.