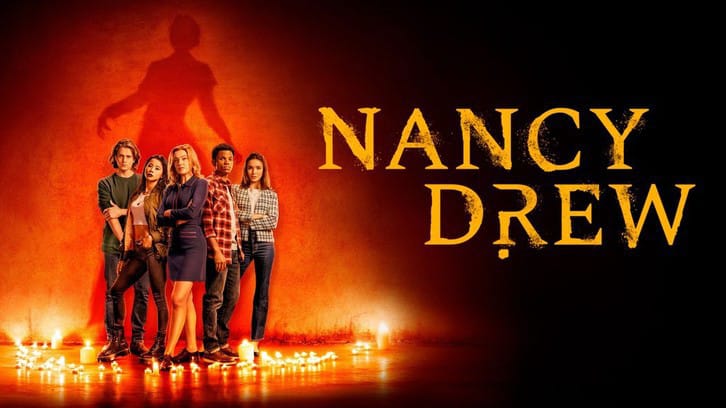 A relatively simple mission gets complicated by...well...Ryan. It's a pretty simple straight forward episode. Nancy and Bess need to find the Soul Splitter in order to save George's life or rather return George to her normal life cycle.

This ties up the George/Odette story that's been lingering in the background since season 2.

The police are about to inventory the Bobbsey storage unit which moves up the Drew Crew's timeline. The ritual needs to be performed ASAP so they can get the artifact back into the storage unit before the police realize it's there.

Carson finally gets to chance to come to his daughter's.

Nancy hasn't really asked much of him since she found out that he's her adoptive father.

Carson sets up the legal shenanigans Nancy needs then asks why. Happily, she's beginning to realize how lucky she is.


The problem is that, because of the legal shenanigans, it's Ryan and Carson who get into the storage locker to retrieve the Soul Splitter.
Which would be fine except that Ryan drops a bottle and releases an elixir, that provides the "reduced inhibition of youth"; essentially turning Nancy's Two Dads into teens.
I was expecting complications on the path toward splitting George and Odette's souls, but I didn't really expect them to go the comedy of errors route.
Actually, they did a combination of approaches. First, the Dads lose the Soul Splitter. Second, they realize that the Soul Splitter was design with a different definition of "to split". ("split in two" instead of "split apart")
Nancy decides that removing Odette's soul form the equation will fix everything. I'm not sure I see her logic, but I just rolled with it.
This left Bess as the character with the largest emotional moment in the episode. She had to say good bye to Odette. It underlined the idea that Odette was more than a throwaway character and her relationship with Bess wasn't just about creating an awkwardness with George.
Meanwhile, Ned confessed to the kids in the center that he isn't some monied do-gooder dipping their toes into the real world.
Just when I was beginning to think that they'd missed an opportunity with Ned's story, he disappeared.
I can't help but think, though, that Ned's disappearance isn't as tied to Ned's confession as it might appear.
I am hoping that we don't have to wait until after the winter break to find out what that's all about.
It wasn't a hugely complex episode. I felt like a transitional episode should feel. Sometimes these episodes feel like a lot of nothing happened as the puzzles pieces were being set up for new stories. (I had this problem with
Nancy Drew
a couple of weeks ago.
Here, there were a lot of puzzle pieces being line up for future episodes.
George is, once again, herself.
Bess is embarking on a new romance, Nancy learned Ace is single (I am not rooting for them as a couple.), and, of course, Ned has disappeared.
We still have the completion of the Frozen Hearts Killer to look forward to.
What did you all think of the episode?