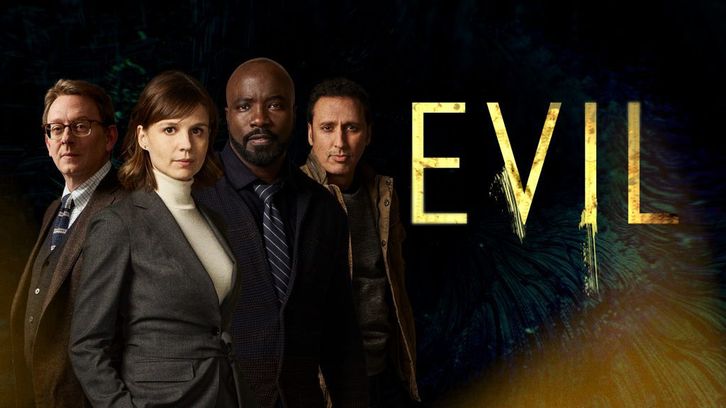 2.13 - "C is for Cannibal"
Written by: Rockne S O'Bannon
Directed by: Alethea Jones
Reviewed by: KathM
It's nearly ordination day! David sits down for his last quizzes before the Church gives the all clear for the collar. The last one he talks to is Renee, Zooming in as Church Counsel. She's hoping that he's committing to the church for himself, not for himself and her sister. He assures her that he is 100% in on his own, but a few doubts remain.
Here's hoping that the Renee cameo means we'll be seeing her again next season!
Pre-ordination bachelor party is fun, nice to see everyone mingling. Am I the only one who doesn't know where Bishop Marx is? I don't remember him being sent away. Oh, Kurt! You are really having trouble keeping it together, aren't you? Driven by Sister Andrea's vehement advice that he be baptized or rot in hell in the afterlife, he decides to take a sabbatical for two months. I can't wait to see what he's like when returns. Here's hoping that he's the same (or sismilar) Boggs we love and root for when he gets back.
I found Miles's story a little uneven and the people sleeping in the cadaver drawers were delightfully disturbing. I wonder whether Leland will try and sit in on all of Kristen's interviews or just the ones with people he wants to procure. I do agree with Leland about the whole "body of Christ" thing. While I always thought this was creepy, I didn't associate it with cannibalism back then, but that Leland is so very persuasive. Glad Kristen smacked him around with her shoe a couple of times; nobody deserves it more.
I'm baffled. David wants a "normal" life, but he's a sex addict who's joining the priesthood and works evaluating potential signs of evil on a daily basis. Sister Andrea has spent a lot of the season entreating him to learn more, train harder for the evil battle to come and was just chased by a flying demon. What did he think, they'd stick him in a nice, suburban parish where he gives sermons one evening a week and 2-3 times on Sunday? Guess he's not as smart as I thought.
Fun fact: Kristen hits Leland with one of her stiletto heels; the knife Sheryl used to threaten him with is also called a stiletto.
Where is Leland meeting with Lexis at school? Is it just chatting out in the parking lot or in a classroom? How is she keeping it from her sisters? Now that Kristen knows about it, what will she do? I'd love the details of the conversation she has with Lexis. And it sounds like Sheryl isn't aware of what's going on with one of her grandL's. Should be a fun chat with Leland when she finds out.
Nice to see Lexis improving her mind with a little light reading.
I wonder how the successors are chosen? Surely all of them weren't from the clinic. And now that Sheryl has her own head, I guess she needs to find a successor for it. Wonder what kind of party she'll throw when that time comes.
Kristen's confession to David was exceptionally powerful as was David's reaction. Remember in one of his Ordination interviews he said that God won't let anyone be tempted beyond their strength? Poor David was strong up until the one time he should have been. All of the things she'd been doing to protect her daughters, all the guilt she's feeling by killing LeRoux and then getting away with it so easily, and it's never enough. David's leading her through what she needs to say in Confession is surprisingly tender, and you can see how that raw moment can grow into passion. Did they or didn't they? Maybe we'll find out next season.