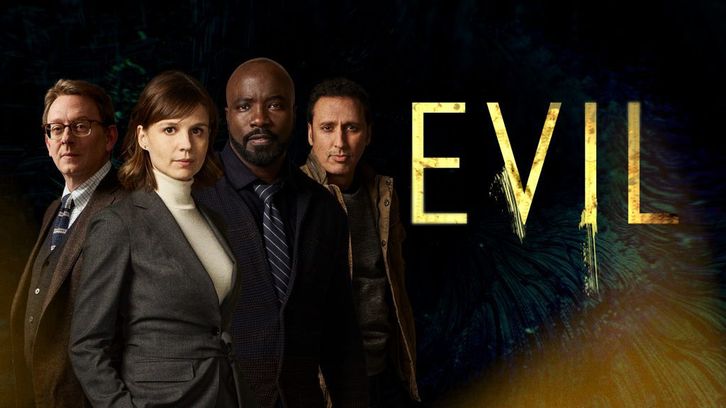 2.10 - "O Is for Ovaphobia"
Written by: Aurin Squire
Directed by Stacey K. Black
Reviewed by KathM
Ovaphobia: fear of eggs
So, wow! This episode brought a lot of old characters and storylines back, and may have even introduced us to "The Manager".
First of all, Vanessa is back. I think we've only seen her once this season, and I'm glad writers didn't just leave her behind. I don't like the character, but she and Ben are an interesting couple so I'll live with it. Ben deserves a little fun. When Maggie trashes Vanessa's apartment she tearfully tells Ben that it's over, she needs to find a way to separate from her twin. Ben's a happy camper, and gently nudges his possible lady love (not really feeling his stammered, deer-in-the-headlights reply to Van's "I love you") toward Kristen for a little therapy. Vanessa wants to go a different direction. She and Ben visit Marie, the store owner and possible voodoo priestess who helped Lila and her friend battle zombies earlier this season. Vaness explains that she wants to separate from her dead twin, Maggie, who she believes is attached to her by her left arm. Marie does a good job and Vanessa feels great! So great that the next time Ben visits she looks and behaves differently, seducing him with little effort. She tells him that she feels liberated now, and waves her right arm in the air. Should be the left arm, though. Over time and numerous sexal encounters Ben decides that Marie banished the wrong sister, and Maggie cheerfully confirms this. Which I thought, too. And possibly the rest of you as well. Then when Ben is sprawled on the floor, pants down and waiting for Maggie to rejoin him in Round Two, Vanessa calls him. Yep, Vanessa. She is on her way home, and Ben is horrified. Are there actually two of them now? As Maggie tells her sister about her and Ben's carnal exploits Ben grabs the phone away from her, only to get a dial tone and then voicemail. I am so very confused.
When David says that he wants to jump into RSM Fertility Services he jumps right in. The first interviewee is Kristen herself, who becomes defensive when Ben and David ask her about her pregnancy and Lexis in general. She lies like a rug and tells Ben that Lexis is an ordinary kid, who at no time had vampire fangs and tried to eat her oral surgeon. I think that's a pretty natural reaction when a parent feels their child is being "attacked", but I'm not sure Kristen should have held back this time.
There were two people that they talked with that used RSM they had already tangentially been involved with. This included Sarah, who may or may not have killed her son Erik when he tossed his baby sibling in the family pool. Plus there is Tammy, biological mother of Matilda "Firestarter" Mowbray. Since we met Matilda earlier this season I am in no way surprised to find that she burned her foster family's home down. Neither woman says anything against the clinic, but Tammy did mention that Matilda had unnaturally large, sharp canines. Neither woman had any memory of a bad experience at RSM, but Tammy says that they were very rude when they told her that she hadn't been paying for storage of her remaining eggs. This makes Kristen think about her own remaining eggs, and as she goes through her bills and finds out while they do have eggs still stored at RSM, someone else has been paying for their storage. They won't tell her who because that would be too easy, so Kristen shows up the next day and It's a person she's never heard of, a Dr. Autry, who left RSM five years before. One of the RSM fertility patients says Dr. Autry was her doctor and was wonderful, then gives Kristen the details to her new office.
Meanwhile, Lexis is having body issue. She looks...I'm just going to say "fine" because I don't want some kind of argument about the language I used to describe her, etc. Body image is very political nowadays. In any event, she's looking at a series of TikTok videos from a vapid (and I'll stand by that) "influencer" about how to tell if your teeth are bright enough or ways to make your thighs thinner. Not appropriate for a 10-year-old, obviously. While Kristen and Sheryl go shopping/shoplifting with the girls (guess who does what), Lexis presents her mom with a sweatshirt thing in a size or two larger than she would normally wear. Kristen tries to talk to Sheryl about it but Sheryl blows it off by reminding her daughter that she hated her cheeks when she was younger and slept with encyclopedias on them because she thought they were too poofy. "Body image issues go away," she says breezily. Um, I don't think so. Later, Kristen has a talk with her daughter, showing her online images, showing her that not everyone looks as they do on the camera. Lexis seems more comfortable after their conversation, and goes up into her room to look at herself in the mirror with a more positive attitude. As she does we notice that now has a tail, long and kind of slinky, and as she smiles she lets it curl around her stomach in a hug. I don't know whether it's real or not, but I kind of love the thing.
Meanwhile, Kristen visits Dr. Autry and ask why she's been paying for Kristen's egg storage. She says a lot of nothing until Kristen threatens a lawsuit because Autry won't give the eggs back. She told Kristen that since she hadn't been paying for something she wasn't billed for, her eggs were considered "abandoned", and so Dr. Autry kind of adopted them. Kristen threatens to sue and Dr. Autry becomes kind of violent and shouts at her and so Kristen leaves. Autry leaves shortly thereafter and Ben and David follow to Lelands apartment, where all dark things reside. The next day, when Kristen tries to get hold of her, she's told that Dr. Autry went on sabbatical. To hell, I'm guessing.
I really had high hopes for Sheryl, I really did. I thought she was a savvy broad with more going on under the hood. Doesn't look like it. After she has dinner with Leland she agrees to attend an "influencer" party in the Hamptons with him (it's why she stole the dress). When she shows up in her burgundy bombshell gown it turns out that it was a White Party, and compared to everyone else she looks like a stain.
I will say that I do like the easy banter that Sheryl and Leland have, it's a funny kind of chemistry. Even when they toast their mutual hate, it's cute. But then Leland introduces her to his friend, Edward, and I'm pretty sure we've just met The Manager.
Tim Matheson is crazy spooky in this role, you can practically smell the darkness that burns off of him. He and Sheryl flirt a lot, then he asks her to meet him at Leland's place after they've had a drink. A drink they have, and while Leland is making chocolate strawberries in the kitchen Edward massages Sheryl's toes, then asks whether she can move them of her own accord. As she slowly loses her ability to move (don't accept a ready-made drink from someone you don't know!) Edward gives her an injection of something, then he and Leland slide her off the couch and onto the floor and give it a few minutes to let the shot do whatever it's supposed to do. Leland then goes into a dark room full of medical supplies (and Dr. Autry laid out on what looks like a mortuary table) and brings forth a bottle of red something. He then attaches small IVs to the back of Sheryl and Edwards' thighs, attaches the bottle to them and watches as the liquid in the vial went from the jar to one of them, then into the other. No doubt Sheryl thinks she's going to die, but when David comes up to check on Leland the next morning she and Edward like they are high on something that seems to be making them almost manic with joy. They tell David that Leland isn't home, then go dancing down the hallway.
Back at RSM, Kristen presents the receptionist with a court order to have her eggs moved somewhere else. While processing the information the receptionist mentions that her eleven eggs will most likely be moved the next day. But Kristen has twelve eggs; it even shows that on her paperwork from RSM. But that isn't what they show. Where is her twelfth egg? Maybe we should ask Edward...