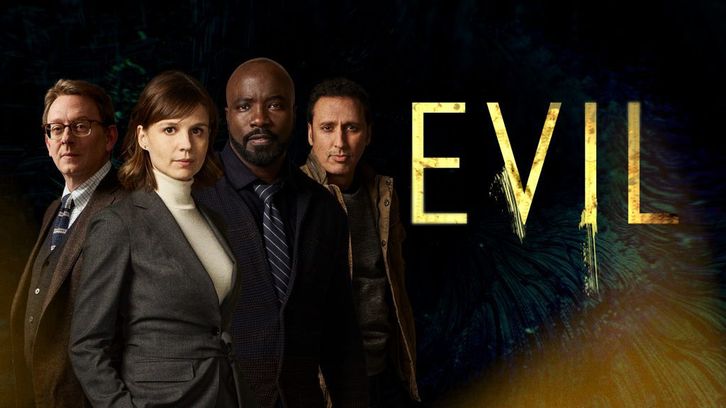 2.11 - "I is for IRS"
Written by: Dewayne Darian Jones
Directed by Nelson McCormick
Reviewed by KathM
Can you feel the weirdness?
We get more questions than answers (and madness) as we speed toward the finale. Only two more episodes!
Kristen, Ben, and David are asked by the IRS to visit the New Ministry of Satan to see whether or not they qualify for tax exempt status. Apparently when a "religious organization" applies, the IRS asks similar religious organizations to check them out and report back to see whether they meet the criteria.
They go to the former bar/pool hall/bookies building and meet with the COO, Graham Lucien. I often wonder why a theoretically charitable organization needs a COO, but that's a question for another time. Graham knows what the trio needs, as he's been visited by the Mormons and a few other groups earlier in the week. There are apparently just four criteria to become a tax-exempt religious organization: a focus on worship, it must not be about making money, (how can this be quantified?), the money should not go to one person and it must be legal and not be political. I would like to request certification of any organization grandfathered in. It also has to have a combination of credence, history, literature and a place of worship. The room in back has a nice little worship area with what Graham calls a very impressive statue of Baphomet. The gang gathers up their pamphlets and take their leave.
The Exorcism and a Trip to the Bar
It's that time! After spending most of the season obviously mocking and faking his way through the process, Leland has been deemed ready by the church to be exorcised. It will take place over three nights, and his exorcist will be Father Thunderland (great name). When David arrives for his last meeting with Leland before the exorcism he brings along the pamphlet was given at the Ministry. Leland asks to take a look and goes nuts, calling it "blasphemy" along with a few other things. He was angry, but not in the way we normally see him angry. Even when he was shouting he seemed more bewildered than anything.
On the first night, Leland struggles and complains of being hot, and as David helps by holding Leland down. He begins to speak in a variety of voices who tell Fr. Thunderland that he can't have Leland, won't have Leland, etc. David is a little freaked out, more so when Leland breaks free and kicks Fr. Thunderhand across the room and into a wall. He eventually falls asleep, and David asks Fr. Thunderland if what Leland did in the other room could be faked, but he says no. The next day he describes what happened to Kristen and asks her to come to Part II of the exorcism that night. "Do you think Leland's starting to take his exorcism seriously?" she asks. "No, I think God is," David replies.
Night two has more of the same, except Leland is struggling harder. When the voices come back, Kristen begins to pale. I think the first voice is George, but we haven't seen him in awhile. When Leland vomits what seems to be moving bile, she runs to the bathroom and something...Thing-like, falls out of her stomach. She runs out her car and looks at her belly again, only to find that her crucifix scars are healed. It also does not appear as though anything has fallen out of the nonexistent hole the nonexistent Thing burrowed through her stomach. Somewhat, but not entirely relieved, she drives to the nearest bar and surprise! Graham Lucien, who jokingly claims that he isn't stalking her (don't believe him), shows up. She figures what the hell, then takes him out to her car and has sex with him in the front seat. Nothing romantic, no kissing involved. Just meeting a need.
The last night finds Leland playing his role of poor man in need of exorcism while Kristen is in his bathroom writhing on the floor. She is sweating and vomiting up things and when Fr. Thunderland asks Leland questions like, "Do you reject Satan?" Kristen answers "yes." At the end of Leland's exorcism he's jumping around like a happy Hellhound, all bright-eyed and bushy tailed. He's free, blah, he's been reborn, whatever. Fr. Thunderland even gives him his personal crucifix, which I really hope is something he has a number of in a box at home as tokens to random exorcist(ees?) David checks on as Kristen steps out of the bathroom practically glowing with peace. Is it finally over for her? Maybe for just a few episodes. Anything else might be dull.
Sheryl as Caretaker (??)
Sounds strange, right? But parents have to distribute wisdom from time to time, and Sheryl is there for both Kristen and Leland in their times of need.
When Sheryl sees her daughter put on the panties she's forgotten to put on after her tumble with Graham in the car, Sheryl is there for her daughter before Kristen realises she needs her. Sheryl comes over to Kristens without being asked and runs through a list that women who have been sleeping with someone other than their partner need to know. Take a bath, then a shower. Scrub every part of you. Gargle mouthwash. Take the clothes you're wearing and throw them away. Put trash on top of the clothes in the trash bag to make it less obvious, Actually Trash Day is tomorrow, and Sheryl assured Kristen she'll sneak into the bathroom and take the trash out to the curb. Kristen wants to know how her mother knows all about this: "It was the same when I came home to dad,"
Okay not exactly great parenting on Sheryl's part, but she doesn't like Andy so I can't see her getting upset about it. And she did say that Kristen could come and talk to her anytime, but I don't exactly see her as non-judgemental.
She does a little better with Leland, though, who calls her in a panic when the second exorcism night has him feeling "hunted" and that thinks he's been genuinely affected. He can't stop shaking. Leland begs for her to come over to his apartment right away, and Sheryl asks what he'll give her in return. "Edward," he stammers. With an additional promise to bring him some root beer, she is out the door.
When she gets to the apartment she finds Leland quivering in a corner, terrified and complaining that he can't stand on his own. Sheryl complains about his being a baby, but she goes into the dark room where Leland stores his blood and whatever else, then grabs a few and pours them into the bathtub. She helps Leland into the tub, returns to fetch the bottle from "those two women at the airport", then pours the jar over his head and gives him his root beer. And Leleand luxuriates in the bathtub, drinking his root beer and basking in the blood of his enemies.
Which Kind of Explains What Leland and Sheryl Have Been Doing
Whatever Edward and Lelaad gave Sheryl, she liked it. From what I can tell, Sheryl arrives at Leland's, tarts herself up a bit, waits while Leland tops up her thigh, then goes hunting for available men (and possibly women) that she can lure up to Leland's and drain their blood through a hole she drills through their skull. If there's anything else they use it for other than Leland's morning bath time routine, I have no idea. The song playing during the introduction to their machinations is "Fake Palindromes" by Andrew Bird. But I call it Sheryl's theme.
Extras
Andy and Kisten are going to counseling with Kurt to try and help their marriage, but things go too far when Andy asks Kristen if she's sleeping with Ben or David. Her denial of Ben is believable but David? Not so much. Andy starts shouting at Kurt that they're leaving, but when she turns to go Kristen sees Sparky the flame-headed Jinn by the door. She tells Andy she'll be right there, then tells Kurt she's still hallucinating and demands new meds, and Kurt gives her new prescriptions. The night after the second exorcism she barges into Kurt's office and has what seems to me to be a breakdown. She starts yelling, asking Kurt who he's working with and whether he's sleeping with Sheryl. When she leaves he picks up the phone and says, "We need to talk." to whoever's on the other line. Kristen comes in again and yells at him again. Et Tu, Kurt? I hope not.
The Ministry of Satan does not receive tax exempt status because Ben does some digging and figures out that the money the church is earning in his name, and that they have a history of making loads of money selling t-shirts. Graham and his pastor, Jim, come to the church and tell the IRS rep that Kristen is biased because she slept with him. Kristen laughs at him and says she'd rather sleep with Satan. Nobody believes him, and as he and Graham leave Pastor Jim tells the trio that the Devil will come after them. Little does Jim realize that it's just another day at the office for them.
Finally, Kristen rushes home to find that Andy rescheduled his flight so she would see him again. They do a Tibetan cleansing ritual thing: they write down what they want purified and burn it. Her note said that she was unfaithful to Andy, but we don't see his note. He also tells her that if you mention a specific person and want to protect them you should circle their name, because apparently that's a bad thing to the person whose name you use. Then they agree they will start over. This is why I don't think Andy will live, or the business will start doing really well and he'll ask them to move and they won't. Or something. I'm also not 100% sure that it was Andy she was talking to.
Also…
P.S - Next week we get to have evil dolls. Evil. Dolls! And the episode seems Lynn-focused, too.
P.P.S. - When "Evil" eventually ends, I would like to recommend a comedy/drama starring Christinie Lahti and Michael Emerson as a couple of conmen. Their chemistry is amazing.