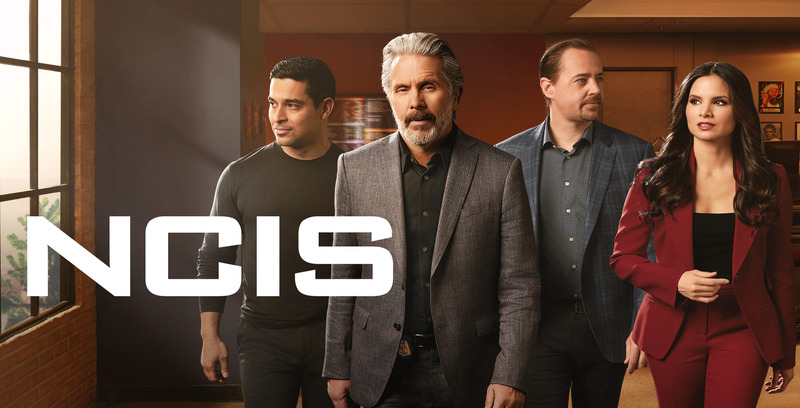 18.13 - "Misconduct"
Written by Margaret Rose Lester, David J. North, Brendan Fehily
Directed by Tawnia McKiernan
Reviewed by KathM
Gibbs may be down but he's not out in this episode, in which his beat down of an animal abuser may compromise the prosecution of a slimy embezzler whose Ponzi scheme cost Navy personnel some $30 million. Gibbs was the only one who heard Randy Devereaux's confession, but he's been pulled off the witness list because the defence feels he'd jeopardize the case when the jury hears of his eternal suspension. Gibbs, of course, doesn't care: he knows the jury will believe him and besides, he did what he did and it's over and he isn't going to apologize for anything and if you don't know that then you haven't been paying attention for half the season.
Fortunately the defence still has the slimy Randy's accountant, whose testimony should be more than damning enough to put the embezzler behind bars for a very long time. Until McGee and Co. get a call about a hit and run that killed Navy Petty Officer Second Class Mike Benson, who had been cycling with a friend who happens to have the same body type and was wearing the same clothing.
Actually Ellie gets the call, which freaks McGee out a little. He figures that he's the one steering the boat until Gibbs returns, and here the switchboard is telling Ellie that they need to grab their gear. He's a bit insecure, which he should be because I have a feeling that he won't be the one taking Gibbs's place if he doesn't return. We get confirmation that Benson was run over accidentally when his biking partner is revealed to be one Bernard Wilson, Randy Devereaux's accountant and the star witness in his trial. Since Wilson fled the scene long before anyone official arrived, Bishop and Torres make their way to his home to see whether he went there and if Wilson is okay. Two words: Witness Protection. It's a thing. Gibbs is yelling in Bishop's ear on her phone (they called to see whether Gibbs had testified yet and told him about Wilson) as she and Torres enter Wilson's garage only to find him dead, shot right between the eyes. Now Gibbs is the only witness, and the defense has no choice but to call him. Or not. It's a rough call, and when Gibbs finally does take the stand the defense goes over all of the commendations and service medals he has, practically everything good he's ever done. I thought she might slip up and mention rescuing abused animals, but she didn't go that far. Instead of just asking the judge to strike Gibbs's whole testimony as heresy as he had no proof of his confession, Devereaux wanted Gibbs humiliated so he had his attorney question Gibbs and make sure to bring up the whole eternal suspension thing. But he wasn't humiliated because he's Gibbs and he knows what he did was right and that's the end of that.
The jury doesn't believe Gibbs, so Randy is freed. He wants his passport and for Gibbs to be all angry and humiliated but instead Gibbs smirks, and then Kasie finds the $30 million Randy and his Mrs. (she killed Petty Ofc. Benson accidentally while trying to get to Wilson) had squirreled away as poker chips of all things. Randy had told the Feds that he'd lost the money he'd gotten from the Ponzi scheme in business dealings, but instead Devereaux turned the money into poker chips overseas, then cashed them in and hid the money in the same safe deposit box where they'd hidden the chips. Given her seemingly extensive knowledge of card playing, it also sounds like Kasie may have another life as a card sharp, and hopefully we'll hear more about that next season. Oh, and at some point Gibbs called McGee and told him to place trackers on the Devereaux's passports so they could be easily picked up by he and Torres before they fled overseas to grab their cash and find a nice country sans extradition treaty. Frankly I'm surprised that McGee didn't think of this himself, but the gang tells Leon that it was all Gibbs and I choose to believe it. Besides, McGee would never have used trackers that large and obvious.
So that is the story, and I am completely underwhelmed.
I am completely over this: NCIS and Gibbs need to fish or cut bait. He's either an active NCIS agent or he isn't, and if he is then everyone needs to figure out what that means. I realize that the character needed to be in limbo until Harmon decided whether or not to return for Season 19, but it's been settled. Contracts have been signed: in some capacity Mark Harmon has decided to play Gibbs for another season. We don't know how Gibbs will fit into the show, but he will be around doing something. From the last scene of this episode it looks like he has a mystery he's helping Marcie with, and from the previews it sounds like that might play a big part in this season's finale.
Note to SecNav: if you are waiting for Gibbs to learn some kind of lesson or feel remorse for his actions that's too bad because he won't. He's not ashamed of beating an animal murdering creep to within an inch of his life, and he never will be. This is the hill he's chosen to die on, and you need to accept that and move forward. And stop either suggesting or ordering Leon to go over to Gibbs's house and be all friendly, then tell him that Leon may not be able to help Gibbs and his career may be over. He knows that but Gibbs doesn't care! Gibbs is what he is, like a more articulate version of Popeye. He has proven that he can solve a case with virtually no personal involvement, even though he was considered a detriment to the case. Okay Gibbs, show us what else you've got.