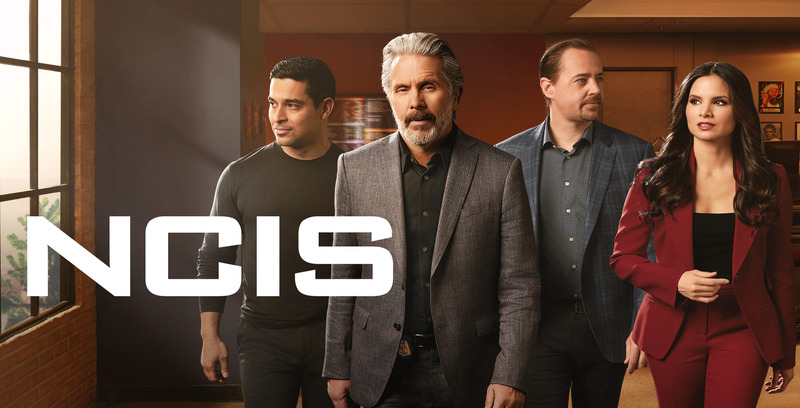 18.12 - "Sangre"
Written by Marco Schnabel
Directed by James Whitmore, Jr.
Reviewed by KathM
Wilmer Valderrama is a good actor. He's a pleasure to watch, and has a range better than many of the NCIS cast. That is why I was so disappointed for him to have a storyline that was tired and predictable. He shone, but his storyline was a clunker.
Torres's father abandoned his family when he was a young child; in the flashback from the beginning of the episode Papa Miguel Torres is seen taking a gun with him as he sneaks away from his family in the night. One can assume that he is either: a) someone fleeing from the law; or b) someone who is that law. Since he doesn't take any money with him, I'm going to bet on b. When Kasie finds a hair at a murder scene genetically linked to Torres, he is stunned. It's a male relative, but since he dosen't even think of his father as an option (he thinks his father is dead), he begins calling every male in his extended family to find out where they were the day before. Jimmy stands by, family tree at hand, checking off various Torres's as Nick dials away. Funny scene and nice to have Jimmy involved. He's having fun, Nick not so much. When they finally catch Miguel and bring him in, McGee handles the interrogation himself while Bishop and Torres watch from behind the magic mirror. Torres the Elder easily creates a plausible story about why he's in DC (He says he has family there. OMG!), why his hair was in the bathroom where the body was found the next day (he used the bathroom). Then he begins calling for Nick, even banging on the mirror and calling "Nico!". This is getting weird.
But fear not, all will be revealed! Come to find out that Miguel is a valuable CIA asset (predictable) who works "on call", as it were, in South America. He and his team (which included the dead man in the bathroom) were betrayed and he wants to know if the third man, retired Marine Sergeant Thomas Baird, from their team was the killer. He flew to DC, so Miguel flew to DC. Vance jumps in and makes it a joint NCIS/CIA case, which includes Miguel as he is no longer a suspect. Vance asks Nick stay on the case because they are understaffed, despite having additional staff working different shifts as we learned in the last episode.
Bishop reminds Nick that he was under deep cover for ten years and that when he quit to join NCIS, everyone was as suspicious of him as Nick now is of Miguel. Sometimes I wish she wasn't so reasonable. Miguel tells Nick the same thing, and reminds him that his brother-in-law was killed because Nick was under cover. I would have hit Miguel, but Nick has more restraint that I do. Miguel and Nick end up working the case together (predictable) and find Baird in a cabin in the middle of nowhere with a bank manager as hostage. Baird says he was framed (predictable) and the bank manager hostage can help him prove it. He shows Miguel a document signed by Pamela Walsh, their CIA handler and the one who set them up (predictable, except for the evil agent being a woman). She has hired a couple of Russian mercenaries to take out Baird and Co., and while they do manage to kill the bank manager Torres, Miguel, and Baird escape. Baird is injured, and as they three of them limp along Torres and Miguel go all out fighting and killing the Russians and then face Walker. She shoots Miguel, who is wearing a bullet-proof vest (predictable), and Nick takes her out by throwing a knife at her.
Later, as the rest of the team (just Bishop and McGee are left) arrive to gather evidence and take reports and so forth, Nick approaches Miguel and tries to see whether he can make something with his dad. He asks Miguel whether he'd like to go over to Nick's sister's house to meet his granddaughter, and Miguel agrees. Torres says he'll come get daddy at 8:00 at the hotel, but when he arrives Miguel is long gone. Which is so sadly predictable that I am horrified that Nick wasn't smarter than that. He goes over to Gibbs's house instead of going home, to eat the steak Gibbs has just pulled off the grill on the fireplace. Nick doesn't want to talk, and as we all know nobody has to say anything at Gibbs's house. It's actually preferable.
Gibbs has been having a grand old time on leave, doing a dozen cores that only take an hour and playing with Lucy. Actually, he seems pretty bored. He tells a visiting McGee that there's more to life than working, and I feel like he may believe that a little bit now. He also stops by the diner to get some pie and coffee and comes across Marcie, who I think he kinda flirts with (it's hard to tell with Gibbs). Later Marcie comes by and asks Gibbs to check her homework read the info she's gathering for a story she's writing. How many people think this info will somehow feature in next week's episode? She has this way of slurring the word(s) at the end of her sentences, did anyone else notice? Annoying. She leaves Gibbs alone to read over her documentation and chill with Torres when he arrives to "not talk about it" and have some steak as Lucy looks on jealousy.
As I said, I loved Wilmer Valderrama in this episode, but the storyline bored me so much I split my time between watching it and searching the internet for spoilers that weren't overly spoilery for Sunday's Line of Duty finale. Steven Bauer, who plays Miguel, was wooden and bland, and I didn't see any "Torresness" in him except for at the beginning of the show, where the man playing Young Miguel looked reasonably like Nick. Even when he's pounding on the mirror in the interrogation room calling for "Nico!", I didn't buy it. But Valderrama hit all the right notes of a man who is confused and angry and secretly wants to connect with his father. When he tells Bishop the story of how his family was scraping by all of his life and depending on the church for help to survive, my heart nearly broke. When Miguel tells Nick that he gave the money to the church so they could support his family, his confused but angry expression is priceless. I'd rather have had the whole episode shown in flashbacks of Nick and his father working together while both were undercover, with pauses while he talked to Bishop or Gibbs as he tells the tale. I think that having the NCIS gang around them kind of hemmed in the story and made it less powerful. It just didn't work for me.