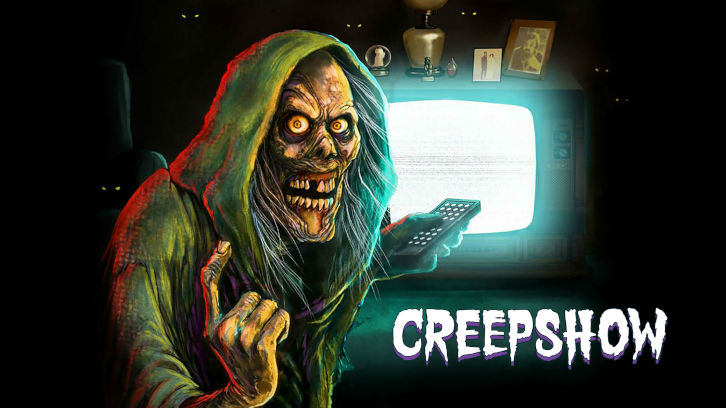 SPOILERS AHEAD - PLEASE DON'T READ UNLESS YOU'VE WATCHED CREEPSHOW 02.03! Yes, you've been warned!
The Right Snuff:
Apparently, I am in the minority thinking that last week's two segments were more brazenly bold and interesting than the two season premiere ones. This time, I seem to be more aligned with popular opinion. When I heard that Mayhem's Joe Lynch was directing the first Creepshow segment set in outer space, a, well, shudder came down my spine. Surely outer space horror is a guaranteed disaster, right? Well, not this time. with a script written by Paul Dini (Birds Of Prey, Batman: the Animated Series) and Greg Nicotero and Stephen Langford (Warm Blooded Killers).
The intergalactic terror begins as the press release reads, "Two astronauts are on a history-making mission in space, but when the promise of fame and glory collides with a major misunderstanding, it ensures they'll go down in history for an entirely different reason". These two cosmonauts are played by two actors I never expected to see in, well, anything, ever again: True Blood's Ryan Kwanten and Clueless' Breckin Meyer. Surprisingly, they are perfect together and exude a confidence and chemistry rarely seen on this anthology series. This segment turns out to be equal parts kitschy, nostalgic sci-fi dreamscape and very current day flashy nihilism. I saw shades of Alien, Dark Star, The Twilight Zone, and even the Joe Dante Explorers film in its influences.
The two male leads are polar opposites in personality. Kwanten's Alex is a hot-blooded neurotic who worries about about living up to the image of his pioneer father, who was the first person on Mars, while Meyers' Ted is a cool exterior, not giving in to any pressure it seems. After a near-collision makes them both famous back on Earth and gets them noticed by their superiors, jealousy turns to bitterness between the two when Ted is chosen to greet a new race of aliens and not Alex. The results are predictably violent, but still not exactly what you'd expect, while conforming to what we have come to expect from this series.
The practical special effects really show their limitations in this segment, even as the story has a total reliance on them. I actually got worried that most of the entire season's EFX budget was spent on this one story. Still, the point gets across and the uncanny valley goofiness serves its purpose. I felt the actors interacted well with their environments and the effects while playing their characters convincingly. Most of this story takes place in one location, the Occula spaceship. It had a good industrial design that blended well with the not-as compelling digital environments.
What excited me the most is how none of the aesthetic elements seemed to have mattered compared to the psychological story taking place here. Best of all it wasn't just a story that focused on how terrible corporate financial interests are when it comes to space missions. I was compelled and entertained throughout without feeling that I was watching a limited budget anthology short and to subvert my expectations. This might be the 1st time that has occurred since I started watching this series.
With all of the elements coming together in a meaningful way, I felt like I was being shown a story instead of just told. The only complaint I had was that the ending shot of the Creep floating upside down in a spacesuit kind of wrecked the emotional ending a bit. Still, I felt this was the strongest segment of the season so far. I am worried nothing in the six remaining segments in the next three episodes will be able to live up to it.
This one was also a not-so pleasant surprise. After watching a whole story set in space, the last location I figured we'd transition to for the 2nd segment was...an American high school with Molly Ringwald as a detached guidance counselor and directed by the auteur behind Tales From the Hood, Rusty Cundieff. Yes, apparently the producers felt that her John Hughes-era Star Power of yester-century was enough to make this segment follow the epic success that had just come before.
Thankfully, it turned out to be her best performance I've seen of her's in.....well....I cannot even remember. Intelligently written by author and podcaster Melanie Dale, this segment takes the whole concept of a young sister being tormented by a menacing brother and successfully turns it on its head. As the press release says, ""Lola is convinced her brother is trying to kill her… but the more she pieces together, the less things make sense. Turns out, she's looking for a monster in entirely the wrong place." Starring Maddie Nichols (Darlin'), Molly Ringwald (The Breakfast Club), Andrew Brodeur (Tall Girl), Ja'Ness Tate (Mia's M.I.A.), and Jerri Tubbs (Stranger Things).
At first, the episode is told in flashback scenes as Nichols' character, Lola, recounts a sleepover and events with her brother, Andrew. Of course, things are not as they seem and Lola is not as reliable of a narrator as we are led to believe. I felt this segment was most impressive in that it subtly wove many progressive, feminist issues within the constraints of a relatively short horror story without feeling preachy or aggressive about it. The twist felt refreshing and surprising to me rather than cliched and predictable. I appreciated the shadowy undercurrent that ran throughout the segment.
Also, the mixture of practical effects and CGI worked better than expected and more than it had in the previous season. Last, but not least, it featured a Stephen King homage I never thought would ever happen (I won't spoil it here). Oh, and there was even a
Creepshow
meta visual gag, but I won't blow its...er...cover.