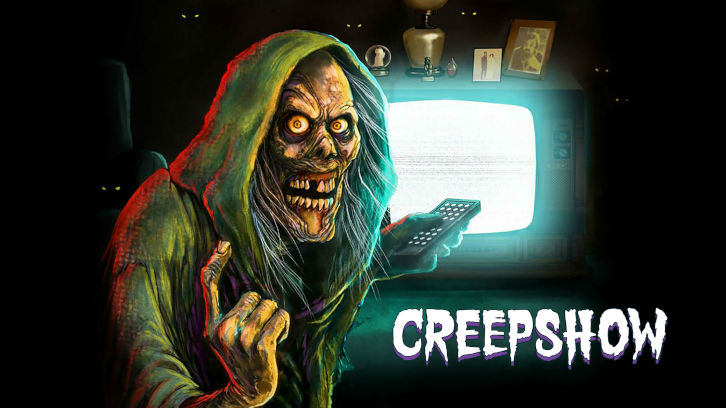 SPOILERS AHEAD - PLEASE DON'T READ UNLESS YOU'VE WATCHED CREEPSHOW 03.05! Yes, you've been warned!
Time Out:




via Wikipedia:
Tim (Matthew Barnes) is a man with attainable goals where he conspires to have more time to complete them. He finds the solution only to discover a catch to it.
via Shudder:
"Tim finds the answer to always wishing there were more hours in the day, but the success he can now achieve might not be worth the cost."
Jeffrey F. January returns to direct another segment this season after the mild "The Last Tsuburaya." This whole episode of
Creepshow
deals with time management in different ways. In the opening segment, an ambitious young man is determined to maximize his time to the point of absurdity in order to advance in his career. Apparently, no one ever told him about how to work smarter, not harder. This being a morality tale, Tim pays a serious price for trying to bend time to achieve his goals, which makes this segment one of the few stories on this series where you actually have sympathy for the protagonist. Tim does nothing wrong and had admirable goals. There is no ulterior motive or sin he is trying to atone for. This is why the final twist is such a gut puncher (the cheap looking CGI didn't help either).
Sure, toying with time does have repercussions in stories, but here it actually feels like the series went out of its way to punish this character unnecessarily out of obligation to the audience's expectations instead of actually being dramatically satisfying. Still, I appreciate Creepshow trying to be something besides creepy.
The Things in Oakwood's Past:
Here, Creepshow gets back to what it probably is best at: Hannah Barbara-style animation sequences.
According to Shudder,
The town of Oakwood has a storied past, and the opening of a time capsule is an exciting moment of remembrance. But can a local librarian keep a darker part of the town's history from repeating itself?
I feel that the less said about this segment, the better. This is one
Creepshow
story that needs to be experienced knowing as little as possible. I wasn't even aware that they were doing an animated segment this season and my experience watching it was better b/c of it. This was easily one of the strongest stories of the season and maybe the series thus far. It made me wonder why Shudder didn't order
Creepshow
as a solely animated series in the 1st place?
After watching "Survivor Type" and "Twittering from the Circus of the Dead" from last year's Halloween special, Scooby Doo-like animation seems to be this series' strong suit. I understand animation takes forever to produce and is more expensive usually than live action, but when the results are as strong as they are here, you'd think Shudder would figure out that quality pays off in dividends.
Shudder's parent network, AMC, is playing these episodes on their flagship network later on for a reason. I have noticed that certain episodes are not being really noticed until they get played on AMC and this might be one of them. Only the highest quality episodes are going to continue to be noticed and remembered on basic cable, so AMC would do good to replay this segment as much as they can when the time comes. More stories like the these and Creepshow's mixed reputation could be revitalized.
A few things about the episode itself: the three icons who compromise the voice cast: Mark Hamill, Danielle Harris (whom I never knew did VO work on The Wild Thornberries), and Ron Livingston, do great work. Of course, there are plenty more great VO work displayed. In the story, news anchors Serese (Fayna Sanchez) and Clark "Murph" Murphy (Andy Daly) report on the history of the town of Oakwood. Apparently, it has a history of the population vanishing. They assign their reporter, Mac (Ron Livingston) and his camera operator Carmella (Fayna Sanchez), to cover the story.
Meanwhile, a mousy librarian named Marnie Wrightson (Danielle Harris) discovers that Oakwood has a past that involves a time capsule from 1821 which her father Mayor Wrightson (Mark Hamill) plans to open before the assembled crowd. When she uses her research skills to discover what lies in that box, Marnie tries to prevent the unboxing, but the powers that be are unleashed anyway.
The ending may surprise and upset you. I've already revealed too much, but you get the idea. Lots of bad things happen to the townspeople every 200 years. Will 2021 be the final year for these cicada-like creatures?