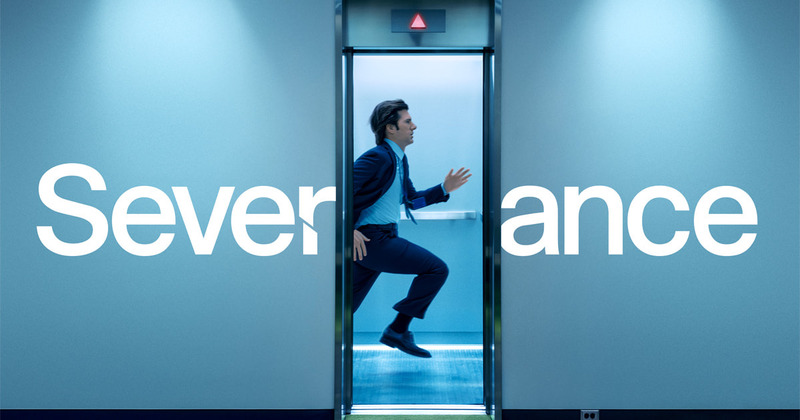 CAUTION: I will be SPOILING nearly every plot twist here. Don't read until you've watched the first three episodes of Severance.
Full Disclosure: I have already seen the entirety of season one of Apple TV+'s new sci-fi/fantasy/ thriller series, Severance,thanks to Apple TV+ providing advance access, so I will do my best to not accidently reveal anything that hasn't been aired yet.
So far, Ben Stiller has proven once again, as he did with
The Cable Guy, Reality Bites,
the
Escape From Dannemora
miniseries, and even
Tropic Thunder
, that he might be more adept at directing than he ever was at acting. Sorry, I never bothered to view
Zoolander 2
, but I have not heard good things. His new Apple TV+ streaming series that he directed six episodes of,
Severance
, including the first three I am reviewing in this article, has been a total critical success thus far with only three episodes released. It is easy to see why. It is beautifully shot, features nuanced and deeply felt performances from the entire cast, is directed with precision and depth I had not seen from Mr. Stiller until now, and has a relevant topic that has only become more thermonuclear since the start of the COVID-19 pandemic.
This topic, of course, is separating our work/life circle (I don't like referring it as a "balance" since it is usually anything but). I realize I am a little late to the party on this series, which was originally shot under the working title,
Tumwater
, which now seems more appropriate for the story, even though it would've been much harder to market, and was hesitant going in that it was going to be merely an updated variation of
The Office
or
Dilbert
, or maybe even
Enlightened
. Thankfully, it seems to be much more satisfying than that. For one, it is not a comedy. However, it does feature satirical elements. The pilot begins with a woman, Britt Lower's character, Helly (har har), waking up in a corporate office space unaware of who she is or why she is there. This could easily be called "Monday morning at the office" for millions of American workers, btw.
The plot thickens when the audience is told that Helly is just the latest example of the "severance" process. No, that is not a termination ritual that we would automatically assume that it is. "Severance" here is a medical process by which a surgery is performed that bifurcates a person's memories. No, this isn't the streaming version of
Eternal Sunshine of the Spotless Mind
exactly. This surgery actually creates a physical version of a worker that will only exist inside the workplace. No interaction between the two halves is supposed to happen. Of course, like time travel stories, you know it will happen eventually.
At first, this seems like a dream come true for anyone who has actually worked in an American corporate office job. Of course, there is a sci-fi twist to the whole fever dream. Here, we are shown that the employees who exist outside of the job, known as "outies," don't actually "work" in the office. They just live their lives and exist out of it. While Adam Scott's Mark is a former history teacher grieving his wife on the outside, his employee persona is actually a part of the severance program itself and is promoted to the head of the department. At the end of the pilot, we discover that the devious office manager, Harmony Cobel (Patricia Arquette), is actually living on the outside as "Mrs. Selvig," Mark's next-door neighbor and neither one seems to realize that they work together in the office (yet).
At the end of the first episode, the conflict is introduced that there where Mark discovers that his former co-worker, Petey (Yul Vazquez), has somehow escaped the office and gives him a mysterious note with cryptic instructions. We learn that Petey actually underwent a reintegration process with the help of mysterious benefactors. It seems there is a way out of this rather Faustian bargain that Helly is attempting to figure out for herself in the office setting. Marc does give Petey shelter, but that doesn't stop Petey from experiencing side effects from the procedure. Also, Mrs. Selvig seems to be onto who she is in the office and attempts to investigate Mark's house. This prompts Petey to escape since he knows Mrs. Selvig is Harmony under a domestic guise. Eventually, Petey winds up in a convenience store where he collapses. Mark discovers him being led away by paramedics and tries to erase that he was ever in his house, when Petey's abandoned cell phone rings.
There is a lot I am leaving out. Particularly, the scenes where Adam keeps thwarting Helly's attempts to resign and get a message to her outie. This leads to one of my favorite scenes thus far with Helly being forced to learn the history of Lumon with a rather stilted presentation that is both equal parts hilarious and bone-chilling. And, of course, there is more star power with John Turturro and Christopher Walken playing two severed Lumon employees mysteriously drawn to each other. However, I feel their characters need more development in future episodes before I can really get into them.
In short, these three episodes are an intriguing start and the knowledge that a second season has already been greenlit and is about to start filming gives one the safety of not being afraid to get into this series' mysteries. I wish I could type more, but viewers are definitely in for a wild ride ahead in the coming episodes.