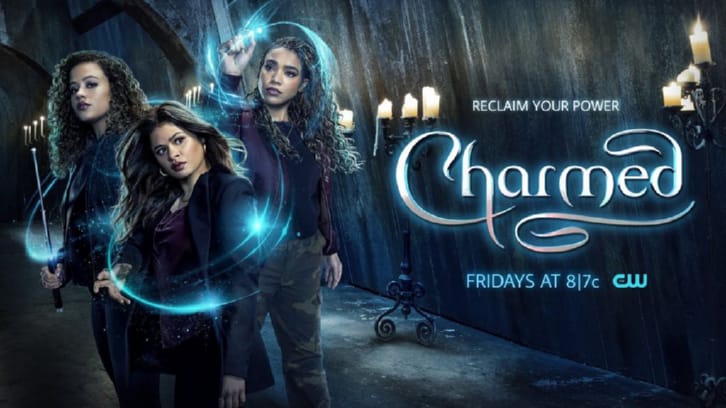 Coincidentally we got halfway through season 3 of Charmed while also hitting the show's 50th episode mark. The outing directed by the last Whitelighter standing, Rupert Evans was written by Geraldine Elizabeth Inoa and Jeffrey Lieber.
Credit @ Harry Commatopoulus
The show's 50th episode was the perfect opportunity to introduce one new member of the Vera family. The show brought in trans actress Mareya Salazar, to play the sisters' second cousin Josefina Reyes. Josefina stormed the Vera household in the search for the Book of Shadows, which was stolen by Marisol eons ago. Mareya brought some really great energy to the show, she was unapologetic, focused and fierce. She wasn't afraid of the Charmed ones and was almost sure in all of her moves. Considering the episode lasted only 42 minutes and handled two more stories, the writers succeeded in giving Josefina depth and some character development through her interaction with Mel and Maggie. Mareya allowed Josefina to be relatable and exploited the script in a way to give her strength and humanity at the same time. Accepted by her family for being trans but rejected after asking for the magic she has a right to, Josefina entered the Charmed lives in a whirlwind. You have to give it to Josefina though, she self-taught herself magic and was on a path to prove herself to the family that abandoned her. She was a bit reckless with her magic though, that imprisoning spell could've backfired quite badly if not for her cousins. Overall, I am excited for Josefina to stick around and teach her cousins a bit about Brujeria
The show is finally starting to dig into the sister's Puerto Rican heritage and I sense there is a lot to discover. The way the writers handled the Brujeria astigmatism felt just right. People always feared the unknown and the background of Brujeria being painted bad by the colonizers just for being unknown is something that resonates so well with society. Combining Josefina's knowledge with the sisters' to give Jordan and Macy time to escape the "prison" turned out to be a perfect moment. Mareya executed Josefina's moment of self-doubt perfectly. You could feel it in her voice, sense it on her face. She fought her whole life to be who she is and she was doubted on so many steps. Maggie helping her find her "magic" was an empowering scene, Sarah Jefferey knocked it out of the box. If someone could relate to Josefina it was Sarah's Josefina. The path to finding yourself and your voice is a neverending story but your the one who will tell it, don't allow anyone else to do it.
Maggie: What if there is even more that we don't know?
I've really felt for Mel and Maggie during this episode. Once again they were thrown an unexpected curveball from Marisol's past and there was no one to tell them the truth. It would be great for Ray to stop by and maybe share some light on Marisol's reasoning but the show is quite overdue for a mother-daughter reunion. Why did Marisol steal the book? Why did she bound Mel and Maggie's powers? Why has she never spoken about her family? So many questions, but no answers. I wouldn't expect Marisol to appear this season, Covid definitely put a dent on that, highly unlikely for Ray to appear either. So let's hope someone will come in and give the sisters the answers they crave.
On the other side of the crystal bowl, Macy and Jordan were forced to spend time together after Josefina trapped them and used them as leverage to get the Book of Shadows. The unlikely pairing surprised me with an unexpected amount of chemistry as their interactions were sparking through the rough. After sharing one violent solo scene back in season 2 we've never seen Macy and Jordan interact again. The writers chose the right time and way to make up for that. Macy was still affected by the events at the Shea group and Jordan in his human-angelic was there to help her express. They helped each other to express for that matter. We visited crucial parts of Jordan's past and got to know him even better. It was rough seeing someone like Jordan, a person who was always about doing the right thing, having to suffer. It came back to Macy's experience from the previous episode. The notion of being exceptional, flawless all the time is just a burden no human should ever bear. The scene between Macy and Jordan exploring this issue was executed perfectly, the two actors poured their heart and soul into those lines giving them life in a way that brought tears to my eyes. Both Madeleine and Jordan delivered exceptional performances. Eventually, Jordan had to face his Mortimor Chase, and once again Jordan Donica exceeded my expectations and brought all he got and more to this scene. Choosing mercy over the easy way out was something only Jordan could do at this point and it set him free. There is a saying the only thing you can change is today and what you're going to do tomorrow, the past is the past. That is what released Jordan from his curse, it's not like Jordan didn't choose this already but in the situation to choose between the easy way out and deciding to work each day on himself he chose the work and that is why I am eternally in love with this character. The final scene between Jordan and Macy was just the cherry on top of their interactions during this episode. Seeing that radiant smile on Macy's face, the security and peace she felt in this safe space created with Jordan just made me smile so hard. Our girl deserves happiness and I hope at one point during the series she will have a peaceful couple of episodes to enjoy.
Macy: Your curse its over

Jordan: But the struggle continous.
But that wasn't the end of the episode for Macy. Before the screen faded to black she reunited with Harry who was on a mission with Abigail. At the beginning of the episode, Harry tried to connect with Macy by making her talk, instead of just listening to her. Macy didn't need to talk, she was living it, day in day out she was faced with microaggressions and macroaggressions. Harry did realize that he just has to be there, giving her love and appreciation and that is enough for her. Understanding that she will speak when she feels like to. I have to say I enjoy the Macy-Harry interactions more in the recent outings as it isn't the center of events. The writers toned it down but still are exploring their relationship and I am all here for it.
My least favorite part of the season was definitely the Harry-Abigail story. The story did have its charms as it let the two actors explore their acting props while under the influence of the logical boost, yet it was just a wasteful filler in the otherwise well-paced episode. At this point, the writers are forcefully trying to redeem Abigail and I don't like it. Since mid-season 2 now, I am speaking about how they are misusing the talented Poppy Drayton and it seems like it won't get better at this point. Abby's words and actions are so wishy-washy and desperate that at moments it's painful to watch. After all that Abby has said and done, does it really indicates that she wants to get redeemed? Abby wants to find peace with her demon form? Do we honestly believe she can? The writing certainly doesn't indicate that. Even that move on Harry, such a cliche. Abby wanted to be with Harry so she would feel good, worth redeeming. Like ugh, just ugh. My honest wish is that Abby turns full-on Villain and goes head to head with the sisters? I would love to watch that, I always thought that is why Abigail was brought to the show.
Other tidbits:
- Maggie's kneecap move was so badass. I love her with her button.
- Another major shout out to Mr. Rupert Evans for his work as the director. Quite well executed. I always love how he spends a second or two more on the face of the actor, allowing for an extra boost of the emotion.
- Mel thought a bit late of using her freezing powers, didn't she?
- I really didn't expect it to rain Scorpions after reading those incantations together. Let's see what comes next.
That is a wrap on my side. And gosh did I rant a lot. What are your thoughts on the 50th Charmed episode? What are you thinking of Josefina? Sound off in the comment section below. Till next week. . .