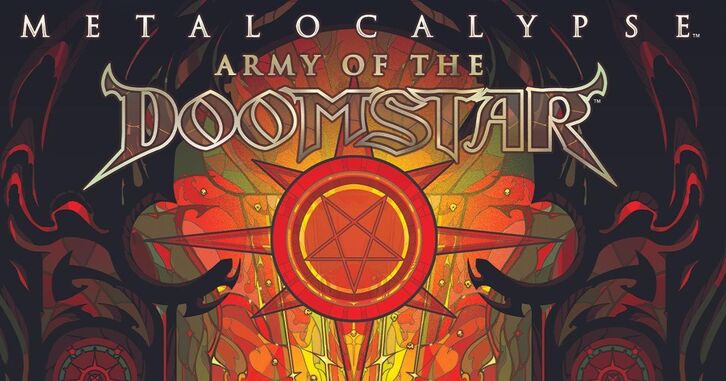 Metalocalypse: Army of the Doomstar - Review
WARNING: CONTAINS SPOILERS of the METALOCALYPSE: ARMY OF THE DOOMSTAR feature film!
They say all good things (be they light or dark and brutal) must come to an end. However, we cannot always plan on when they might come to their natural conclusion. Thus is the case with co-creator Brenden Small's sensational and much-lamented Adult Swim series, Metalocalypse, which originally aired its four seasons from 2006 to 2012 before airing an anti-climatic feature-length "death metal rock opera" episode, The Doomstar Requiem, in 2013 that - until now - had to serve as the series finale for the last decade.
Revisiting the series in preparation of writing these reviews, I was actually startled that, yes, Metalocalypse actually started in the days prior to the Great Recession of 2008 to arguably today (season 4's storylines were heavily influenced by the GR if you all will recall, if not fondly). Not to be outdone by its now-retro roots, Warnermedia (now Warner Bros. Discovery) seemed to feel that the middle of the COVID-19 pandemic in mid-2021 would be the perfect time to announce that they would be producing a feature length trilogy of sorts of 3 cancelled Adult Swim legacy series for the HBO MAX (now just simply MAX) to both resurrect - and possibly conclude - three massively popular legacy animated series, Aqua Teen Hunger Force, The Venture Brothers, and, of course, Metalocalypse. Two years later, they are finally seeing the light of streaming and Blu-Ray. As some of you Adult Swim devotees might recall, there already was an ATHF film that actually was distributed into cinemas way back in 2007. Sadly, it wasn't a box office hit at the time (but has grown in stature in the years since) and every subsequent Adult Swim feature project has been regulated to direct-to-video and streaming outlets ever since. Army of the Doomstar is obviously no exception. Does this dilute its quality? Well, let's just say I'm about to get a little brutal.
First off, I don't feel Army of the Doomstar is a poor DtV sequel, it's just a bit of a let down after waiting a decade for a follow-up to Doomstar Requiem as Metalocalypse's trademark pointed satirical humor takes a backseat to finishing out the grandiose mythology the entire series had spent nearly a generation building. Luckily, it ends up delivering something that had been lurking beneath its pitch black surface all the while: a poignant heart for all followers of all things metal and brutal. If you have read this far, I'm guessing you already are well-aware of the major storylines and characters Metalocalypse has provided for us.
Here, we discover the consequences of the Doomstar Requiem opera. Nathan pretends to be unaffected by the cataclysmic events where Toki and Abigail were rescued from Mangus Hammersmith and the Metal Masked Assassin. Meanwhile, the Tribunal adversary/main baddie, Salacia, continues to exorcise his power over General Crozier and, now, William Murderface. I will admit that I had not viewed the original series, or Doomstar Requiem, in a decade, so I did have to re-watch most of the Adult Swim episodes (which proved to be quite easy since most of them are only about 11 or 12 minutes in length with only the super-sized season 3 being double that). Seriously, I didn't even recall who Abigail was, or that she was only introduced mid-way into season 4. I have been surprised to learn that many viewers of the original series never got around to viewing the Doomstar Requiem (not sure how that is possible. Maybe it was poor marketing on the part of the network since it originally aired over a year after season 4 ended and the fact that it rarely -if ever - gets re-aired on Cartoon Network/Adult Swim. If you attempt to find it on the MAX streaming service, it is currently buried at the end of the season 4 episodes, even though it was tecnically not part of that season), so I will remind you all some of the cliffhangers that have been lingering until now.
- singer/bandleader Nathan Explosion and his love interest, Abigail, exchange a kiss after she has been saved along with bassist Toki Wartooth, suggesting that there could be a future for this potential couple. - in the final moments, William Murderface is shown being slowly consumed by a dark, mysterious energetic force and/or bacterial infection emanating from a wound in his arm as he sleeps.
- the band's CFO, Charles Offdensen, becomes the new High Priest of the Church of the Black Klok, effectively ending his professional relationship with DethKlok, at least as far as their finances go.
Pretty much all of these plot threads are addressed in some way. In the most surprising move, the Abigail storyline is brushed aside quickly, causing much of Nathan's writer's block and frustration that he projects onto his still-adoring (and masochistic IMHO) audience. Their newly announced new album and tour are thus swiftly dashed and the band's entertainment enterprise is shuffled into a new religion of sorts as they isolate themselves in a luxurious sanctuary to write the mythological "Song of Salvation," which will prevent the rise of Mr. Salacia, and the destruction of society itself. Since Dethklok was already the 8th largest economy on planet Earth, this sends stocks and crypto markets into flux. Will Nathan and Dethklok get their act together and save Earth, and frankly themselves, from this collision course of death and destruction? Well, you have to watch to find out.
While I can say I was mostly pleased with this (possibly) concluding installment, I was equally disappointed with the way that many of the long-standing characters, like Charles Foster Ofdensen and guitarist Skwisgaar Skwigelf are regulated to the background. Toki regresses into an even more infantile man-child than he already was and opens the door for some cringe-y juvenile jokes. Dr. Rockzo, the notoriously cocaine-loving clown, also gets a rather obnoxious send-off scene and song (and is easily the worst scene of the whole feature even though it explains why Nathan's PTSD-induced depression is augmented). Finally, giving the aptly named Dick Knubbler a major role as the head of a religious sanctuary this time actually hurts the newly epic dramatic tone its going for.
Throughout the drama, many surprise voice cameos delight from the likes of Jon Hamm, Juliet Mills, and Laraine Newman. There are also several musicians including King Diamond, Scott Ian of Anthrax, Metallica's Kirk Hammett, and Amy Lee from Evanescence.
What the feature gets right is showing off the advancement of animation since we last left off with them. I have always been impressed with the quality of animation studio Titmouse's animation and backgrounds on the series for its time (granted, many of the graphics and backgrounds of the early seasons of the series have not aged well since the late 2000s). I have the feeling the visuals of this feature will have the long-waiting fans grateful that we had to wait as long for this conclusion to materialize. Reportedly, Brenden Small pitched a mini-series conclusion to Adult Swim a year after Doomstar Requiem aired, but was denied supposedly b/c the AS executives of the time decided that they made more profits from simply re-running episodes of Adult Swim staples without actually continuing the long running series. This explained why Aqua Teen Hunger Force (and its many subsequent titles), The Venture Brothers, and Metalocalypse were all unceremoniously cancelled around the same pre-streaming revolution time period despite the ribald, undying fan bases for each.
At the risk of sounding unappreciative, I do wish Small had been allowed more air time and connective tissue to conclude the series since while all of the major plot points are dovetailed and concluded dramatically well, I felt it came at the expense of opportunities for the biting and effective humor that has made Metalocalypse as a series so beloved and enduring over the years. A good exception is when Nathan admits there is no better meal for a metal vocalist than chocolate milk and Cool Ranch Doritos (signaling a joke from the original series where they had an amusement park built that would only serve them out of towering dispensaries. The feature feels a little formulaic and paint-by-numbers as a result. I was pleased to learn that one of the story editors was none other than Se7en, Sleepy Hollow, and 8mm screenwriter Andrew Kevin Walker, who never worked on the series. His portentous imprint and understanding of consistently moody dramatic tone telegraphs well here.
After re-watching the series, I do realize that a lot of the ruder jokes and episodes don't hold up well in the post-#metoo world with a few choice episodes from season 4 immediately springing to mind (ie. jokes about fandom culture, obsessively sexual female fans, conventions, cosplay, sexual harassment, misogyny, and drug culture in general not quite landing like it did a decade ago). The graphic violence the series and opera were known for is also back in full horrific display - with Titmouse's new, advanced animation delivering the goods in full force - and if you appreciated it the first time around, your opinion probably hasn't changed much since. All of this amounts to Nathan going off the deep end when he should be inspired to write the Song of Salvation, resulting in yet another esoteric talk with the mysterious "whale prophet," a visually sumptuous, but truncated "End Times" final battle scene, and a worldwide PR campaign of sorts that proves that Nathan should never take his symbiotic relationship with his audience for granted for they prove to be the real key to his and his band's salvation. Yes, expressive music - be it light as gospel or as black as death metal can get - breeds life, meaning, and saving purpose in the universe. Bands are just chosen, extended families that only work when complete. and Metalocalypse reflects these basic truths here better than ever, even if it excludes certain cherished characters in the process.
Of course, no Metalocalypse media release would be complete without an original soundtrack album. And, yes, Army of the Doomstar does have a beautifully orchestrated and arranged instrumental release. While most of the instrumental songs here are rather forgettable, they do make for decent background music for possibly writing splatterpunk fiction or writing your own death metal lyrics. Regrettably, it also includes the god-awful Dr. Rockso "Amazing Grace" rendition from the feature. I understand it was probably a "either include it here or the audience WILL upload it to Youtube whether the label likes it or not"-type of situation, it does provide the one train wrecking moment in an otherwise harmonious musical journey.
As for the new, companion musical release, Dethalbum IV, well, it just plain rules. It might be more accomplished the the previous highwater mark, Dethalbum III from 2012. First off, the quality of the production is the most technically-accomplished yet. Musically, it might be more inspired by Small's touring mates, Mastodon and Gojira, than previous Dethklok efforts. I felt this is the most overtly aggressive effort yet by Small and his top-notch metal industry collaborators. The mesmerizing drumming alone by Death, Testament, Dark Angel and Strapping Young Lad metal legend Gene Hoglan justifies the decade-long gestation period. The band is not messing around here and is determined to go out on a high note, or several of them simultaneously.
Almost ever cut here sounds time-tested and ready to demolish arenas. Highlights include: Gardener of Vengeance, lead single Aortic Desecration, Bloodbath, Horse on Fire, Mutilation on a Saturday, SOS, and DEADFACE. The album concludes with yet another (and probably final) sequel to the Mermaider song from the first album. You get the sense that Small was determined to give his remarkably-patient audience something to miss Dethklok by and for their possible future reunion tour and album (yes, I realize this is very much a reunion album in itself). I could see Small continuing this series even after the animation series has long-been concluded. However, if he decided that releasing albums is as symbiotic as Dethklok's relationship with their audience on the series and feature, this might well be the end of the road for this fictional (but no less brutal) group once the upcoming live tour ends. But, as far as virtual experiences goes,
Dethalbum IV
has the potential to bend time and space into submission, which is something most real bands (or even that "other" recently reunited cartoon band, Gorillaz) will never figure out how.