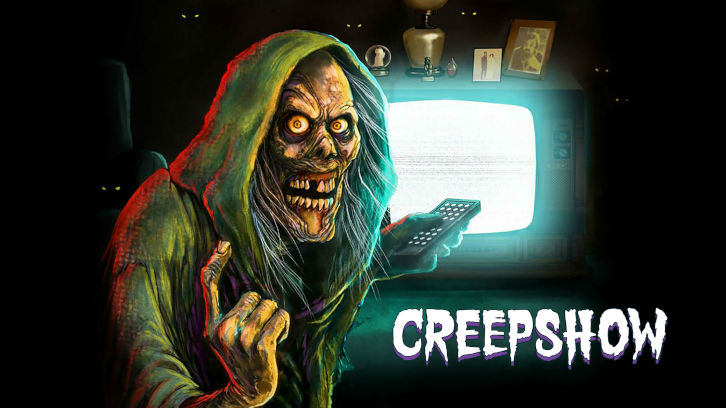 SPOILERS AHEAD - PLEASE DON'T READ UNLESS YOU'VE WATCHED CREEPSHOW 03.03! Yes, you've been warned!
So far, I have been pretty disappointed with this season. This episode makes up for a lot, though. Of course, it has issues of its own.
The Last Tsuburaya:
An art collector purchases the last painting from an artist famous for creating terrifying works, but he never anticipated the ways the painting would change his life.
Jeffrey F. January had only directed 4 episodes of
The Walking Dead
prior to directing this episode. The legendary Paul Dini and Stephen Langford return as writers, so any incompetency couldn't be named about the script. While this was not the most terrifying or surprising, I enjoyed it a lot as camp. We are introduced to a bunch of characters in the beginning, only to spend more time only with Brandon Quinn's Wade, who is cartoony of a wealthy villainy stereotype as they come. The art world is familiar territory for a horror anthology, and for good reason. Artists put everything into their work, why not play up the suffering artist archetype? Anyone who enjoys hearing about supposedly cursed paintings on YouTube lists will appreciate this segment. It balances creepiness and goofiness with gusto. The actors were attractive enough and the story felt sleek enough to be compelling. Plus, it had a great monster. Very creepy and kind of sexy.
Creepshow
needs some more of that.
Okay, I'll Bite:
Life in prison is tough, and Elmer's pet spiders make him an easy target on the cell block. Luckily, when Elmer reaches a breaking point, he knows at least his 8-legged friends will have his back.
John Harrison returns to write and direct this masterful segment. This might be his best work on the series yet. I really was drawn into the story and the use of spiders was inspired. Seriously, how are not there rules about keeping spiders as pets in jars in your cell? I appreciated not seeing the whole monster behind the wall. I felt this was one of the creepiest segments in the series to date. I felt Nicholas Massouh as Elmer was a little too theatrical, but his performance didn't sully my enjoyment of the segment as a whole. The ending was one I wish I could describe how it made me feel, but I don't want to give anything away. Let's just say the payoff is worth the wait. I'll definitely be watching this one again. Easily the best episode of the season thus far, though that doesn't say much.