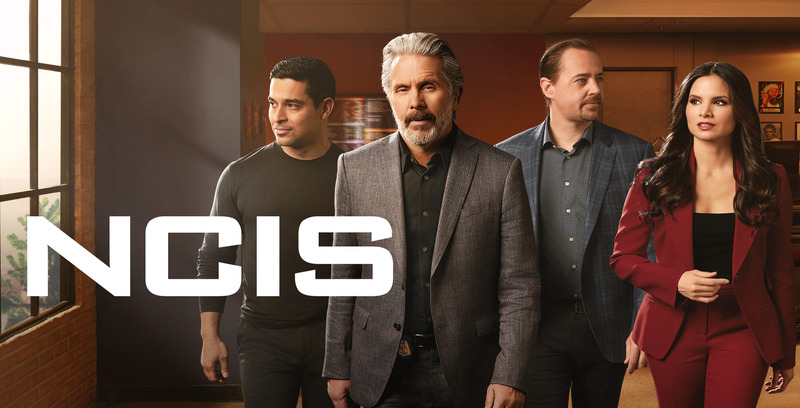 18.07 - "The First Day"
Written by Margaret Rose Lester
Directed by James Whitmore, Jr.
Reviewed by KathM
The Navy Yard catches up to COVID in a rather uneven episode.
Time has finally caught up with NCIS, but I think it leaped a bit far. Personally, I'd like to have seen an episode or two earlier on, setting things up and easing into COVID procedures. I would have loved to have watched McGee trying to work with Delilah's schedule and his own as they divide distance learning duty for the twins, Gibbs smirking in the background and offering to teach them woodworking. Or Jimmy saying that a cold is going around his house. Someone mentioning how bored Ducky is at home, or Torres bemoaning the fact that he can't go to the gym anymore. Something. Jumping straight into a COVID-heavy world, particularly one where Palmer is recovering from such a catastrophic loss, seems ill-timed. I realize that there will be a memorial service at the end of the episode, but the overall structure annoys me.
Our Victim of the Week is Petty Officer Avila, who is found dead in his car in the middle of nowhere. After finding out that he volunteered for a group called The First Day, which helps convicts reenter society, Torres and Bishop investigate and find that Avila's newest parolee, Carter, is missing. They grab a list of the places Avila might take one of the newly released (all busineeses run by ex-cons) and they begin their search. We find Carter at a parolee-owned barbershop, terrified and thinking that the gang he ran with before he went to jail 20 years ago is seeking revenge. He's questioned by Gibbs and while he's being investigated further Gibbs assigns Torres to watch over him, and tells him to move Carter into his apartment. I'm surprised both by the fact that Gibbs didn't put Carter in a safe house and that Torres didn't really protest.
This was a great opportunity to see what Nick's place looked like, and it's just as I imagined: a blank slate. I've stayed in hotel suites with a more decorative personality. Torres could pick up his Go bag, empty the fridge of takeout cartons and walk out the door and nobody would be able to tell who had lived there before. Ellie, one of his closest friends, had never been there, and I get the feeling that Torres visits his sister more than the other way around. It reminds me of DiNozzo's apartment: it was beautifully decorated with a fantastic kitchen, but in his largely impersonal bedroom he slept in a single bed. Nick's entire apartment is like that, it says what he really feels about his life. A large part of him still lives as someone undercover, where you may have to leave an instant and leave no trace behind.
But Torres bonded with Carter in the few days he had him at his apartment, teaching him about Siri and some other typically fish out of water things and eating the amazing food Carter cooked for him. This isn't a normal Nick, and that's a good thing. I think he was seeing in Carter what happened to a lot of the guys he grew up with, the ones who ended up in jail while Torres took another path. Carter could have ended up a hardened, bitter ex-con, but he kept in touch with the daughter he called every night for 20 years. She was a personal connection to hold onto, someone who would welcome him when his stint in prison was over. When Carter is cleared of any wrongdoing in Avila's death and any threats against him are proven false, Torres takes him to his daughter's house to meet his new grandchild. Carter is happy about his new day, his First Day, as grandpa and father again. Nick tells him that he resets his life every morning, which is the saddest thing I've ever heard. It speaks to the duality I've always sensed in him: I think he wants to be with Ellie, and sometimes those emotions come to the surface, but alternately he can't show her his world real world, the guy who resets himself. I hope he learned something from having Carter about opening yourself up, and if so I'd like to see the results.
It turns out that ex-con barber Marcus was manufacturing "ghost guns", and when Avilia found out Marcus killed him. That's that. I think the "ghost guns'' angle deserved more story time, maybe a larger part in their own episode. These types of guns are becoming more and more prevalent, and I think it should have been given a larger platform.
As much as I felt for Jimmy, and mourned for Jimmy, I found his storyline a little lackluster. It just didn't resonate with me. Maybe because I knew it was coming from watching the previews, but I was not as upset as I thought I would be. Maybe because I hadn't seen Breena in a while, I don't know. Jimmy is in many ways the heart of the show, he wears it firmly on his sleeve and I think it will always be there. And he's had enough bad things happen, I think he should have been spared this one. That being said, I am interested in seeing what changes we'll see in Jimmy as the series goes on.
It was good that Gibbs talked to him, as you knew he would, and told him to read the letter he wrote to Breena to her image on the screen as a memorial with his NCIS family around him. It was also good to hear Gibbs admit that of the five stages of anger, decades later he was still stuck at Number Two (anger). And I think that no matter what happens, even if he ends up with someone he's very happy with, he will always be stuck there. I wanted him to tell Jimmy to move on and not get stuck, but that didn't happen. Which was okay, because that isn't Gibbs.
Am I the only one who thought that Sloane was still covering something up when she was talking to Gibbs about leaving NCIS? Her reasons make sense, and I can totally see her on a beach somewhere, running a bar and catching some waves, but there is something more going on. I found the way she skirted Jimmy's memorial for Breena very concerning. Our next episode has Gibbs and Sloane going to Afganistan, and that may be where her story ends, but I'm still not sure. Odd too that Gibbs didn't look upset at her idea, only expectant. Would he go with her if she asked? I'm overthinking.
P.S. - Kudos to the writers for remembering that Torres has a sister, who was the main reason he came out of deep cover and joined NCIS in the first place.
P.P.S. - It's always great to see Ducky, although David McCallum was looking a little peaky.
Flashback: