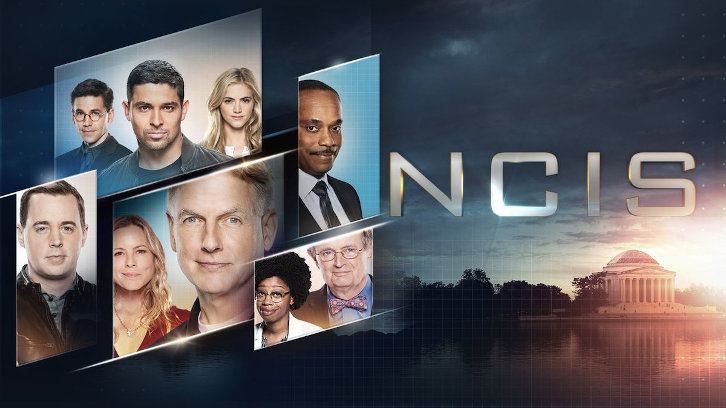 18.02 - "Everything Starts Somewhere"
Written by Steven D. Binder
Directed by Terrence O'Hara
Reviewed by KathM


This episode, the series 400th, starts off with a dead man in the NCIS basement and ends with Gibbs joining the gang for drinks. In between we get the best story Ducky's never told: how he and Gibbs met.
Sometimes I can be a fool for canon, but there are always exceptions. Then again, if I remember right, the story goes that Gibbs and Ducky met
at
NCIS, so I guess this counts.
A body found in the NCIS basement at the beginning of the episode seems to be an NCIS agent but is later revealed to be Maurice Zucado, a "bad guy from a family of bad guys," from Gibbs's and Ducky's shared past. The story of how Gibbs (who had been carjacked by Ringo Zucado and put in the trunk of his own car for reasons that make no sense to me) and Ducky (who hits the car as he's driving on the wrong side of the road, initially thinking he killed Ringo in the accident) back in 1980 focuses equally on how Gibbs finally brings Johnny Zucado, the leader of the mangy pack, to justice after 40 years for murder. McGee also finds the evidence that was hidden from Johnny 40 years ago, and the recovery features him tearing a wall apart at NCIS HQ with a saw (I were almost as excited as he was!). More importantly, it's about how Gibbs and Ducky help one another get through.
These are two men at a crossroads: Gibbs has recently broken up with Shannon and Ducky, lately returned from the recently-discovered horrors in the Afghani refugee camp where he was volunteering (see 6.13, "Broken Bird"), is unsure what he should do professionally. So he's moved to the States with his mothers and the corgis in tow. Oddly enough, he ends up renting the house Gibbs will one day own with his family. In helping Gibbs realize that he should reconcile with Shannon and helping with the Zucado case when he notices something the curremt NCIS pathologist missed, Ducky begins to find his feet. Our beloved Dr. Mallard seems to find an odd comfort with the dead down in the morgue, and we see a nearly imperceptible gleam in his eye as he considers an entirely new career.
This episode was fun and moved at a good pace. Gibbs got his man in the end, albeit after 40 years, and finally got up the courage to ask Shannon to marry him. I was hoping that Gibbs would inherit Mike Franks's desk, but you can't have everything. Most importanatly, Gibbs decides to go out with his team for a drink to celebrate the 20th Anniversary of McGee's decision to become an NCIS agent. He hadn't been in the mood to go anywhere, as his wedding anniversaey was the week before, but at the end of the episode decides to go. Looks like our Gibbs is moving on a bit.
Things that bugged me
(a little): Ducky's mum would never have lived in Gibbs's house, regardless of the nice wainscotting; and while I have David McCallum pegged as 10-15 years older than Mark Harmon, young Ducky didn't look that much older than Gibbs.
What I hope : Is that we see more young Gibbs and Ducky interaction as their lives evolve along with their friendship. What I really want is a scene or two with Shannon and Ducky, who I imagine also become friends. I can see him showing the Gibbs's the house he's been renting but now has to leave because it's for sale, maybe Shannon falling in love with it. Or Ducky sitting in the dining room drinking tea as Shannon bangs around in the kitchen complaining about Gibbs. We need those scenes. We deserve them.
Sean Harmon, Mark's son, was a great "young Gibbs" in this episode. I wonder how much of his movements and behaviors were from watching dad and which were his own.
Kudos to David McCallum for filming this episode despite the pandemic.
18.03 - "Blood and Treasure"
Written by Christopher J. Walid
Directed by Diana Valentine

Treasure hunters are gently mocked and Fornell serves up fries with that in this in an episode that was about family more than anything else. The problems the Demint's have grieving their wife's/mother's death and how they dealt with it, and Fornell's ongoing search for the drug dealers who played a part in his daughter Emily's addiction.
Fornell asked Gibbs to give him two weeks for him to figure out who the leader of the tainted opioid operation was, and when Gibbs finally meets with his friend he finds that Tobias has taken a job as a fast-food worker at Beltway Burger. The "assistant" to the drug distributor/doctor had been working here, which Fornell finds more than a little odd because, well, "Drug Dealer's Assistant" is a much more lucrative job than "Beltway Burger Fry Cook". Looks better on a resume, too.
But Tobias thinks that he can find some proof of dealing at the fast food emporium, and his role role as a guy who had to take a job to supplement his Social Security benefits, working hard and getting noticed by the manager is paying off. He's moving up the Beltway ladder and is eventually given permission to access the freezer, where he finds a small box he's able to open with the key he took from the body of the deceased drug dealer's assistant in Episode One. There are pills inside, confirming Tobias's belief that the dealer was working at Beltway Burger as another way to distribute the counterfeit opioids.
He goes straight to Gibbs but he tells his old friend that they can't connect anyone directly to the drugs and so the information isn't of much use yet. If they raided the joint now it would warn whoever the new dealer was and they'd go underground, making them harder to catch. Tobias reluctantly agrees but decides to stay and see what else he can find. He calls Gibbs a few days later with the code name of the man in charge of the tainted opioid operation: Merriweather. I'm willing to bet he's the guy whose self-centered daughter with a passable nose job that had a run-in with Tobias at Beltway Burger while Daddy looked on. I need to watch the episode again because if I remember right Tobias was looking at the girl's shoe when he was picking up the things he spilled next to her.
Because of the case the team is working on at the Navy Yard Gibbs isn't able to get back to Fornell until two days after his call. When he goes to check in at Beltway Burger he's told that "Toby" stopped coming to work two days ago. Oh, man.
Meanwhile, or I guess weaving throught the episode is the tale of a sailor who ran afoul of a greedy gus as he tries to find a treasure hidden by a man called Angus Demint. Angus wrote a book with coded instructions to help hunters find his hidden million-dollar treasure and a daughter, Margot, who is bitter over the loss of her mother and the way her father chooses to honor her memory. Eventually our NCIS crew finds and arrests the killer, the Demint's find a way to honor Lillian's memory together, and their relationship starts to mend.
I liked the episode overall even if I found the treasure hunt portion kind of throw-away. I'll remember how the murder victim died, but not much else. Ick.
Note : Did you notice that when the gang was talking about the bar meet-up (this episode takes place the morning after McGee's celebration), they asked Sloane why she left early? She said that she had something else to do, and I think this is the beginning of Maria Bello's exit from the series.
The season is three for three in bringing us episodes that keep me interested and are a pleasure to watch. Here's hoping that this trend will continue into 2021 when our next episode airs. Bye, bye 2020!! Have a great holiday and we'll see you in January!