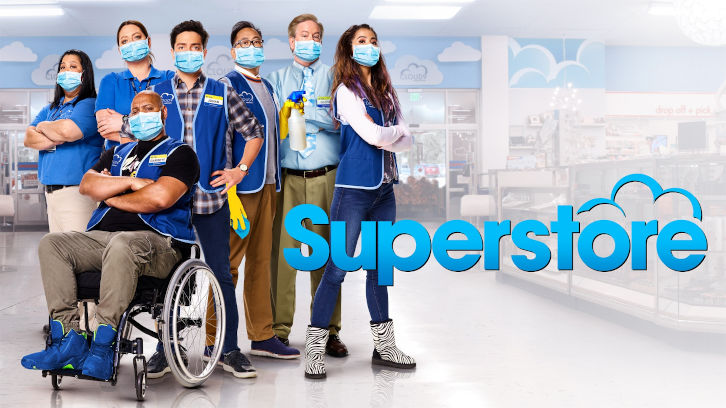 Cloud 9 hosts their own election, Garrett rediscovers some old feelings, and one character had a surprising display of character development in Superstore's inaugural Amy-less outing.
The episode starts out with Glenn leading the morning meeting. After tiptoeing around the Jonah/Amy situation ("It's fine, you can say her name. I'm aware she still exists," Jonah says), he announces that as he was stepping back into the manager position, his old position of Floor Supervisor was up for grabs.
Jonah tells Dina and Glenn that he's interested in moving forward with his life, and throws his name into the ring for the Floor Supervisor position. Glenn is all for it, but Dina believes that if they give Jonah any power, he'll try to implement a bunch of new changes and overturn Dina's specific way of running things. To prevent this, Dina convinces Cheyenne to apply for the job as well, thinking that she will be easy to manipulate in the position. Glenn, however, doesn't want to choose between the two, and so he turns it into an election.
Dina isn't the only Cloud 9 employee masterminding a power play, however. After Glenn decides to give him some managerial decision-making power to reduce his own stress level, Mateo lets the authority go to his head. What starts out as picking paint colors quickly turns into refusing Carol a day off, making up a fight between Glenn and Jerusha, and even firing Justine, citing that she's "too awkward."
After Garrett finds Sandra's adopted son Tony outside the condom case, Sandra asks him to give Tony "the talk." While he initially refuses, after Tony starts asking some...interesting questions ("Are any of these reusable?"), Garrett relents.
Dina and Cheyenne begin to campaign against Jonah, telling the staff that Jonah wants to eliminate breaks, and that if Cheyenne wins, she'll get her friend who works at Olive Garden to bring breadsticks to the store (honestly? Sorry Jonah, but I'd vote for the breadsticks!). The only person on Jonah's side is Marcus, although it's only because "If he loses this like he lost Amy, he's gonna drive off a freakin' bridge."
Jonah tries to salvage the sacredness of the election (if there was any to begin with), but he is just upended as Dina and Cheyenne resurface a five year-old picture of him at Hooters, challenging Jonah's stance as a feminist.
This is when everything quickly devolves into the signature Superstore discourse scene, in which a real, topical issue gets shredded to bits, with the actual point of the discussion being hilariously lost in the weeds. This week's concentration was on cancel culture, as the employees spar on whether the picture of Jonah means he can't be trusted, or if the person he is today matters more. However, eventually, Marcus and Isaac's input turn the conversation into one about their favorite restaurant franchises that objectify women.
In a last-ditch effort to get the election back on track, Jonah suggests a debate, which Cheyenne agrees to, but Dina turns down. Dina reveals to Cheyenne that she really didn't want her to be Floor Supervisor for her ideas, but for her willingness to do whatever Dina asks.
Shocked and offended at Dina's lack of faith, Cheyenne rebels, saying that people shouldn't vote for her because they want to vote against Jonah, but because she actually has a lot of good ideas. She goes on to describe a lot of genuinely great changes she would want to implement in the store, which are met with apparent approval from the rest of the breakroom.
After this show of independence from Cheyenne, Dina comes up to her at the jewelry counter and tells her how proud she is of her. She emphasizes how far Cheyene has come since she started working at Cloud 9...And then proceeds to withdraw her support from Cheyenne's campaign, instead backing Marcus, who would be much easier to take advantage of.
In the end, Glenn finds the courage to stand up to Mateo's growing authoritarian rule. He re-hires Justine, and revokes Mateo's executive power, telling him that from then on, Mateo could only do what he said or sit in his office on his phone all day. A reprimand is a big step for Glenn, but of course, it's offset by Glenn agreeing to include Mateo on his family phone plan so he could use his unlimited data.
Meanwhile, Garrett's conversation with Tony quickly takes a different turn when he begins asking about how you know you're in love. While Garrett thinks he knows how to answer, after talking with Glenn and Sandra he begins to realize that he might never have been in love before. Talking with Tony again, he admits that he keeps getting in his own way, and alludes to still having feelings for someone he's too afraid to act on - while looking straight at Dina.
Could the long-lost Dina/Garrett relationship be on its way to a rekindling? Don't get me wrong, Dina and Garrett has always been a fun relationship. I wouldn't be opposed to an eventual reunion, but placing the groundwork for it right here, right now, seems like a desperate attempt to fill the Jonah and Amy-sized hole in Cloud 9's romantic department. Nothing can really replace a relationship so charming and integral as Jonah and Amy's, and I really hope that Superstore won't accidentally cheapen Dina and Garrett's own story in trying to.
The episode ends as the votes are counted and Cheyenne wins the Floor Supervisor position, almost unanimously. In a fun, premonitory juxtaposition to the state of the U.S.'s own recent election, Jonah concedes without request for a recount, although Mateo does one anyway.
This episode was an unexpected but wonderfully welcome showcase for Cheyenne. As Dina said, she's come a long way since the pilot episode, and has become the dark horse of Cloud 9, growth-wise; while her storylines have often taken a backseat, her character is arguably one of the most complex of the entire show. It might be because I've been watching Until Dawn playthroughs all this week, but I've really been appreciating Nichole Sakura's nuance and acting power as of late. It's not easy to play the "dumb blonde" in a way that isn't grating, and not only does Sakura manage to do that week after week, but she actually convincingly makes Cheyenne wholly endearing, and, in my opinion, one of the most interesting sitcom characters currently on TV.
Overall, I'm definitely happy with this episode. I certainly don't think it's the strongest half-hour the show has ever offered, but it was consistent with the show's usual quality, which is the biggest thing it needed to prove to the audience post-America Ferrera.
I also thought it was interesting to see how the show is already reshaping itself to fill Amy's position in it. I've always thought it was interesting that Cheyenne's backstory has closely echoed Amy's; teen mom, married young, working at Cloud 9 to provide for her daughter. I've wondered for a while if the writers were ever going to use that parallel to their advantage, and it seems as if they might be now (remember, Amy was Floor Supervisor when we first met her!). While a lot is still up in the air, this episode - fun, funny and meaningful - has cautiously proved for me that Superstore can still survive without its star.
What did you think of this week's episode? What did you think of Cheyenne's character development? And what are your thoughts on the new hints toward an eventual Dina/Garrett reunion? Let me know in the comments!