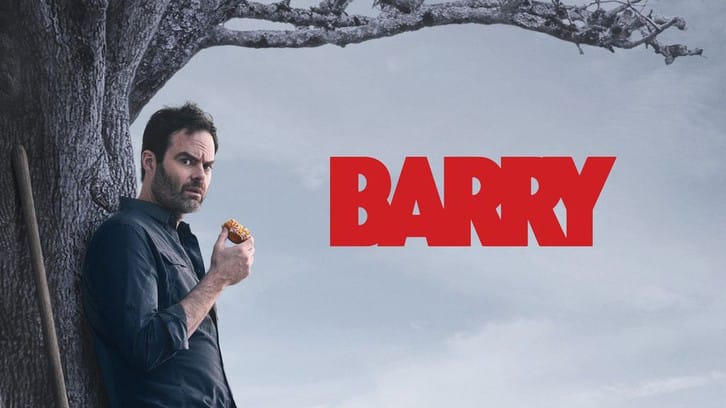 If you've ever watched an interview with Bill Hader, you might have had some suspicions where this was going.
Hader often seems to portray himself as somewhat of a luddite, and if not, at the very least a traditionalist with a healthy love of classic cinema. He has gone on record many times listing inspirations ranging as far and wide as Kurosawa to DePalma to the Coen Brothers to mid-century German director Max Ophüls. He's always spoken the language of a cinephile (even all the way back in his comedy days, when his roster of impressions was peppered with golden-age actors like Vincent Price and James Mason). Sifting through his many inspirations and recommendations is enough on its own to tell you that Barry was never getting a fairytale ending, nor a grandiose one.
About half the season was written and the whole thing was directed by the former SNL star turned-up-and-coming multi-hyphenate, and that was my first signal that the final season of Barry would be wild, weird and intentional down to the last detail. But what I didn't expect was the deep pit of discomfort in my stomach that the final episodes, especially Sunday's finale, would bring. I knew Barry wouldn't have the sunshiniest ending. But I still am not sure I expected this one.
Hader has been repetitive in his insistence that Barry was never a hero. Even back when discussing the season 2 finale with Entertainment Weekly, he acknowledged that Barry was not the hapless pawn in Fuches' game that it was so easy for us to want him to be. "He lives in the shadows and tried to come out into the light to live this virtuous life, and he just can't do it," Hader said at the time. "When I watch that, it's this weird acceptance of who he is." Even as Barry denied his culpability for his actions and became more and more delusional in his belief he could escape them, I think the majority of viewers still had at least a tiny hope that he would end the show redeemed and - daresay - happy. But it's clear that Hader was never setting out to tell that story.
From the beginning, Barry wasn't a redemption narrative so much as it was a show about the stories we tell to believe we're redeemed. Each and every character is trapped in their own cycles; their own personal wind tunnels, and while it's made clear that other people were responsible for putting them there - whether it be through physical trauma, emotional trauma, fiscal need or anything in between - each of the characters, at some point, chose to stay there. And as much as they try to seek redemption, reparation, or rebirth, it becomes clear that none of them can do it without admitting the full truth of what happened to them and what they did - which, until the end, none of them really want to do.
The close comparison of the life of an actor to that of a hitman in season 1 was funny - insert some kind of joke here about Hollywood sucking the life out of a person, etc;. But such witty, often just-below-the-surface observations persisted throughout the show's run until this final season, when they became markedly warped versions of their original selves. Sally's realization that she very well may never "make it" as an actress draws her back to Barry, now yet another abusive ex, and for want of being an actress she ends up spending almost a decade playing the part of a working mother and diner waitress on the edge of her sanity. Cousineau's desperation to be known as a great actor once again leads him to briefly consider absolving Barry in season 3, and then leads him in season 4 to accidentally implicate himself in Janice's murder before finally killing Barry, actually turning him into the murderer the world believed he was. Fuches grows from a flip-flopping middleman into the intimidating "Raven" role that was invented for him; Hank craves the guarantee of a life with Cristobal forever so badly that, like King Midas, he kills his greatest love and preserves him forever in gold.
Everyone who saw themselves as clean at the start of the show - the ones who claimed no responsibility for their past regrets, who rewrote their histories and hired hitmen to do their dirty work - all have blood on their hands in the end. As much as he tried to run from the fact, Barry was the only character in the show that really believed he was a killer; flawed. In the finale, every other character had to confront their own choices and accept their role in the situation before them. The ones who did lived. The ones who didn't - didn't.
I do think there is a lot of disappointment to be felt in Barry's death scene, which commenced with little fanfare and just when he had finally decided - although the permanence of his change of heart was questionable - that he was going to turn himself in. I know a lot of fans didn't like this ending very much, but I also don't feel like there's any other way it could have gone. We have followed, empathized with, and rooted for this one singular character more than any other for nearly 5 years. But he was also a ruthless killer, still telling himself that he was only doing what he had to long after that excuse lost any credibility. And because of that, maybe it's best that Barry was killed before he had a chance to actually follow through on turning himself in. It preserves him forever, not as a hero, but at least as a changed man.
I will admit - season 4 was probably my least favorite season of Barry. Where other seasons blended comedy and drama fantastically, as if the two were one and the same, season 4 leaned so heavily into the drama side that some episodes passed by without even a chuckle in a way that felt untrue to the show's nature of making light of even the most screwed-up plotlines. The season felt somehow bleaker, more nihilistic, and less grounded - especially with the brilliantly-executed but still tonally jarring mid-season time jump. There was an unevenness and rush to the story that I can't say was entirely intentional. But, that being said, it's important to note that a "weak" season of Barry is still spades better than most shows' bests - a 9 when the other seasons are perfect 10s.
Much like the cinema staples that Hader draws from as inspiration, Barry ended as a tightly-made elegy to the impossible complexity of humanity. It's raw, it's real, it's chilling, it's touching and all those other critical buzzwords, but it's also humble, a trait that a lot of other prestige TV shows don't share. No one gets a hero's ending or to walk off into the sunset. No one really even gets a last goodbye. The best ending you could ask for, as evidenced by Fuches and Sally's send-offs, is one where you simply get to walk away.
I for one hope that Barry is able to be recognized one day for what it is - one of the greatest TV shows of all time. Creators Hader and Alec Berg crafted 36+ hours of unforgiving, uncompromising television, and somehow they managed to make it funny, too (I know I just said season 4 wasn't very funny, but that was a partial lie - a few of the early episodes had some of the best jokes of the series). The show has never been as hyped-up as its HBO Sunday older siblings like Game of Thrones and Succession, but it deserves its flowers all the same.
I've seen mixed reactions to the show's ending, an extended sequence where Barry and Sally's son John watches the biopic film made about his father that re-contextualizes the events of the show into a bland story about a noble-hearted ex-marine who was framed for murder by his power-hungry acting teacher and died a hero. It's the story Barry would have wanted to tell, and you can see on John's face that as much as he knows it's completely untrue, he almost wants it to be real, too. Because as Fuches insists in season 2, no one wants to hear the real story - they just want Braveheart.
And even when we know the truth, we always will want to tell the prettiest version of the ugliest stories.
What did you think of Barry season 4, the series finale, and the show as a whole? Let me know in the comments!