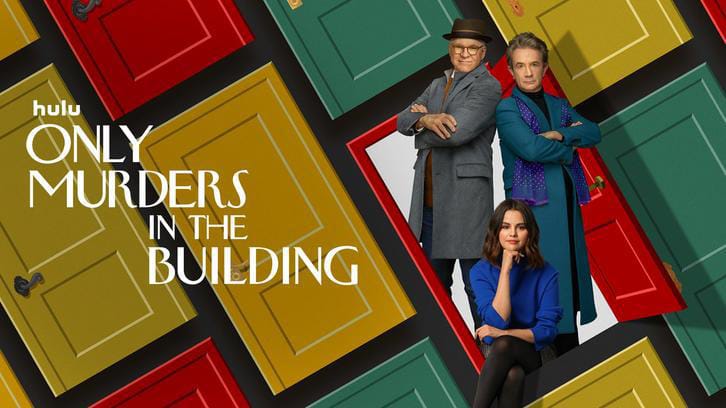 Sex, suspects, betrayal and musical numbers abound in the middle third of Only Murders in the Building's junior year. Read on for my review of "The White Room," "Ah, Love!" and "Ghost Light."
This season, and these three episodes specifically, really feel like the first time we've seen Charles, Mabel and Oliver 100% separated and out of touch with each other. For much of the time, Charles was facing a personal reckoning with Joy, as he first accuses her of killing Ben, then (accidentally) proposes to her, and then confesses that proposal was an accident and gets broken up with. By "Ghost Light," all he has to his name is his apartment and President McKinley, the single pet fish Joy left behind. Oliver, on the other hand, falls deeper for Loretta after she decides to stay and work on the musical in spite of getting an offer for a recurring role on a TV show in Los Angeles. His feelings for her manage to get in the way of his dedication to the investigation, and when evidence begins to crop up that shows she may have had means, motive and opportunity, he rushes to sweep it under the rug.
Mabel seems to be the only sleuth left actually sleuthing, although even she manages to make some progress in her love life on the side. Ben's documentarian Tobert has joined her on the investigation side, but it soon becomes clear that he's more interested in spending time with her than solving Ben's murder. Unfortunately for them, most of their leads don't go anywhere. The only solid clue they have was an obscene message written on Ben's mirror in red lipstick on opening night. Soon, they find out that the…ahem…phrasing of the message matched an insult Loretta, who may or may not be a crazed Glenroy fanatic, hurled at Ben earlier that night when the pair fought on the set.
But the most startling revelation - and the one with the most impact - is that Charles interrupted the fight between Ben and Loretta, punching the leading man in the face. In fact, he was the inadvertent reason Joy's lipstick was found in Ben's dressing room - she had come in just before the show started to cover up the mark Charles had left on Ben's face. Charles had disclosed exactly none of this information, and with it now coming to light, the trust between Charles, Mabel and Oliver hits an all-time-low. With Mabel infuriated by Charles and Oliver's preoccupation with their own lives, the trio unofficially "friend-break-up" and Mabel goes off to continue investigating with Tobert.
Overall, these were solid, plot-heavy episodes. I will admit, I'm actually surprised at the general lack of pizzazz we've been delivered this season, seeing as it is the musical season and the first three episodes seemed to me promising things would go slightly more off the rails than usual. We did get the somewhat chuckle-worthy "white room" recurring bit, which of course is just a fun little way to get a bit more silly Steve Martin, but other than that, these episodes have been shockingly tame.
They have, however, had quite a bit more capital-A Acting than I'd say is average for an Only Murders season. In fact, I find it quite ironic that just the other day a Slate article was lambasted for calling Martin Short "annoying" and "desperately unfunny" (which - on a side note, if you've read the article as well - does anyone else feel like the criticisms in it seemed…weirdly personal? Do we know whether or not the author's entire family died after a giant-sized VHS of Clifford fell on their heads?). The reason why that amuses me is that in these past three episodes, Short has shined both comedically and - in a rarer turn - dramatically. Sure, maybe it isn't hard to act like you're in love with Meryl Streep, but Short has nevertheless been at the top of his game as of late, especially in "Ghost Light," as Oliver goes off in a tirade toward his podcasting pals. Maybe I have just as much bias as the Slate author - The Three Amigos was a childhood favorite of mine, and I still unironically consider his work in Barbie as the Princess and the Pauper as one of the quintessential voice acting performances of the 21st century. But what can I say? The timing of such a strange hit piece with a new peak in one of Short's purest, most entertaining performances dare I say ever - it's impeccable.
That aside, the biggest problem with these episodes is its dawdling. As I mentioned, almost no headway is made in the mystery at all, and while some of that time is dedicated to character development, a lot of it is also dedicated to Howard, who, no matter how much he is in any given episode, is almost always seemingly in it slightly too much. What feels like a good third of "Ghost Light" is dedicated to his story, which would feel much more earned if we had - even once - been given a solid reason to care about his character. His literal purpose up until this season is to be a quirky, lighthearted annoyance to the characters as a way of breaking up some of the more serious moments of the show, and to suddenly give him a larger chunk of spotlight without it in any way affecting the plotline of the rest of the show feels like time wasted. All I can hope, I suppose, is that these pacing issues are made up for in a more active back half of the season - etc; etc; the show must go on!
What did you think of the most recent episodes of Only Murders in the Building? What are you looking forward to in the last few episodes of the season? Let me know in the comments!