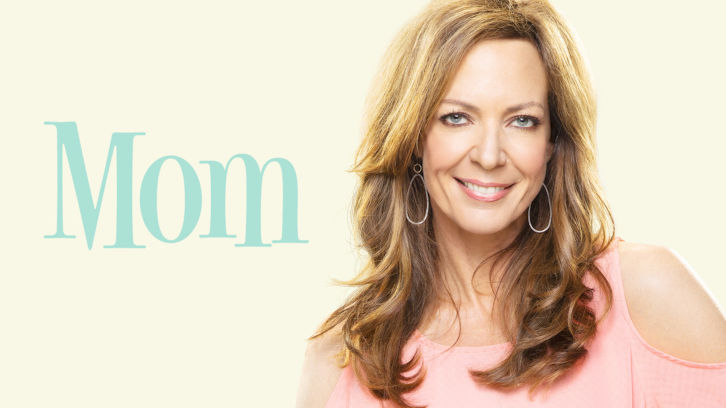 On this week's Mom, Bonnie and Adam celebrate a big day - their anniversary! Yep, that's right. They've made it one year. (And Bonnie's out a 100 bucks to Wendy because she bet against them!)
Marjorie's celebrating too. Her stint was successfully put in! And to treat herself, she's invited her "friend" Gary from Chicago to visit. (Canadian Wayne's still in the picture. Marjorie's just decided she's not getting any younger, so she might as well live it up while she can!)
At the Bistro, Marjorie arrives with Gary. And he's...kind of a turd. I'm not even really sure how to accurately describe him, something between a male Karen and a mega-control freak! He begins every sentence with "If it were me," before going on to give all sorts of unwanted advice.
A couple days later, Tammy's busy going back and forth between Jill and Bonnie's places - doing whatever she can to avoid going home "where the Gary is." Tammy tells Bonnie she couldn't possibly last five minutes with Gary, but Bonnie's going to have to because she and Adam have agreed to spend their anniversary having dinner with Marjorie and Gary!
While the rest of the girls are busy avoiding Gary, Jill's trying to get out of a big mistake. She meant to donate $500.00 online to a charity for at-risk girls, but she accidentally donated $50,000! After going through the humiliation of asking for $49,500 of it back, the girls are making sure to give her plenty of grief!
On the double date from Hell, Bonnie and Adam endure serious embarrassment. Turns out Gary's also one of those people who's rude to waiters! He forcibly sends Adam's steak back, even with Adam protesting that it's fine! Oh, and then there's his decision to toast Bonnie and Adam's anniversary in front of the whole restaurant, even though he can't remember Adam's name. And to top the night off, he gives Adam advice on how to operate his wheelchair! Yeah Bonnie, you really should have taken that chance to run him over!
Back at home, Bonnie resolves to say something to Marjorie about Gary, since she's mysteriously oblivious to his less-than-likable qualities! Adam advises her not to because she might end up feeling like she has to pick one of them over the other and decide to pick Gary. Adam reveals he did the same thing and ended his relationship with his friend Mitch when he said he didn't like Bonnie.
At the next meeting, Bonnie reluctantly takes Adam's advice and tells Marjorie she likes Gary, knowing he'll only be visiting for a few more days anyway. That's when Marjorie admits she's entertaining the idea of moving to Chicago with Gary after a few more visits.
As the girls continue to try to hide their dislike for Jerry, he continues to make it even harder for them to. Marjorie brings him to Lady's Movie Night at Jill's and when he complains about Jill's candy selection, Tammy has to drag a seething Jill out of the room.
In the kitchen, Jill admits that she's felt horrible ever since her donation blunder, especially after Tammy told her how much she wished there'd been a program like the Inspired Girl Project when she was growing up. Jill's even stopped enjoying shopping. Instead, she finds herself imagining the saleslady giving her grief for spending her money on expensive clothes instead of the charity! Tammy asks her what makes her happier, her expensive new purse, or "empowered little girls," and Jill realizes she knows where she really wants her money to go.
Wendy and Bonnie join them in the kitchen to escape from the Gerry-and-Marjorie-Movie-Makeout-Session. They all admit they have no idea why Marjorie likes Gary! At a meeting later, the girls finally see a good side to Gary. (I'm still not convinced it's enough to make up for how obnoxious he is!) Gary shares his sobriety story - from how he got sober in time for the birth of his son 25 years ago to the heartbreaking fact that the same son is now struggling with addiction himself. He tells the group that he recently got the opportunity to sponsor another young man, and it gives him hope that day someone will get to be that mentor for his own son.
Later one, Jill goes back to the Inspired Girl Project and donates a large amount of money (for real this time!) In toe is Tammy, who's finally getting the chance to live out her childhood dreams!
Random Thoughts:
-The discussion about Marjorie's various nightgowns was pretty funny!


-The best lines go to Tammy when discussing Gary with Bonnie - "Speaking of support, Gary's gonna have a few thoughts on that bra of yours. Nothing creepy, just advice about materials," and Adam, when Gary couldn't remember his name - "It's hard to remember because it was the first name ever."
Do you think we've seen the last of Gary? Were you surprised Bonnie was able to hold her tongue around him? Let me know below!