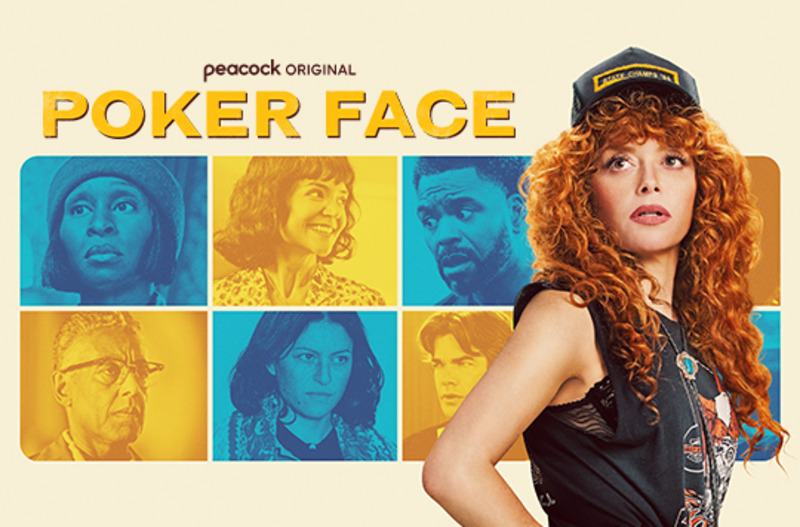 When it comes to reviving the mystery genre, Rian Johnson is on a roll.
Fresh off of his initially-maligned-but-now-beloved (? Is that how we feel about The Last Jedi now? I always kind of liked it) Star Wars gig, 2019's Knives Out was one of the freshest mystery/thrillers in decades, both in general terms and Rotten Tomatoes scores. 2022's follow-up, Glass Onion, did just as well if not better, firmly cementing Johnson as a whodunnit household name. Surely, then, that's why both his name and the name of the Knives Out franchise itself were plastered all over the promotion for Poker Face, in hopes viewers would fork out their dough so as to see the newest mystery offering from the Knives Out guy.
However, the "This is just like Knives Out!" approach to watching Poker Face works in some ways just as much as it doesn't work in others. Yes, just like the Benoit Blanc movies, the show is a lighthearted, slightly corny murder mystery with a healthy distaste for the financial elite. However, unlike the Knives movies, Poker Face is quite disinterested in the puzzle of it all. For example - the murders are shown, in full detail, at the beginning of the episodes, before our protagonist Charlie Cale (played by Natasha Lyonne) even makes it to screen. And the mysteries in both of those first two episodes is not uncovering who, what, where, why and how the murder occurred so much as who, what, where, why and how Charlie gets involved and eventually cracks the case.
On the subject of our protagonist: Natasha Lyonne truly deserves more flowers for her recent television work; first with Russian Doll and now this, she's keyed into an alluring character type that she can play better than anyone else; the neurotic, witty, go-with-the-flow sort, inconveniently interrupted by the narrative while just trying to live her life. In the case of Charlie, that interruption comes via her natural gift to be able to tell whenever someone is lying. Having once used the skill to win poker tournaments at small-name casinos before she was caught by the owner, Sterling Frost. The pilot episode sees Charlie working as a waitress in one of Frost's casinos, shortly after he had retired and handed the reins over to his son. However, when Sterling, Jr. orchestrates the murder of one of the casino's maids (and Charlie's best friend) as part of a criminal cover-up, Charlie zeroes in on the culprits and, in the process, draws Frost's ire, forcing her to go on the run.
That's quite the unique backstory for a TV detective, and it begs the question: in the first two episodes, the murders more or less stumble into Charlie's lap and she solves them both out of a sense of duty to someone she had befriended. But with Charlie being more of a "you mind your business and I'll mind mine" person, and this being a "murder-of-the-week" show, how will those murders keep getting introduced? Will Charlie eventually start marketing herself as a private eye? Or will she just have continuous, horribly bad luck? The down-to-the-wire, "on the run" premise does not easily lend itself to the slower, more lowkey monster-a-week format. It's something that I can see getting tedious quickly as the explanations for why Charlie stays to help solve the case get harder to justify.
It's also notable to mention that Poker Face's utter disinterest in leaving anything up to the viewer to guess at confuses me. Sure, it lets Johnson avoid the "genius mystery auteur" title he seems to want to dodge. But even if you tell the audience who did it from the start, there are plenty of ways you can keep a TV episode mysterious (Monk was a master at this approach). Poker Face's mysteries seem to be a bit obvious and played out, the Chekov's guns flashing in big, bright neon. Several times, it was annoying that Charlie wasn't putting two and two together sooner. Charlie's obliviousness towards the clues until the 50-minute mark is brushed off in the script as her being a self-proclaimed "dumbass," but her general dumbassery seems pretty selective toward moments most convenient for the plot.
One more gripe, however small - for a show touting its A-list guest stars so blatantly, those guest stars are pretty underutilized. Adrian Brody's role in episode 1 was meaty in terms of screentime but rang rather hollow overall. Even more criminally, Hong Chau was barely in 3 scenes of episode 2, in spite of her character being crucial to the plot, and in spite of her being Hong freakin' Chau. You're really saying that you've got Oscar winners and nominees left and right at your disposal, and you've got Natasha Lyonne as their main scene partner, and yet you're barely giving them anything to work with at all?
However, complaints aside, Poker Face is undeniably fun. Lyonne is unfalteringly a winner in both comedy and drama, and Johnson has certainly mastered the joke-to-plot-point ratio in a show such as this. The TV mystery has been a rather dull genre as of late, oversaturated with true crime adaptations, uber-serious book adaptations marketed towards the high end of the 18-49 demo, and half-hearted network procedurals. Poker Face feels like a hearkening back to the charming, quirky cable procedurals of the early '00s, but just with an awards-caliber cast and creator - nothing to argue with there.
Overall, Poker Face's slightly thin but engaging pilot left me hungry for the season to come, and episode 2 already has begun to show marked improvement, with signs of the show beginning to come into its own. Sure, Poker Face might not be an immediate ace in the hole, but I won't lie - I've missed a good comedy procedural, and with this cast and creator, I'd say its success has decent odds.