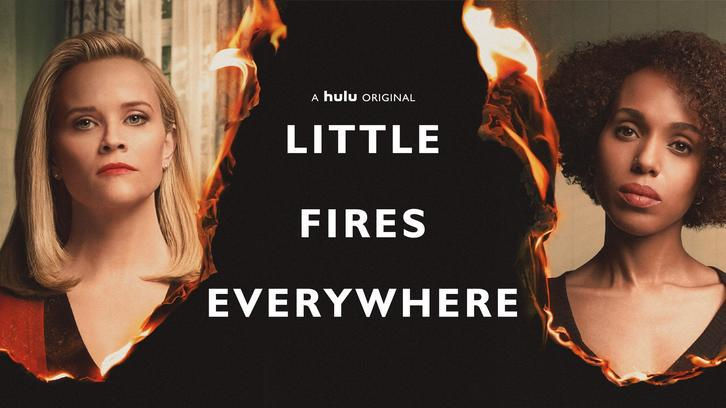 "You didn't make good choices you had good choices."

I decided to stitch some of these together because the story felt so meandering that I needed to see where they were going before reviewing the episodes. The review for the flashback episode is coming soon after this, but first, let's recap where we were in this story. We learn that the McCulloughs have a bad history with miscarriages, and this creates some underlying tension between Linda, who resents Elena for having so many children without a hiccup, and Elena feeling guilty about this even if she felt trapped in her life, which is why she's so hellbent in helping her, no matter the cost. We learn the adoption hasn't been finalized yet which is why Bebe has a chance to fight for custody.

Elena offers Bebe money to give up her parental rights but she asks how much Elena would sell her kids for, she's still hesitating if taking her back is the best thing for her baby girl but Mia convinces her it is. Pearl doesn't agree though, it seems she would wish herself sh was adopted by the Richardsons herself. She even escapes to their home until an angry Mia comes looking for her, disrupting her "perfect dream". Though it would be a bit incestuous with both of Elena's boys liking her, and Trip even having sex with her until the guilt of betraying Moody caught up to him.

The news is telling the story as if the McCulloughs had kidnapped the baby as well. Now full disclosure, I'm not a mother, so I can't really know what it's like, but this sense of belonging they portray, it might be accurate but it doesn't necessarily seem healthy, perhaps instinctive, yes, but not every instinct is always a healthy one.

I think Bebe made the right choice by trying to give her daughter a better life, and if she'd learned her baby had bad luck and wasn't being treated right, I totally get fighting tooth and nail to get her back, but if you know she's going to have better chances than you can offer... I mean, Bebe is doing better now, but that doesn't mean she's in the best situation to add a baby to her current situation. Not that I believe her situation is fair, but that doesn't make it less true. To me truly loving someone means wanting them to be happy, even if that means letting them go.

Linda blames Elena for what happened with the baby and, in turn, Elena, who blames Mia, decides to figure out everything about her, which leads her to New York to investigate. This also leads her to her first real love, Jamie, the one she'd planned her life with before he decided he wanted more. He now works for the Times, so she asks him to do some digging with his resources and accepts to have dinner with him. They flirt and she seems willing to invite him to her room but he tells her he just wanted to see if she had changed at all and if she regretted her life choices now. Still, she got what she needed, leading her to Mia's childhood home where she learns Mia was a surrogate who kept the baby she'd promised to someone else.

Mia is feeling guilty about telling Bebe about her daughter and not being able to help her get her back. She's even having nightmares about the McCuloughs taking Pearl away. So when they catch Bebe stealing from the register to get a lawyer, Mia convinces their boss not to fire her and tries to sell some of her pieces faster to see if she can help, but she's not willing to sell her most valuable piece, a photo taken by Pauline Hawthorn featuring Mia pregnant with Pearl. She's been reluctant to sell it, in part because of its sentimental value, but also to avoid the press, to avoid publicity about her pregnancy, but that all goes out the window when it becomes the cover of The New York Times, which probably means someone will come knocking at some point.

In the spirit of exploring all the variants of motherhood, or the lack of it, we learn Lexie's pregnant and they're both pretty irresponsible, as teenagers are, but she's thinking about keeping it and perhaps just pressing fast forward on her life plan, just like her mom. Her boyfriend does not agree so she decides to have an abortion, Pearl is more than willing to help her, but then Lexie uses her name for the appointment and this makes Pearl realize it will probably always be this way. And yes, I understand this is her town and if it got out people can be relentlessly judgemental, but opening that option for Pearl, even if people know her less, is still a selfish move.

And not only that but she asks to recuperate at her house, which includes Mia finding out. Again, I understand trying to find people who wouldn't judge you for that choice, but Mia judges her for other things, like using Pearl and pretending she has no one in the world when she actually has more people than Mia had while she was raising Pearl. Also, the comparison of the way the officer treated Elena, warning her she wasn't in the safest neighborhood as opposed to Mia who was treated like she was the dangerous one, was very clear, I'm aware it's not news, but it's still a detail that can't escape your attention.


"One day, you wake up and it's settled, you are who you are and you don't remember how it got that way, you don't remember deciding."

What did you think about these episodes? I look forward to your comments.