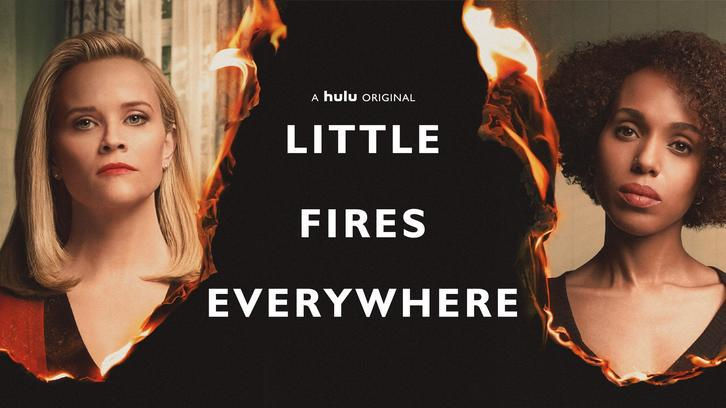 "Was I safe? Or was I suffocating?"

There's a lot to like about this show, mainly the characters and performers, the direction, but I just can't get over the inconsistencies in the different plots. I feel like there's so much more you could do with this if the story itself was written by someone who actually leaves their home sometimes. To be honest, I haven't read the book, but I suspect the plot issues lie there, so I'm actually excited about the possibility the writers have hinted at, which is to make another season that's perhaps not a continuation, but a spin-off, with some of these characters, and I feel someone better suited to write for TV could make wonders with these ingredients.

But I'm getting ahead of myself, so I'll just get to reviewing what we do have in these two final episodes, I took my time because with this is a bit hard to know what's actually relevant to the story and what isn't. The whole love triangle with Trip, Pearl, and Moody, didn't amount to much. Yes, there was a commentary there of how Moody seemed to think Pearl owed him something because of the attention and gifts he gave her, but the saddest thing is that Pearl seemed to think so as well. In any case, she ends up realizing it was all too complicated and she needed to reassess her own wants and needs, so she didn't feel sorry to leave town.

Speaking of leaving town, the catalyst for all this drama ends in the most ridiculous way for something that had such an effect on everyone else. The McCulloughs win the trial and get custody of the baby, because duh, and Bebe decides to take her in the middle of the night and run away, something that I don't think would bode well for the fate of that baby, but maybe that's just me.

Thankfully there's some actual progress regarding the reason why Bebe's story resonated so much with Mia, she finally tells Pearl about the Ryans, and about her brother, Warren, and she admits to Pearl that the reason she got so involved was that deep down she wanted to prove she'd made the right decision for Pearl since sometimes she wasn't so sure. Pearl says she'll always be her mother and accepts their situation with open arms, and open eyes for the first time, but she does ask to go meet her grandparents. I just can't get over how many amazing actors just made a short appearance on this show and were never seen again. Just one scene and one phonecall with Nicole Behaire just isn't enough for me.

Once Izzy realizes Elena kicked Mia and Pearl out of the house, she starts to throw gasoline over her clothes to burn them. Her siblings stop her but when Elena comes in everything goes to hell. Izzy tells her to accept she and April were girlfriends before April got shamed into accusing her of unwanted advances, and that she'd rather have Mia as a mom, someone who accepted her. To which Elena replies, to the shock and disgust from her other children, that she didn't even want her in the first place. I think everyone knew that deep down, but it still hurts to be right sometimes.

After that Izzy leaves home and no one goes looking for her for a while, it's my understanding that she'd come back eventually since there can't be too much good out there for her on her own, but we can't know yet. The reaction of the rest of the Richardson kids is quite ridiculous though, they decide they don't want to be like their mother and the best way to do that is burning the house down. Mmmm, sure. I honestly can't remember a more spoiled-white-rich-kid reaction from any TV character in a while.

After that, we see Elena take the blame for the fire, and though Bill seems to think she's protecting Izzy, it actually rings true, since it was her actions that led to the whole thing. She wanted to impose on her children the same pressure that led her to have a life she never truly wanted. And the match to that fuel was everything she caused in the town with her "well-intentioned" racism. I did love what Pearl wrote which seemed to perfectly capture the meaning of Mia's piece on Sharker Heights, which is one of the reasons why I do hope to see more of this.


"If we can finally see the lies and the town, and the cage we're inside of, we can see so many other things, too. We can see the door, a way out. And we can fly away."

What did you think about the finale? Do you want more of this show? Comment below.