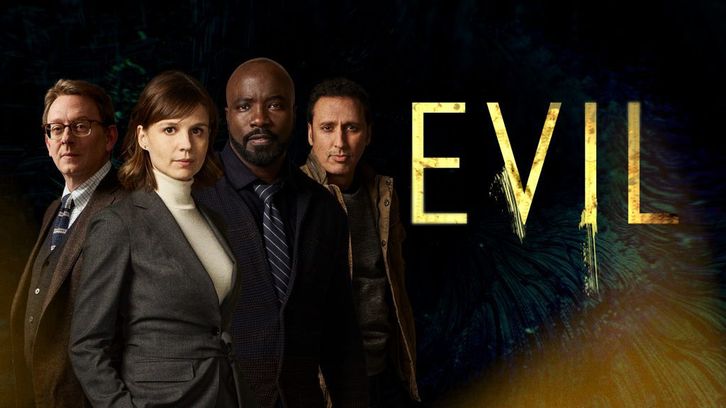 1.9 - "Exorcism Part 2"
Written by Louisa Hill
Directed by Fred Toye
Reviewed by KathM

This episode is no doubt the most fun that anyone has ever had at a botched exorcism deposition. I snickered. I was vaguely horrified. I laughed (perhaps inappropriately).
So you can sue the Church if you don't think your exorcism went well. Who knew? In this case, Caroline's back, the poor woman from Halloween. David thought she was possessed, Kristen thought she was mentally ill. Looks like Kristen won: Caroline's suit says that she was mentally ill, not possessed, and the Church should have had her under a doctor's care. She's now under a psychiatrist's care and has been diagnosed with Dissociative Identity Disorder and Schizophrenia. She spends her on-screen time wrapped in a pashmina and looking out of it and occasionally sighing. My heart aches for her, and wonders where her husband is.
As much as I think this episode was supposed to be about Kristen and Andy as much as Kristen's testimony and David, I was more interested in David's part of the show and it had nothing to do with any of the regular characters. Can I introduce you to Renee Harris? She's sarcastic, slinky, smart, and a total badass. Pro bono council for the Diocese. Julia's sister. Potential Siren. Very into David (or not?). Everything she does is art. I love her. LOVE her. I have adored Renee Elise Goldsberry as a performer ever since One Life to Live, and this performance is pitch perfect.
Long story short: David and the Diocese are going down big-time financially, and then Kristen comes up with a way to turn Caroline's psychiatrist's testimony on its ear. They settle for medical costs only, and Team David wins the day!
And now some non-related Renee commentary:

Cat: I love the cat. I love that it somehow appeared in a laundry basket in the Bouchard home without warning and I have a feeling it won't go away anytime soon. I love that it hates Kristen and stalks her and may or may not be a Satanic animagus, because in this show you never know. Do animals count as a part of the 60? Why is my cat so interested in Cat every time its on screen? I hope it sticks around, even as a sound bite.
Andy: You look better with the beard. Sit down and talk to your wife. Express some interest in what she's doing. It's weird and will take time and possibly a PowerPoint presentation, but it's (maybe) worth it. In retrospect, you may need some sangria, too.Was there a reason you came back besides Laura's appointment? That's certainly not a bad reason, but it might be nice to get an idea of your intentions, as it were. You gave Kristen the chance to run away to the mountains, like you did. Are you doing it for her or so you can get her away from a situation you're not comfortable with? Also, how would you support the family as Kristen has done while she's away from her actual job?
David: Cocaine and sex addiction? It all becomes so clear. At least it explains why you stepped away from Kristen when you were dancing and nearly kissing in last week's episode. I maintain that you are hiding from the world pretending that you can become a priest. Or even want to. I'm not sure you see it, either. Oh, and beware of Renee: I have a feeling she might be one of the Sixty. It's just a feeling I have, and one I may be wrong about. But you never know.
Let's note the time: David decided to become a priest three years ago.
Note to Leland : The next time you try to grow your own Incel, get one who remembers to keep the safety on.
Ben the Magnificent: Please come over for dinner so that Andy can meet you, he's a tad confused and insecure since his daughters apparently mention you every five minutes. Maybe you and Andy could repair something together, as cliche as that sounds. You're an atheist - he'd like you. Babysit the girls for an evening so he and Kristen can go out. Actually, Ben babysitting the girls one stormy night while a demon lurks around the Bouchard property would be a great episode.
Kristen: Okay. You had a lot going on in this episode. You fooled around with your husband a time or two, found an evil cat in your laundry basket who then took up residence in your office/garage, and saved the day (along with Ben) in David's court case. Yay, you! I get the feeling you are unsure about both Renee and your husband, which I get; I don't understand Andy, either. You have good chemistry as long as you aren't being serious about something, then it's like your timing's off. Are you going back to the Himalayas? I think you'd love it and totally deserve the "me" time, but I can't see you leaving the job you're becoming committed to for something like that. But there's a part of me that doesn't feel that you've fully committed to this job, either, so maybe it's a coin toss.
Are you relapsing? Not yet. Andy makes his feelings on religion and the Church well known, and yet your kids attend Catholic School. I know people often send their kids to Catholic schools because they feel that the that the quality of education is higher. Still, I'm surprised that they made that choice when theoretically you're both so opposed to religion as a whole. We'll keep an eye on you, Kristen.