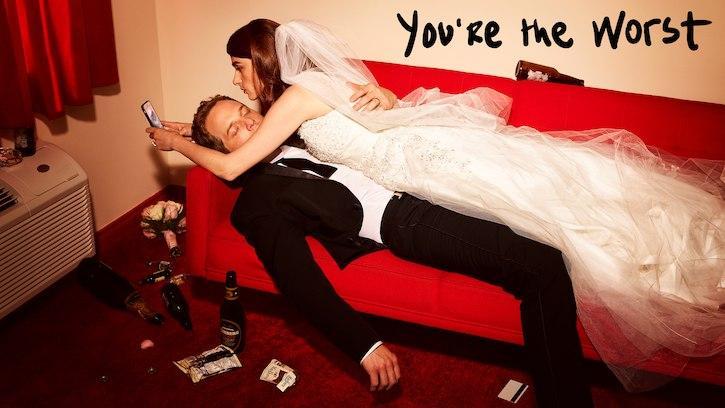 Hey all, I'm very sorry for being so behind on this show, I promise to catch up soon, here comes the double review for the third and fourth episode of You're the Worsts final season and shortly after I'll post the review for the next two episodes of this wild ride that I still cant believe is coming to an official end.


"Honey, it's OUR debt now."

In The One Thing We Don't Talk About we begin with Jimmy and Gretchen finding their wedding venue and him finding out just how much credit card debt shes in, given she has around 70 and never intended to pay any of them, which shows just how much growth she has ahead. Jimmy spends the episode selling himself a the script writer for his own movie which, with Edgar's help, he gets. I have to say I'm not in the slightest way interested in Edgar's work arc, I just could've care less.

Gretchen has been promoted so she has to find her replacement to represent Sam and the boys of which Honey Nutz has been recast since Allen Maldonado is quite in demand right now with many projects including his role in Black-ish. I usually hate recasting but they handle it well here and it was never such a relevant character, also handled hilariously is Gretchen's process to find a new publicist which gets turned into a bacheloresque competition (won by Lindsay who wasn't even competing).

Lindsay is feeling like shes loosing a friend to marriage so she tries to squeeze in as much time with her BFF as possible but she messes up mentioning Gretchen's mom (which is the "one" thing they don't talk about) and realizes she's not even aware her daughter's getting married so she tries to get her to make the call by having a great call rehearsal. Eventually Gretchen does call her though she never clarifies Jimmy is the one she's marrying, which we learn in a sweet scene with the engaged couple.

In What Money? Jimmy gets his first big check in a mail and is over the moon, and of course he doesn't know how to deal with having so much money so suddenly the world becomes a different more threatening place. He even asks for Paul's help who tells him not to tell Gretchen but then he himself spills the beans to everyone else, honestly I was hoping this dude would disappear, but since it's the last season i hope at least I never have to see him again.

Lindsay is Sam and the boys' new publicist and, at first, the guys are furious but then they realize Lindsay is actually a pretty good publicist since she's not hindered by shame. Since everyone knows they all try to hustle or blackmail him to get some of that money but none of them succeed. Eventually, Jimmy decides to tell Gretchen and says he was worried it would change things but she reminds him she doesn't really care about money, son he decides to spend it on his mortgage and buying her a car, Gretchen is happy he got them a forever home and says perhaps they are grownups now. She always manages to make some deep comments out of the blue that throw Jimmy for a loop and in this case it takes us straight to the future where the "new" car has suffered some trauma and the house is for sale, it looks like this can't be anything good, but of course they might be trying to confuse us on purpose, so we'll just have to wait and see.


"Don't look now but I think we might be turning into grownups."

What do you think the flash-forward means?