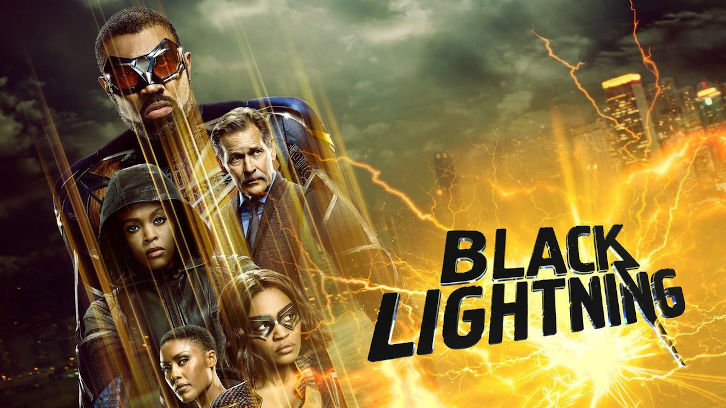 This is, I believe, the final chapter of The Book of Secrets. We learned a few secrets I didn't expect to learn. The most unexpected was the return of Lala. I had been wondering when we'd see him again. He was still wearing the velour sweatsuit!


I thought Tobias sent him to kill Jefferson, but it turned out that, despite shooting Jefferson, Lala was there to get information about his past.
Lala needs to remember what happened to his high school best friend, Earl. The answer to that question only served to prove that Lala was always broken.
I thought, when LaWanda's tattoo first appeared, that she would be a voice of reason to soften Lala's character; to occasionally stop him killing innocent people.
She's trying, but she can barely be heard above that thug Will. Lala got so distracted trying to get the two ghosts to settle down that it gave Jefferson some time to remove the bullet from his shoulder.
Lala eventually remembers that, after Earl followed Jefferson's advice to talk to the police about the One Hundred's drug business, he killed his best friend and hung him through a basketball hoop…to impress Tobias.
I've never liked Lala, and, if this glimpse of his vulnerability (his memory loss) was supposed to soften my feelings towards him, this revelation guaranteed I wasn't going to change my mind.
At least Lala thanked Jefferson before he left?
What I found interesting was that, once his memory was restored, Lala is tattooed by Earl; someone he killed long before his first resurrection. I wonder what that means.
Also, these tattoos are pretty huge. What happens when the count goes higher than, say, 15? Will all of them get smaller to make more room?
♭
The other big secret reveal wasn't really something I would consider a secret. Agent Odell definitely knows about Jennifer and Anissa. Plus he's got the Pierce house wired for sound
and
video.
The biggest shock for me regarding this revelation is the fact that Gambi doesn't sweep that house on a regular basis. I assumed it was SOP for him considering his awareness of security and how the government works.
I wonder if he's going to stumble across the super secret satellite feed that doesn't exist.
Lynn came face to face with the reality of her power in the organization.
Odell's acquiesce to Lynn's demands to get rid of Crazy Doctor Lady, after she lied and killed several of the Pod Kids, left her feeling she was on the same level as Odell in the power structure of the lab.
It would seem these kids were sentenced to Hell when the government initially poisoned them. There may be no escape.
On one side we've got Tobias turning them into slaves he can sell to the highest bidder, and on the other side is Odell turning his last subject into a slave for the US government.
I really hope the end of this story is a rescue for all of these kids.
♭
Anissa is still trying to save Grace. She finds her, but doesn't realize it.
When Thunder decides to take a shot at getting information, she ends up in a fight with…something. I've got no clue what's going on, or how Grace's powers work, but they do have me hooked on finding it out.
♭
Jennifer's big concern was the design of her new super suit. She went all 16-year-old girl on Gambi.
I didn't have a problem with her having a light episode for a change. She's been depressed, sad, or angry just about the whole season.
Did everyone notice the confirmation that Gambi's refusal to let Jennifer take that selfie was a smart move?
Odell is in Jennifer's phone. He could have used that selfie to reverse engineer the suit and render her helpless.
♭
We now know how they resurrected Lala from so many tiny pieces. I need to hear from you guys about the bodies in the other tanks. One of them looked like Earl to me. Do those tanks contain the bodies of Lala's ghosts? Or are those other people that Tobias had resurrected?
Odell is showing his true colors…looking forward to seeing that play out. But I think, if it comes to a point where loyalty comes into play, Lynn will come out ahead.
I loved the episode. Generally, I love William Catlett's performance. When he walked into Jefferson's classroom, I was riveted. But, for me, the scene tended to swing a little over the top when he was yelling at LaWanda and Will.
What did you think about the episode? What was in those other containers we saw in the lab when Lala was resurrected?