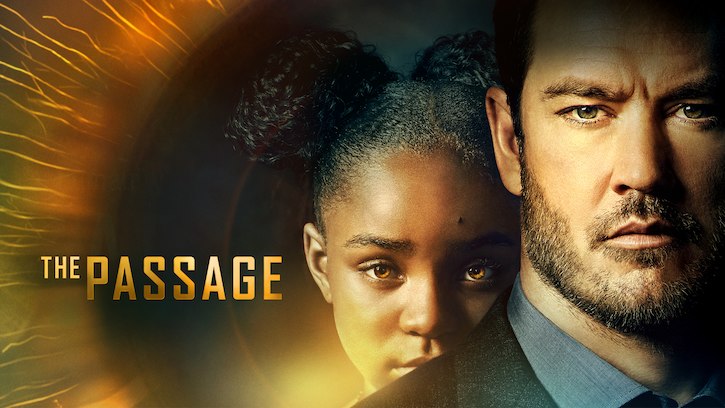 'You Are Not That Girl Anymore' brought the narrative to the tipping point as we head into the two-hour finale.

The slow burn to the eventual release of the virals over these past eight episodes has felt earned without getting tedious or boring along the way, and this is due to the evolution of the characters. Chief among them is, of course, Amy, who takes a big step forward in her development this episode.

The theme of The Passage thus far has been how everyone has a choice, tying it directly into becoming a vampire, which both freshens up the mythology, but allows for some great character moments. We see that with Amy finally having to make a choice of her own after all the care and tough love guidance she received from Brad and Carter, respectively.

As with any child under such pressure as what Amy was facing, it'd be expected for her to just give up and give in. And we saw that begin to unfold as she rode her bicycle down the tunnel. But what followed was a culmination of all she learned up until that moment, and Saniiya Sidney did a terrific job expressing Amy's emotions - both fear and then the growth and resolve - as we see her repeating Brad's fatherly advice to not panic from earlier in the season, eventually opting against death or Fanning, and instead going down her own path.

This moment would not have been effective if not for the careful buildup and character development over the past several episodes, speaking to the brilliance of the writing of The Passage.


Fanning so far has not got his way losing both Elizabeth and Amy, and it looks like even though he convinced Carter to become a vamp, he necessarily did not gain his allegiance. And the talk between him and Carter was very revealing. We got some exposition about his requirement to have the order of the Twelve, which is intriguing, why Twelve? Fanning also proved his dominance over Carter, putting the new vamp in his place. It'll be interesting to see how their conflict plays out.
One other detail was how Fanning said the curse of being a viral is that they feel too much, which is interesting, you'd think it'd be the other way around, but we see him grieving for Elizabeth, and who knows what impact Amy rejecting him will have on the leader of the virals
One of the highlights of the episode though has been the interactions between Richards and Babcock. The two have such strong chemistry, and the scene in the diner as she told her story to him and analyzed his character was amusing in parts, but also heartwarming and heartbreaking knowing what it'd lead to. And it is hard to not sympathize with Babcock. Yes, she is a monster as Richards points out after a passionate kiss, and yes she had a choice - she could've chosen death - but at the same time it was certain circumstances in life that led to the very circumstances in which she had to make these very choices. I hope later on in the series she finds some redemption.
'You Are Not That Girl Anymore' was essentially the boiling of the pot. Amy made her choice, the virals escape through the help of a Renfield like Gray, Richards made his stance against Babcock, and chaos is nigh'. This finale is going to be explosive.
8/10